I was absolutely blown away by The Seven Husbands of Evelyn Hugo when I read it in 2017. I was so happy when I saw it have its moment in 2021, being seen all over TikTok and remaining on The New York Times bestseller list week after week. But The Seven Husbands of Evelyn Hugo isn't the first Taylor Jenkins Reid book I read. I started with After I Do and Forever, Interrupted in 2014 and have been reading Reid's books right around their release dates ever since. So you can trust me when I say that her other books are just as good—if not better.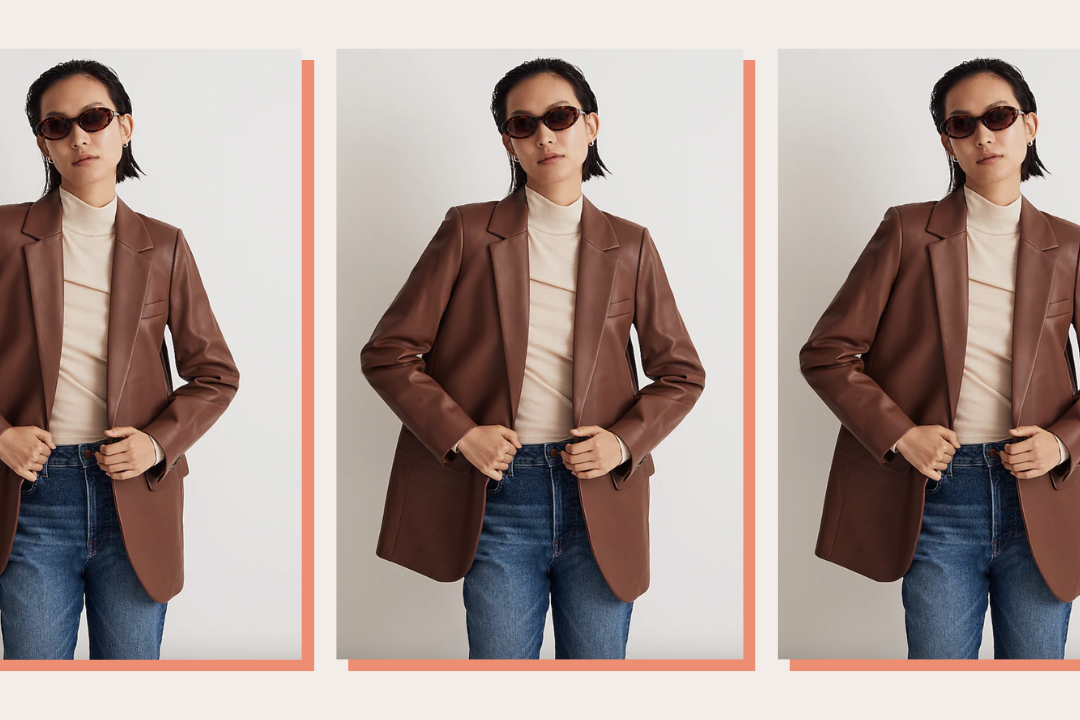 time for your fall wardrobe update!
But what is it about Reid's books that makes them so good? Well, it's everything. It's how the writing seamlessly flows with its soft, easy prose. It's the way a character's motivations are slowly revealed, always making you turn the pages for more. It's how the setting itself becomes a character, ensuring you never skim over descriptions of scenery. It's the way all of the above means you can always tell you're reading something by Reid, yet every character, every setting, and every story is completely unique.
Here's what you need to know about each book to convince you that every single one of them is worth reading:
If you like reading about loss just as much as you like reading about love, then Forever, Interrupted is the book for you. Reid perfectly weaves together the two stories of a whirlwind romance and its unexpected end.
On a rainy New Year's Day, Elsie Porter heads out to pick up a pizza for one. There, she meets Ben Ross. Their relationship starts instantly, with Ben not even able to wait 24 hours before asking to see her again. Within weeks, the two are in love. Before the six-month mark, they're married.
But then, only nine days after their elopement, Ben is out riding his bike just outside their apartment when he is hit by a truck and rushed to the emergency room. When Elsie arrives at the hospital, she learns that Ben was killed on impact and meets Susan, the mother-in-law who doesn't know she exists.
Forever, Interrupted is a beautiful story about how love is still real even when it only lasts for a short period of time and what it's like to grieve with people you have never met before. Elsie's relationships with both Ben and Susan make this book as heartwarming as it is heartbreaking.
You won't have a problem finding a novel about two people falling in love, but it's much harder to find a novel about what happens after. Thankfully, Reid has contributed to filling that gap with After I Do.
Lauren and Ryan have been together for years. And after all of that time, they are not sure if they want to be together anymore. With their marriage at a breaking point, they decide to take a year off from each other. Their year apart has only one rule: They cannot contact each other. Aside from that, anything goes.
After I Do follows Lauren during her time apart from Ryan. From her first-person perspective, we see her question whether it's possible for her to live without the man she has chosen to be her husband. Without constantly being with Ryan, Lauren spends more time on herself, with her family, and searching for what else might be out there for her. And although the book is from Lauren's perspective, we do get to hear Ryan's side of the story through drafts of emails that he never sent.
After I Do might not sound like a romance novel, but it absolutely is a romance novel. It's a romance novel about the danger of what love can look like and the joy of what love should look like once the honeymoon phase is over. Whether you have been in a relationship for a long time or are just starting one, you'll be able to find something in this book for you.
Emma Blair thought she had her life figured out. In her 20s, she marries her high school sweetheart, Jesse, and builds a life with him, traveling the world together and living far away from their hometown in Massachusetts. But then, on their first wedding anniversary, Jesse disappears when a helicopter over the Pacific goes missing.
In an effort to put her life back together after loss, Emma quits her job and moves back home. Now in her 30s, she runs into an old friend, Sam. To her surprise, she finds herself falling in love again, believing she's found a second chance at happiness when the two get engaged. But then, just when Emma has accepted her new life, Jesse is found alive and Emma learns he has been trying to get back to her for all these years. With a husband and a fiancé, Emma has to figure out who she is and who she wants to be with.
I could not stop reading One True Loves. Like Emma, I found myself constantly questioning which guy I preferred. Emma's feelings about both Jesse and Sam and the person she was with each of them were so realistic. While this book easily could have gone either way, I was satisfied with her reasoning for the choice she makes in the end. I know that some readers agree with me and others definitely don't. You'll have to read to find out which side you're on.
And if even after reading, you still aren't quite sure, One True Loves is currently being adapted as a film starring Phillipa Soo, Luke Bracey, and Simu Liu and is expected to release later this year.
With an author like Reid, it's hard to pick a favorite. But even after reading her newer books, Maybe in Another Life still holds that spot for me.
Can one decision change your life? That is the question Reid tries to answer in Maybe in Another Life. Having just returned to her hometown where she has decided to stay with her old friend, Hannah goes out to a bar with Gabby and runs into her ex-boyfriend, Ethan. Just after midnight, Hannah is presented with a choice. Does she leave the bar with Gabby or stay with Ethan?
From there, the novel alternates between the aftermath of each decision. Practically immediately, Hannah's two lives have very little in common. That one choice has made the difference in Hannah's relationships with her family and friends, her career, and, perhaps most shockingly of all, the person she believes is her soulmate.
Similar to newer favorites like The Midnight Library by Matt Haig and The Invisible Life of Addie LaRue by V. E. Schwab, Maybe in Another Life explores how both the decisions we make and how we choose to feel about them affect our lives. Through one best friend, two lives, and three people in a particularly unique love triangle, Reid tells a story of fate and free will that is sure to make you examine your own life—and hopefully feel better for it.
Just in case you have somehow managed to not hear of The Seven Husbands of Evelyn Hugo, I wanted to give it its well-earned space in this article because it is the book that made me really question if Maybe in Another Life was still my favorite, after all.
As she gets closer to the end of her life, former Hollywood star Evelyn Hugo decides that she is finally ready to tell the story her millions of fans have always wanted: hers. To everyone's surprise, she chooses unknown magazine reporter Monique Grant for the job. Summoned to Evelyn's luxurious apartment, Monique listens in fascination as the actress tells her story. We are given a front-row seat to Evelyn's life, learning how she made her way to Los Angeles in the 1950s, the professional struggles she faced both before and after she made a name for herself, and why she decided to leave show business in the '80s. Of course, we hear all about Evelyn's seven husbands and the friends and enemies she makes along the way, too.
What absolutely makes this book is the twist. From its reveal about a third through, the book takes on an entirely different meaning. The Seven Husbands of Evelyn Hugo is a sweeping drama about what it's like to be a woman in work, in friendship, and in love.
If you aren't sure if you are ready to commit to more novels by Reid, then her novella may be just the thing to convince you. In only 86 pages, it packs a serious punch.
When Carrie Allsop learns that her husband is having an affair, she reaches out to the only person who can possibly know what she is going through: David Mayer, the husband of the wife her own husband is sleeping with. Entirely through letters between Carrie and David and between their spouses, Reid tells a story of an unexpected connection and the infidelity that caused it.
I was absolutely blown away by this story, especially when I take into account just how much Reid managed to make me feel in so few pages. This novella is such an interesting examination of marriage, friendship, and what truly defines connection. And the last letter will take your breath away.
Evidence of the Affair is only available on Amazon as an ebook and an audiobook.
What I love so much about Reid's books is that they're incredibly unique. Daisy Jones & The Six is most unlike anything else I've ever read. It tells the story of the rise and fall of an iconic 1970s rock group and their lead singer through interviews with the band members and their loved ones, friends, and associates.
Daisy, a girl coming of age in L.A. in the late '60s, quickly gets noticed because of her voice and her beauty. Also getting noticed is The Six, a band led by the brooding Billy Dunne. Daisy and Billy cross paths when a producer realizes that the key to supercharged success is to put the two together. In Daisy Jones & The Six, Reid chronicles both how the band got together and what led to their infamous split.
Daisy Jones & The Six is an oral history, but don't let that fool you into thinking it's boring because this book is anything but boring. I was so enthralled by this story of music, fame, and love that I read the entire book in one sitting.
I am not an audiobook person, but if you are, then this is definitely the Reid book for you. The audiobook isn't just read by one person; it has a full cast of actors reading each character, making it more like a fiction podcast than an audiobook. And if you want to be able to watch the events of the story unfold, you'll be able to do that, too. Although there isn't a release date yet, shooting for the Amazon Prime TV show starring Riley Keough and Sam Claflin started last fall.
Malibu Rising is a sweeping family history told in two parts, both set in the once small and later elitist California town. In the first part, we get the history of June and Mick Riva's tumultuous relationship. We are also introduced to the four Riva children, Nina, Hud, Jay, and Kit. In the second part of the book, the Riva children have grown up. It's the day of the famous Riva party, and each character is dealing with something that will come to a head. Surfer and supermodel Nina was just very publicly abandoned by her pro tennis player husband. Hud has been keeping a secret from his brother for far too long. Jay can't wait for the girl he can't stop thinking about to arrive. And Kit is keeping secrets of her own—including that she has invited a very interesting guest to the party. In addition to the four Riva children, we also see the party through the narration of various guests.
I was absolutely enthralled during the first part of the novel. I felt so much for June as she struggled with her relationship with Mick, and I felt even more for Nina as she dealt with providing for her siblings what her parents did not. I was just as interested in the four Riva children in the second part of the novel, and I was particularly moved by Kit's story.
At its heart, Malibu Rising is a story about family. It asks questions like, "Are we required to keep family members in our lives who have brought us only pain?" and "What are we expected to sacrifice for the lives of our family members?" The exploration of these questions and the characters they are explored through will allow you to experience a full range of emotions, from rage to pity, desperation to exhilaration, and loss to belonging. This is a book that will stay with you long after you've read the last page.
If you, like me, are always desperate for more from Reid, you're in luck. Her latest novel, Carrie Soto Is Back, was announced last month and comes out this August. This release is particularly exciting because if you've read Malibu Rising, then you'll recognize the name Carrie Soto.
When Carrie Soto retires from tennis, she is the best player the world has ever seen, shattering every record and claiming 20 Slam titles. But six years after her retirement, Carrie watches as her record is taken from her by British player Nicki Chan during the 1994 U.S. Open.
At 37 years old, Carrie decides to come out of retirement for one year in an attempt to reclaim her record. In order to get there, she'll have to be coached by her father again, push her body more than she ever has before, and train alongside the man she once almost opened her heart to. Carrie Soto Is Back is a story about the cost of greatness, and I can't wait to read it.
Final Thoughts
It isn't easy to write a novel. And it definitely isn't easy to consistently write novels that are just as good as, if not better than, the last. Yet that's exactly what Reid does, time and time again. Reid has been an auto-buy author for me since 2014, and she always will be. So you can believe me when I say you need to read everything she's ever written.