To state the obvious, I didn't get my perfect fantasy (aka tickets to Taylor Swift's Eras Tour). But that hasn't stopped me from living vicariously through everyone posting their concert outfits, friendship bracelets, and surprise song reveals all over social media. It's been exciting to see the pomp and circumstance of Taylor's performances and how she flawlessly transitions into the aesthetic of each era (even if I can only watch from afar on my couch). If you, like me, need something to sip on while you scroll through SwiftTok and patiently wait for the rumored Eras documentary to air, here are 10 fun, Taylor Swift Eras-inspired cocktails to try out.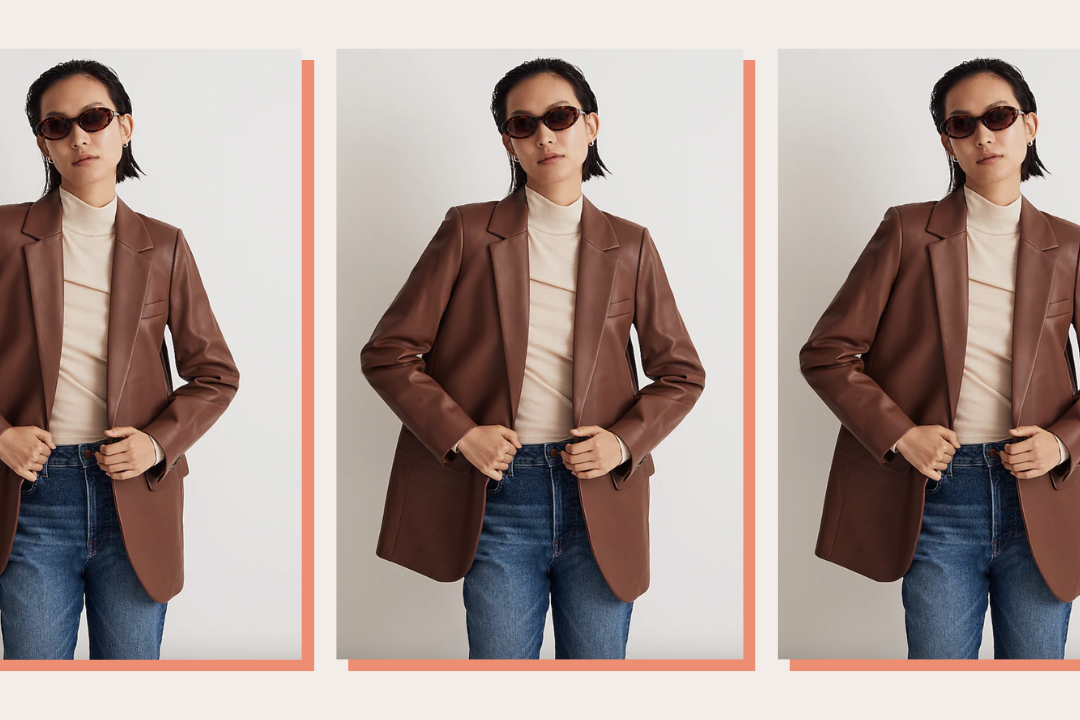 time for your fall wardrobe update!
1. Taylor Swift: Teardrops On My Guitar
The way this cocktail shines puts those Georgia stars to shame. The beautiful blue-green hue of the drink matches Taylor's first album cover, making it the perfect drink to enjoy while you listen to some of your old favorite songs.
2. Fearless: Apple Cider Rum Pecan Cocktail
I don't know about you but the Fearless album gives me all the warm, fuzzy feelings—remembering your first love, having the best day with your mom, the list goes on and on. And with its warming autumnal flavors of apple cider and pecan, this beverage is sure to do the same.
3. Speak Now: Blueberry Jam Cocktail
Taylor's fuschia dress on the Speak Now album cover is iconic, so it's only natural that the cocktail for this era would match. Butterfly pea tea and blueberry jam give this drink its beautiful color, and the edible glitter and sparkler are fun final touches.
4. Red: Mulled Wine
If the Red era were a cocktail, it would without a doubt be mulled wine. It's cozy and comforting just like the album, and after a few of them, you might also leave your scarf at someone's sister's house.
5. 1989: Cosmopolitan
There's nothing more classic than a traditional Cosmo, except maybe Taylor's famous Fourth of July parties during her 1989 era. Not to mention the color matches her signature cherry-red lip.
6. Reputation: Black Gimlet
I'm sorry, but can you imagine a more perfect cocktail for Taylor's Reputation era? It's giving all the moody "nobody's heard from me in months" vibes, and I'm here for it.
7. Lover: Head In The Clouds
What would a Lover cocktail be without pastel colors, delicate cotton candy, and sprinkles? Luckily, we don't have to find out because this one checks all the boxes.
8. folklore: Rye, Ginger Beer, and Orange Bitters Cocktail
This smokey, woodsy cocktail is the perfect drink for an evening by the fire watching Taylor's Long Pond Studio documentary.
9. evermore: Rhubarb Gin and Champagne Cocktail
With all the champagne and none of the problems, this drink is sure to leave you asking for (ever)more.
10. Midnights: Vodka Glitter Martini
Reminiscent of Taylor's iconic eyeshadow look on the Midnights album cover and the stars in the midnight sky, this shimmery cocktail is perfect for a bejeweled night.