When it comes to The Bachelor franchise, I don't immediately think of its positive influence on the intersectional feminist movement of today. In fact, with the show's history of racism and more than a few sexist antics, the fact that anyone can fully support the culture The Bachelor has created puts a pretty bad taste in my mouth. However, in light of addressing each of the show's shortcomings and racing to stay relevant in the ever-evolving social climate, The Bachelor franchise has been making an effort to finally prioritize diversity, sex positivity, and of course, putting the power into the hands of the women the show is supposed to center around. Bachelor fans and skeptics, welcome to the stage season 19's leads, Gabby Windey and Rachel Recchia.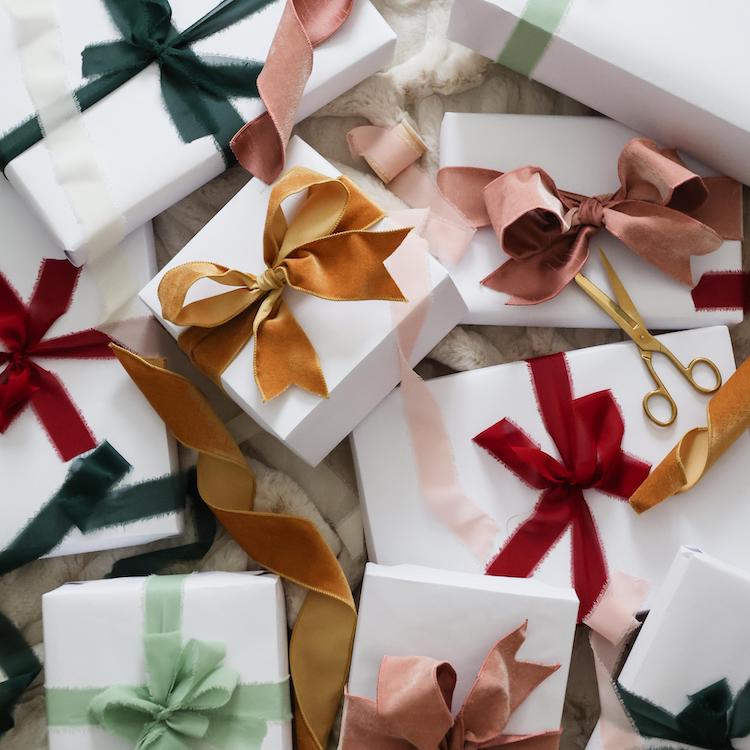 the perfect gifts for everyone—and we mean everyone—on your list
We first saw Gabby and Rachel as contestants on season 26 of The Bachelor, in which both ladies dated Bachelor Clayton Echard, former football hotshot and frankly, a good portion of why I lost most of my faith in men. For anyone in need of a refresher, good 'ol Clayton decided he loved the final three contestants—which included both Gabby and Rachel—and led each one to believe they were his winners, taking the women to the fantasy suites and waiting to disclose this information until after the fact. Boo, Clayton. Both women gave him a reality check and left the show, but Clayton still walked away with a winner and pretty much zero consequences, scoring another point for mediocre men who don't know what they want. So, when I learned Gabby and Rachel were both going to be Bachelorettes at the same time, starting with 32 suitors to choose from, it seemed like the show actually had the… right response?
So, like any romance and reality-TV obsessed Gen Zer, I sat down with a big bowl of popcorn to see how this season would disappoint me. Naturally, my mouth hung open as I saw a narrative focusing not just on dating, but on a strong female friendship between two powerhouses who know what they want. Here are just a few reasons why I have a good feeling about this season and why we might finally see the show focus on women who are actually able to wield their power as the Bachelorettes.
Gabby and Rachel Really, Really Are Best Friends
Right off the bat, we are reminded of two main things necessary for a successful viewing of this season of The Bachelorette: This has never happened before, and Clayton is trash. And if you have any doubts about the latter or somehow lived under a rock and have no knowledge of the Gabby and Rachel origin story, we see a few flashbacks to last season as Gabby and Rachel, heartbroken, give a good, reality-TV cry while Clayton looks on and gives everyone absolutely nothing. Seriously, if someone made a wax figure of that man and put it and Clayton in the same room together, I'm not sure if I'd be able to tell the difference. All this to say, less than five minutes into the season, everyone watching from their couches is given a powerful reminder of how emotionally, um, inept, some men, especially those of Bachelor Nation, can be.
Right after the chronicles of Clayton's downfall, Gabby and Rachel rise from the ashes to remind us that they cried over Clayton together, and now, bound by their shared tears and tissues, they're best friends. Like, walk into the room holding each other's hands and whispering in each other's ears type of best friends. Did producers tell them to ham it up? Probably, but anyone who has seen The Bachelor knows what a fake friendship between women looks like, and I'll be the first to say that Gabby and Rachel really, truly like each other. From sipping wine and dishing about their ex to discussing what type of men they're looking for—because they're not trying to step on each other's toes here—the two uphold maturity, humility, and a strong female friendship we haven't seen on this franchise for several seasons. Each time they greeted a contestant, they giggled and told each other their honest thoughts, showing Bachelor Nation that this time, they're prioritizing their needs, and each other's feelings, before any man. Besides, as Gabby said with her feet propped up and wine glass in hand, "Boys are dumb."
The Girls Can Say What They're Really Thinking While Actually Having a Support System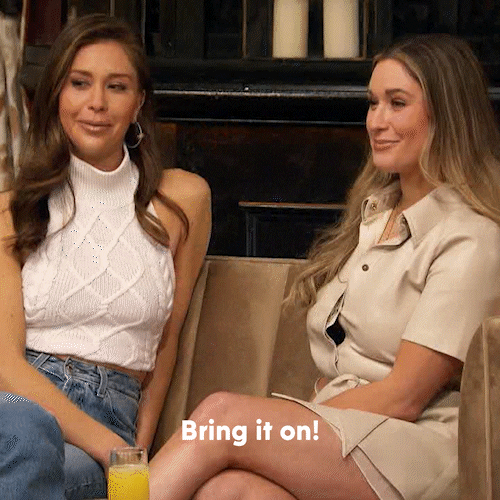 After sending home magician Roby and dynamic duo Joey and Justin due to cringe-worthy, ick-inducing interactions (because I wouldn't exactly call the cricket chirps during the twins' time a conversation), Gabby and Rachel iconically canceled the rose ceremony. Saying that they wanted more time to know the guys they didn't get an opportunity to talk to, the girls made a smart decision together. In my opinion, this small but pretty impactful choice was the first indicator that Gabby and Rachel want to be intentional as Bachelorettes and they aren't going to play by the rules set by their predecessors. With one-on-one dates starting on this episode, things were looking good for our Bachelorettes until mentality coach Chris decided to make some crude comments about his plans for the fantasy suites.
I'm not exactly sure what a mentality coach does, but it's clear that Chris needed a reality check on how to respect the women he literally was cast to show what a great partner he'd be. Offended on behalf of the women and hoping to earn some brownie points, some of the guys confronted Gabby and Rachel to inform them that Chris was definitely not on the show for, my favorite Bachelor Nation phrase ever, "the right reasons." Rightfully upset, they power walk over to Chris, leading him away from the rest of the group to explain himself. Gabby gets right into it, asking "Isn't it a little early to be talking about fantasy suites?" and Chris, flabbergasted and full of red flags, attempts to save himself by declaring he only wanted to formulate a game plan if he was to ever make it to the fantasy suites with "a female." Buh bye.
This entire interaction was reminiscent of Bachelorette Katie Thurston's season when she was also warned by a gaggle of do-gooder guys that some contestants were only there to benefit themselves. Similar to Gabby and Rachel, she wasn't afraid to confront the men and send them home, but the second time this happened on Katie's season, I was a little skeptical of who actually had the final say in sending the men home. Was it actually Katie, or were the men picking and choosing who to tattle in hopes of being recognized as the protective nice guy? Unlike in Katie's season, however, Gabby and Rachel were able to consult each other on the matter of what to do with Chris. Sure, Katie might have had Tayshia and Kaitlyn, but as hosts, there was only so much support they could give. Instead, Gabby and Rachel each gave a piece of their minds, figured out it was best to send him home together, and instead of pacing back and forth worrying if they made the right decision, congratulated each other on being assertive. One small step for Gabby and Rachel, but one giant leap for women supporting each other and protecting themselves in Bachelor Nation.
Neither Bachelorette Prioritizes Tradition or Competition Above Respect
In the most recent episode, it's pretty clear from the first few minutes that it's time for the men to choose which Bachelorette they're here for. To make matters even worse, Hayden and Jacob singlehandedly proved that honesty is not always the best policy, nearly stoically, emotionlessly telling Gabby that she was "rough around the edges" and that she's not the reason why they're still on the show. Like any normal, emotionally tuned person, Gabby is crushed. But instead of pulling the men aside to inform them of how to politely turn someone away instead of crushing their soul and suggesting to head out to the cocktail party, Gabby announces she won't be handing out a rose.
Possibly my favorite part of the whole episode, Rachel then asked Gabby what happened and progressively became more and more furious, even asking if she should talk to the men on behalf of Gabby. Poised as ever, Gabby told everyone exactly what the franchise needed to hear ages ago: It's not her job to teach men how to act. Boom, mic drop, onto the rose ceremony. Both women realized that in looking for love, they were each getting hurt in the process and decided to make the men choose only one of them to move forward on this journey with. Not only did the girls break from tradition in taking on the role of Bachelorette at the same time, but they also broke away from the drama that it was already causing. In changing things up, Rachel and Gabby recognized the power they hold and how they can best fulfill themselves. Both of the women know that the structure of this season isn't canon, and it's up to them to respect each other when the contestants and the rules of the show fall short.
Final Thoughts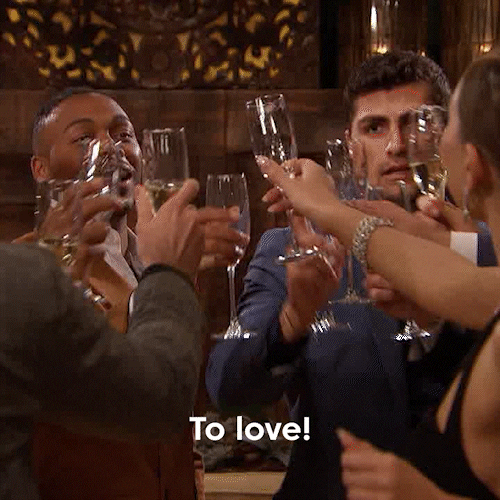 In a nutshell, Gabby and Rachel are pretty much the heroes of the franchise. The antithesis of insecure men, both women give themselves and others so much grace, and because there are two women, we finally have a Bachelorette who we know is supported by another woman and real friend on set. Especially when the show has been edited to display female contestants as commodities rather than people, seeing not one, but two strong women hold men accountable while refusing to treat the show like a competition is truly unprecedented. Between Gabby's laugh-out-loud one-liners and Rachel's confidence when tackling tough topics—she hasn't been shy to talk about the sexualization she and Gabby could potentially face in light of Clayton's season—both of our Bachelorettes might really represent a new leaf for the franchise.
Of course, I'm not going to ignore that this is reality TV, and at the end of the day, we might see Gabby and Rachel compete for the same guy later on. In fact, with how The Bachelor has disappointed viewers in the past, I wouldn't be surprised if a Gabby vs. Rachel narrative emerged—but this season, that should be the last thing The Bachelorette producers, crew, or whatever TV god wields the power should worry about. Gabby and Rachel aren't afraid to say what they're really thinking and turn a new leaf over when it comes to how women treat each other in this franchise. And with their help, The Bachelor franchise may finally start to deliver the type of content women of Bachelor Nation have been asking for for years.