All of my life, my mother has a strict 9 p.m. bedtime. No matter what function we attended, tasks that had to be accomplished, or vacations we were on, my mother would tap her watch promptly at 8:30 p.m., yawn, and give us the signal that we had to Irish exit and get home STAT.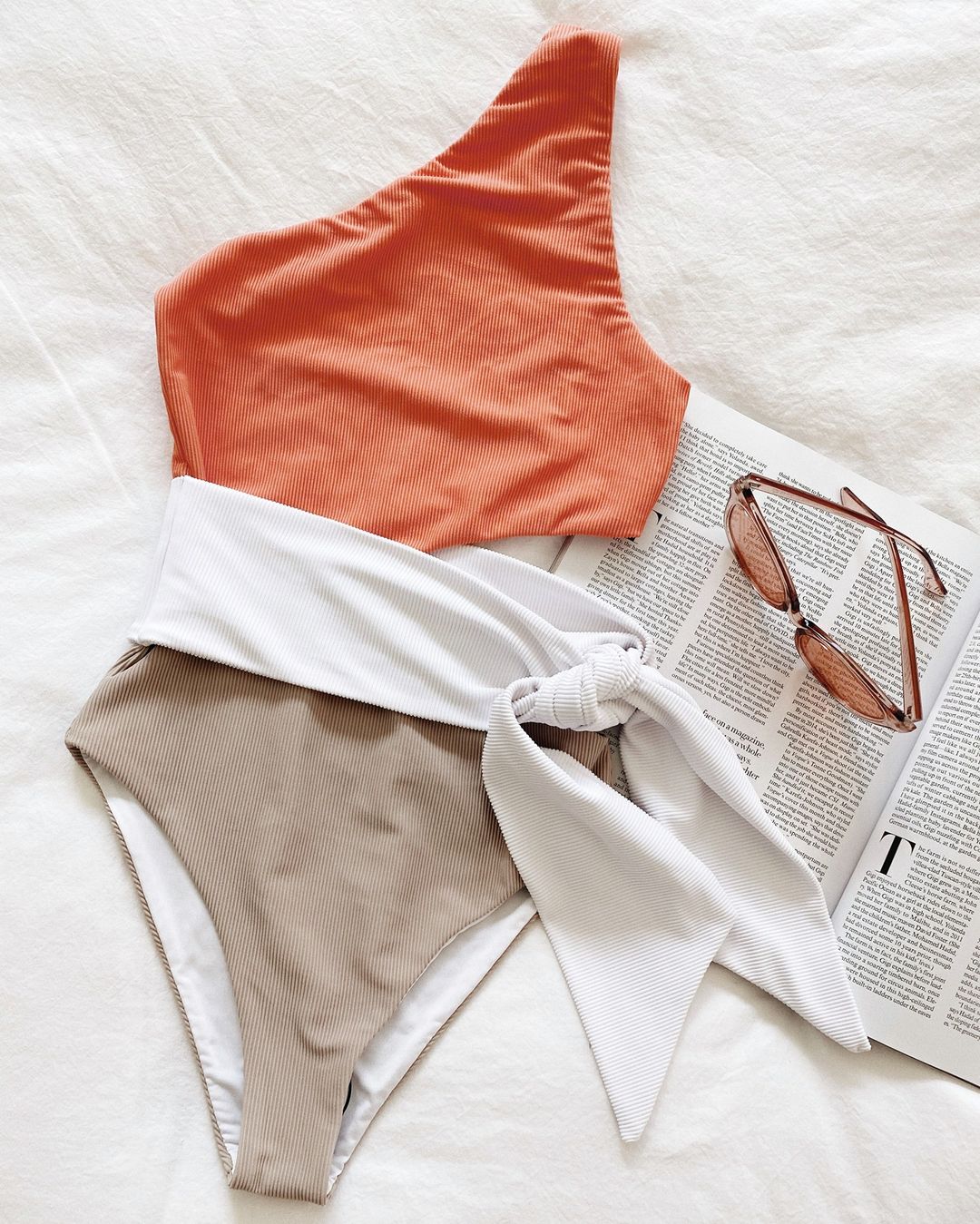 Consider your swimsuit search done.
Two weeks ago, my mother called me at 10:30 p.m., which is practically her "middle of the night." My heart sank at her call. What could my mother, who adheres to such a strict bedtime, want this late in the night? I answered with a pit in my stomach, only to immediately bust out laughing when she exclaimed, "Dexter is my new favorite show!"
There's nothing quite like finding a new, thrilling series that makes you abandon your morals and your bedtime. For our editors, these shows are that. From true crime to romance to drama to musical comedy and beyond, here are 11 shows that our team can't get enough of right now:
Number of seasons: 1
Where to stream: Netflix
The Serpent is one of Netflix's newest crime dramas based on the true, chilling tale of conman and serial killer Charles Sobhraj, who murdered young tourists between 1975–1976. If you're a true-crime junkie or are looking for a low-commitment series that'll keep you on your toes, this brand new limited series (and all of its '70s-inspired fashion) is worth watching.
Number of seasons: 2
Where to stream: Sundance
Both our cofounder and our senior graphic designer have their hearts set on this two-season romantic fantasy series. In a world where demons, witches, and vampires hide in plain sight, a reluctant witch who denies her heritage stumbles upon a bewitched manuscript that throws her into the heart of a dangerous mystery. With scenes so picturesque and a storyline beyond our wildest dreams, you'll be sure to fall in love, too.
Number of seasons: 2
Where to stream: Netflix
This two-season series has everything we want in a crime drama: a stellar cast, a gripping mystery, and a unique plot that is oh, so binge-worthy. The Criminal anthology series follows four separate crimes across four separate countries but, in my coworker's humble opinion, the UK version is the best one.
Number of seasons: 2
Where to stream: Hulu
What We Do in the Shadows is the mockumentary comedy horror television series that you didn't know you needed in your life. The documentary follows centuries-old vampires Viago, Vladislav, Deacon, and Petyr as they cope with the mundane drama of modern-day life. If you're looking for a comedic escape from reality that'll have you laughing out loud, look no further than WWDITS.
Number of seasons: 1
Where to stream: Netflix
"Is it too soon to talk about Behind Her Eyes again because I finished it last night and the whole world needs to watch it." – our social media editor regarding Netflix's new limited thriller series. This one is psychological, twisty, and serves up the teeniest bit of sci-fi that'll absolutely blow your mind.
Number of seasons: 12
Where to stream: Netflix
An oldie but a goodie, Criminal Minds is the series you once loved and is so worth the rewatch (or, the first-time watch if you're just starting your true-crime drama journey). With 12 whole seasons to keep you entertained, a star-studded cast you'll fall head over heels in love with, and storylines that will keep you on the edge of your seat, we deem this classic true-crime series binge-worthy AF.
Number of seasons: 2
Where to stream: Peacock
If rewatching The Office for the 19th time through isn't enough of a reason for you to download Peacock, Zoey's Extraordinary Playlist is. This musical comedy-drama (yes, you heard me) is one of NBC's newest installments about a software developer who, after an unexpected event, can hear people's most innermost desires through song. In the words of our managing editor, Garri, "I'm sobbing, I'm laughing, I'm singing… it's a lot."
Number of seasons: 6
Where to stream: Netflix
Schitt's Creek is the ultimate comfort show if you're looking for some lighthearted laughs and an unexpected, heartwarming storyline. After the Rose family loses their riches, they find themselves adjusting to motel life in a small town where they become locationally, then emotionally, closer than ever. Both our managing editor and I are watching it for the first time through and I'm already sad for it to end!
Number of seasons: 7
Where to stream: Hulu, Paramount Plus
The last season of Younger is finally here so now is the perfect time to catch up on this comedy-drama that serves up all of the romance. When Liza, a 40-year-old suburban mom is told by a tattoo artist that she looks younger than she is, she runs with the compliment, reinvents herself to pass as a 26-year-old, and reenters the working world in her dream role. What could go wrong? One episode in and we promise that you'll be hooked.
Number of seasons: 1
Where to stream: Apple TV+
Apple TV+ stans already know… Ted Lasso is a comedic masterpiece starring the apple of our eyes, Jason Sudeikis. When a small-time, optimistic football coach is hired to coach a professional soccer team in England, he takes the gig, packs up his things, and is met with skepticism from his new players and the entire English town. After riding the comedic yet emotional roller coaster that is Ted Lasso, our managing editor can't stop raving about it.
11. Suits
Where to stream: Amazon Prime, Peacock
Number of seasons: 9
I can't believe it's taken me this long to hop on the Suits train but let me tell you—this series is the binge-worthy show of my dreams. Where do I begin? My unmatched attraction to Harvey? My ongoing desire to be Meghan Markle? My newfound dream to become a lawyer at the ripe age of 26? I digress. I just truly can't get enough.