If there's one movie that sums up the majority of '90s kids childhood, I'd argue that a front-runner is easily The Parent Trap. As much as Mia Thermopolis made us wish our long-lost grandma would turn up and tell us we were foreign royalty, The Parent Trap made us hope that maybe, some day, our twin we didn't know about would serendipitously show up on our doorstep.
Now, as adults, we know that maybe it's for the best that we never had a twin separated at birth, Meredith Blake is actually kind of aspirational, and Nick Parker had some major flaws as a significant other (yes, I said it). We also know that fashion comes full circle, and in 2021, 23 years since The Parent Trap came out, the fashion is exactly on-trend again—and it might be the only time we want to copy an 11-year-old's style to a T.
In an ode to the movie that made us, we're here to say that if you need style inspiration this year, The Parent Trap just might be the place to get it. From Annie's '90s camp look we want to live in to Meredith Blake's athleisure before athleisure even existed, these are the looks we're trying to replicate ASAP.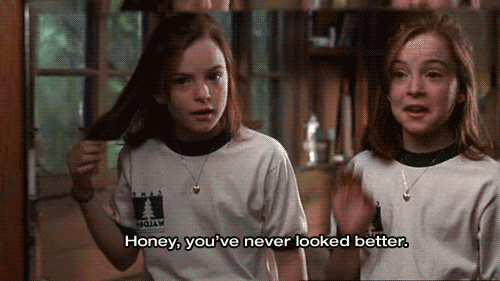 Annie Parker (yes, this is Hallie pretending to be Annie, but I digress) is an icon for countless reasons, but her effortless '90s style is at the top of that list. She emulates exactly what fashion people are trying to wear in 2021: chic, minimal, '90s-inspired outfits that look like they were just thrown on (which, to be fair, she was 11 and at camp, so the "effortless" part was absolutely natural). Exhibit A:
sunglasses / T-shirt / jacket / jacket (plus-size) / backpack / shorts / shorts (plus-size) / sneakers
The juxtaposition to Annie's lax camp look, Hallie's (AKA Annie as Hallie, I know!) posh set is somehow just as good but is on the opposite side of the spectrum. With a tweed matching set and headband, this outfit is the inspiration for 2021's preppy trend.
headband / blazer / blazer (plus-size) / bag / tank / tank (plus-size) / shorts / shorts (plus-size) / shoes
Ah, Meredith Blake—the woman who we thought was a villain as kids but who we want to dress like as adults. She taught us that it isn't a crime to be young and pretty and that a red lip can be appropriate poolside with the right neutrals to accompany it.
hat / bathing suit / bathing suit (plus-size) / sandals / bag / red lipstick
There's nothing quite like a look that's a bit androgynous at its core, and this one might be the first fall outfit we wear for its simplicity and sheer chicness. The button-up combined with loafers and a trench coat screams rainy London day and is an off-duty model aesthetic that isn't easy to nail.
shirt / trench coat / trench coat (plus-size) / bag / jeans / jeans (plus-size) / loafers
If there was ever an iconic lounging-around-the-house vibe, Chessy's laid-back Californian style nails it. This outfit screamed "model off duty" before "model off duty" existed (can't you imagine Hailey Bieber wearing this?).
shirt / tank / tank (plus-size) / hoops / pants / pants (plus-size) / sandals
Elizabeth James is as iconic of a character as they come, and her British chicness wasn't lost on us, even when we were watching this in our single-digit ages. We're making mental notes to wear this to the office ASAP.
dress / dress (plus-size) / hoops / trench coat / trench coat (plus-size) / bag / sandals
Nick Parker rocked our childhood worlds and might have been the first man we loved besides our dads. While we're now adults and realize that he's the worst in a lot of ways (don't @ me), we can still emulate this laid-back dad look come fall. What's more enticing for chilly weather than a gray henley?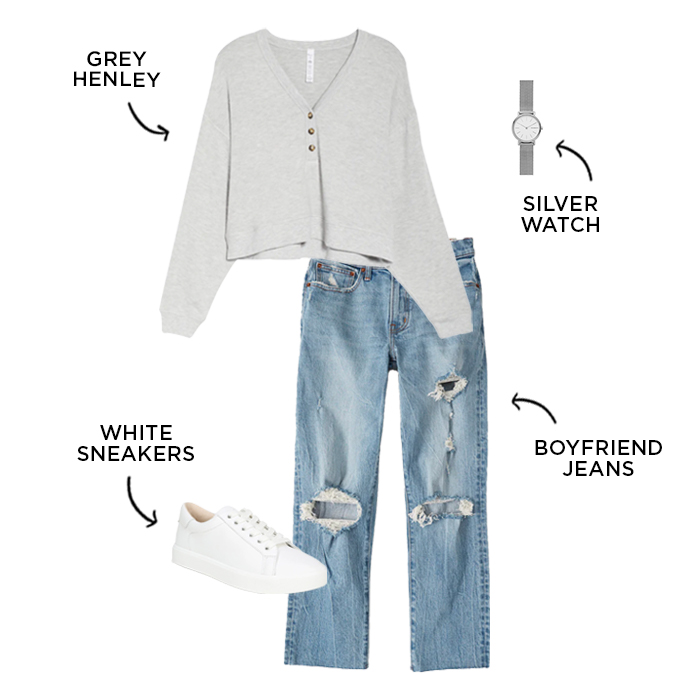 henley / watch / jeans / jeans (plus-size) / sneakers
This is the outfit that actually made us want to go hiking. The black jacket with white trim gives it an err of sportiness that Meredith obviously didn't naturally have, but it sure made her look the part. Her black Prada backpack can be easily replicated with this similar black nylon version—no rocks included.
zip-up sports bra / jacket / water bottle / backpack / leggings / leggings (plus-size) / sneakers
calling all upper east siders