Corbin Thomas knows what it means to be busy. As a marketing professional, blogger, late-night renovator, and wife, this Atlanta native is always on the move. Thankfully for her, she and her husband have created the most perfect space to call home, and it's making the rest of us green with envy. Check out Corbin's gorgeous home, and read on to learn more about how she manages major renovations, an impressive career, and a minor obsession with Chance the Rapper.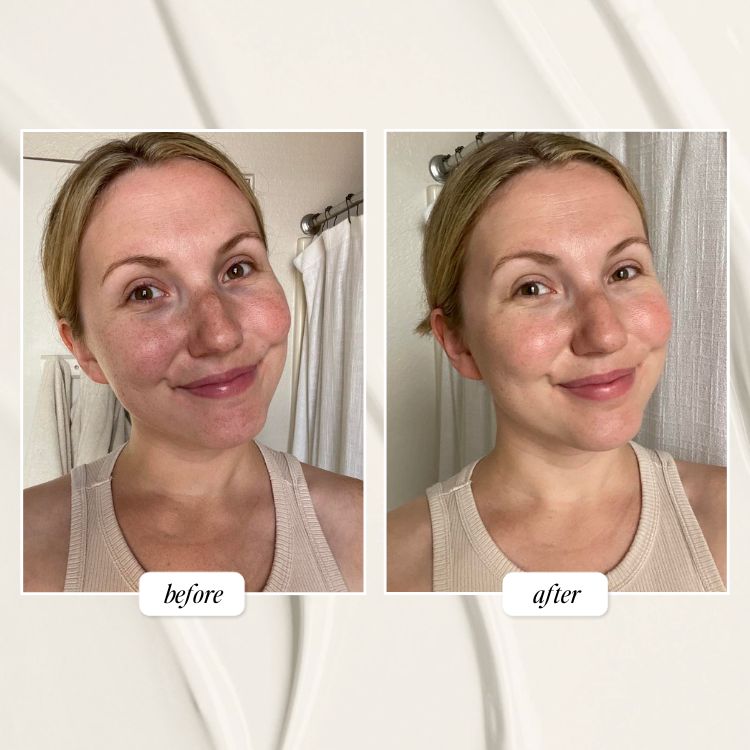 Name: Corbin Thomas, Marketing at The Coca-Cola Company, blogger behind Blue Door Living
Age: 29
Square Footage: 900 (upstairs not shown)
Rent or Own: Own
City: Atlanta, GA
So you and your husband got married and bought a house, all within two weeks. What a major life transition! How did that timing work out, and what did you learn from it?
Our friends and family definitely thought we were crazy. The reality was we had been house hunting for a long time and weren't planning to buy when we did. It was a competitive seller's market and by the time we would get an alert on a new house, it would have multiple offers and typically one over the asking price… in cash. We couldn't compete.
A big thing we learned was that we couldn't house hunt the usual way. We set up alerts on Zillow in key neighborhoods at our price point and didn't sign an exclusive agreement with a buyer's agent at first. This gave us a competitive advantage because agents competed for our business sending us "first looks" on properties before they went on the market.
We found our house before it was on the market. We were hesitant to take the plunge on a fixer-upper knowing it was going to need a lot of work. My husband and I continued house hunting and would divide and conquer tours agreeing that if one of us walked into a house we loved we'd put an offer down on the spot. One day, I visited a house in our ideal neighborhood and price point expecting it to be the one, but it had the opposite effect. I called my husband immediately. We were taking the fixer-upper. Everything considered, it went pretty smoothly, but we did get an urgent email when we were abroad on our honeymoon requesting paperwork for the house.
Although you're from Atlanta, you spent your college years in Ohio and also spent a few years in NYC. After those experiences, what brought you back to Atlanta? What are your favorite parts of Atlanta, and what did you learn from living elsewhere?
Living and working in NYC was a lifelong dream of mine, especially working in the Marketing field. After long distance dating my now husband from NYC for a couple of years, I moved back to Atlanta when we got engaged. We are both from Atlanta, and it's been amazing to see the city grow. My favorites parts are the historic areas that have been revitalized, like Ponce City Market that used to be the old Sears building and the Westside where you can walk around outside, shop, and find great food.
You've worked in an ad agency, in digital marketing, and in professional blogging. How have all these experiences led your career and life to where it is now?
Marketing and blogging really fit hand in hand. It's all about the reader or the consumer — what they care about and how to reach them. Being able to interact, take feedback, and evolve your work so quickly is what originally drew me to digital marketing and blogging. I learn something every day whether that's what topics my readers are interested in or the nuances of how people are using technology and social media. It's been a lot of fun to take my career passion into a personal passion around home décor.
Don't let age or lack of experience limit what you think you can do.
You and your husband are so cute, and you make such a great renovation team! How did you meet? How do you two inspire each other?
Thank you! We met randomly at a punk rock concert when we were 16. Turns out we had mutual friends in common and dated for a few years before going our separate ways for college. We stayed close friends and reconnected in Atlanta after graduation. While our taste in music has definitely changed, we share a passion for building things from the ground up whether that's our home or new business ideas we are always dreaming up. We are really competitive with one another which inspires us to always try to be better, but we always celebrate each other's wins as a team. This has been so important during our home improvement projects because it is so much work.
One weekend we planned to tile our screened in porch for a shoot I was doing for the blog. After working on some pretty intense home improvement projects for back to back weekends repairing our walls after ripping out 15 radiators and repairing wood rot on our front door, I was exhausted. Late Friday night after work my husband showed up to the house with literally all of the supplies we needed to tile our screened in porch. He had even borrowed a wet saw for the tile from a friend in the business. He worked around the clock all weekend to get the porch done, and it looked great!
How has your living style changed since marriage?
Our house has one bathroom and a closet that we share, so I've had to focus more on organization to keep things tidy and in their place. I also think a lot more about functionality when decorating and have a greater focus on investing in timeless pieces for our home.
Our living room was nearly impossible for me to decorate. I had the hardest time trying to find a layout that would function and fit the flow of traffic.
You've described your decorating style as a mix of styles, ranging from bohemian to French to modern. How did your style evolve into this, and how is it still evolving now?
I have been such a fan of French everything since I was a little girl that it seems natural French design would come into my decor scheme. I also gravitate towards bohemian for how relaxed and funky it can be and have loved pairing the two unlikely styles together. In our house, I added clean lines to give the design more structure to fit our lifestyle. Lately, I'm gravitating towards California design, bold photography and antiques.
What is your favorite room in your home, and what was the design process like?
Hands down our dining room. It has such incredible natural light that keeps it bright all day long. The design scheme was pretty immediate. I knew I wanted a big, relaxed table for people to gather around, so I created a design board and challenged myself to finish the room in a few weeks. Finding the table was the hardest part, because I knew I wanted the look of a rustic trestle table but had read horror stories on spills and sealants gone wrong. Once I found our table, I shopped around checking out pieces in person and refinished a vintage buffet on nights after work. At the last minute, I swapped out the dining chairs for bistro chairs after finding them at a local store on major sale. I fell in love with them and they were surprisingly comfortable!
Don't try to do it all alone or all at once. Renovating is a big undertaking so ask around for advice and don't be afraid to reach out to people who are experts.
Renovating and redecorating a home can be an incredibly trying process — what's your best advice to someone looking to take the plunge and make a house their own?
Don't try to do it all alone or all at once. Renovating is a big undertaking so ask around for advice and don't be afraid to reach out to people who are experts. Before you renovate, decide what you want to do in priority order, so you can be as decisive as possible. It'll save you time and money with architects and contractors. The best redecorating advice I've ever received is to invest in home décor that you really love and don't feel like it has to be perfect day one. The best homes are ever-evolving collections that really feel like you.
What part of the design process most surprised you? Was there any part of the home you were skeptical about that ended up working out perfectly?
Our living room was nearly impossible for me to decorate. There isn't a formal entryway in our house and the front door opens into our living room. It's in the center of the room splitting the wall evenly on each side and to make matters more difficult there is a door or window on literally every wall in that room. I had the hardest time trying to find a layout that would function and fit the flow of traffic. I ended up putting the challenge out to the design community on Houzz and was so surprised and thankful for their suggestions! The layout turned out great.
It can be difficult to prioritize renovations when also working a full-time job. How do you manage the time necessary to commit, not only to renovating your home, but also to blogging about it?
Ha, yes it can. It has to be a team effort and your team doesn't just have to be you and your partner. Include your contractor, vendors, friends and family, the more the merrier to make the hurdles more manageable. We set aside one night a week to go through our renovation to-do list and divvy up responsibility depending upon who's best suited for the task. I take on all of the design next steps while my husband takes on coordinating with our contractor. Most of the time it's over a glass of wine, so it's fun and productive. Blogging about it can be a little more tough because it's a lot more time consuming than people think. I enjoy sharing our experience, so I find little bits of time whenever I can after work, in the mornings or on the weekends to write about it.
Why did you decide to start blogging? What have you learned from it, and what have you gained from it?
I started blogging back in 2012 after seeing a DIY project I really wanted to try. I found a lot of value in projects and ideas people were sharing, and wanted to share my experience too. The unforeseen benefit was I learned how much I love interior design, hands-on projects, and refinishing furniture.
What's your next step for your home? What's your next step for yourself?
Our home is about to go through a big change with a pretty extensive renovation. We are going to renovate our kitchen, add a bathroom to the first floor and a master bath and laundry on the second. We have been talking about a renovation since we moved in two years ago and I can't wait to get started! I will be sharing the whole experience on Blue Door Living.
What advice would you give to your 23-year-old self?
Don't let age or lack of experience limit what you think you can do.
Corbin Thomas is The Everygirl…
Most listened to song on your Spotify?
My music taste is all over the place. Right now, it's "No Problems" by Chance The Rapper.
Favorite breakfast food?
Coffee and a ham and cheese croissant from La Colombe
Craziest workout you've ever tried?
Sculpthouse, it's a mix of interval cardio and strength training on a Megaformer.
If you could have lunch with any woman, who would it be and why?
Such a tough question! Aside from your Michelle Obama's of the world, I'd love to have lunch with Jen Rubio and Stephanie Korey, who founded the travel and luggage company, Away. I am really interested in start-ups that are disrupting their industry.