With outside temps dropping, it's time to kiss patio party season goodbye and say hello to its cozier counterpart: the dinner party. Going to friends' and family's homes for dinner is the best, as long as you're prepared. Things go downhill when you send an overeager "what can I bring!?!" text to the host when you barely have time to make yourself a bowl of cereal. Then comes the day of the party, the fridge is empty, and you have no time or ideas to whip up a dish. In this dilemma, Trader Joe's is here to save the day (per usual!). We've rounded up the best TJ's has to offer in appetizers, sides, and desserts so you can bring your best foodie self to every party.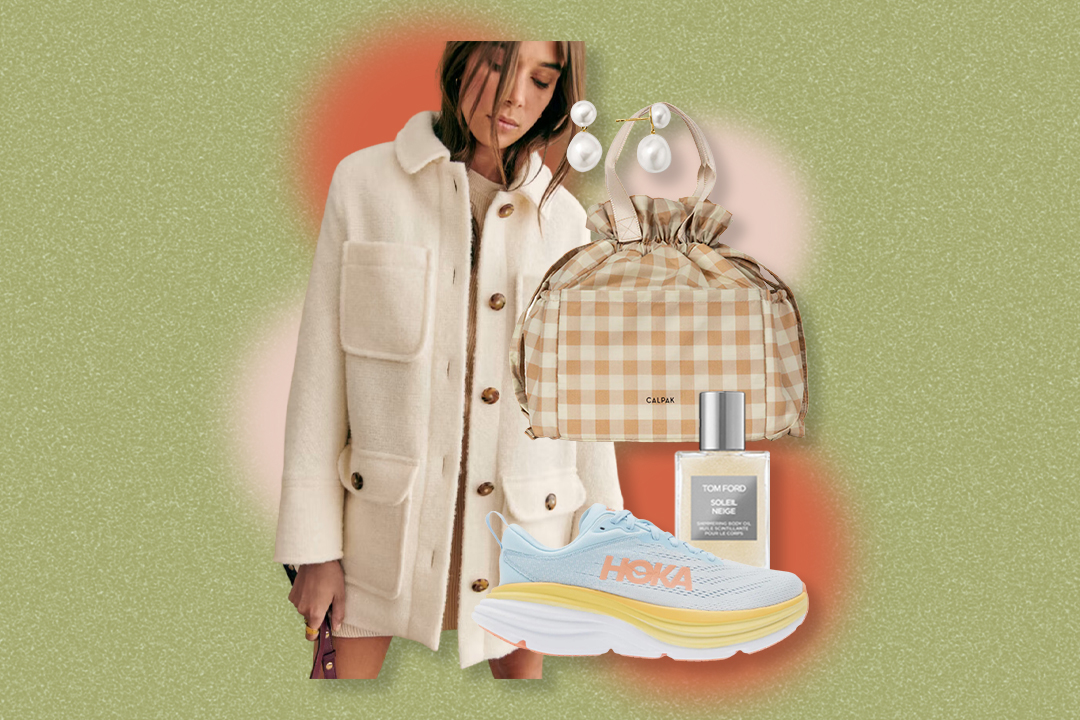 Appetizers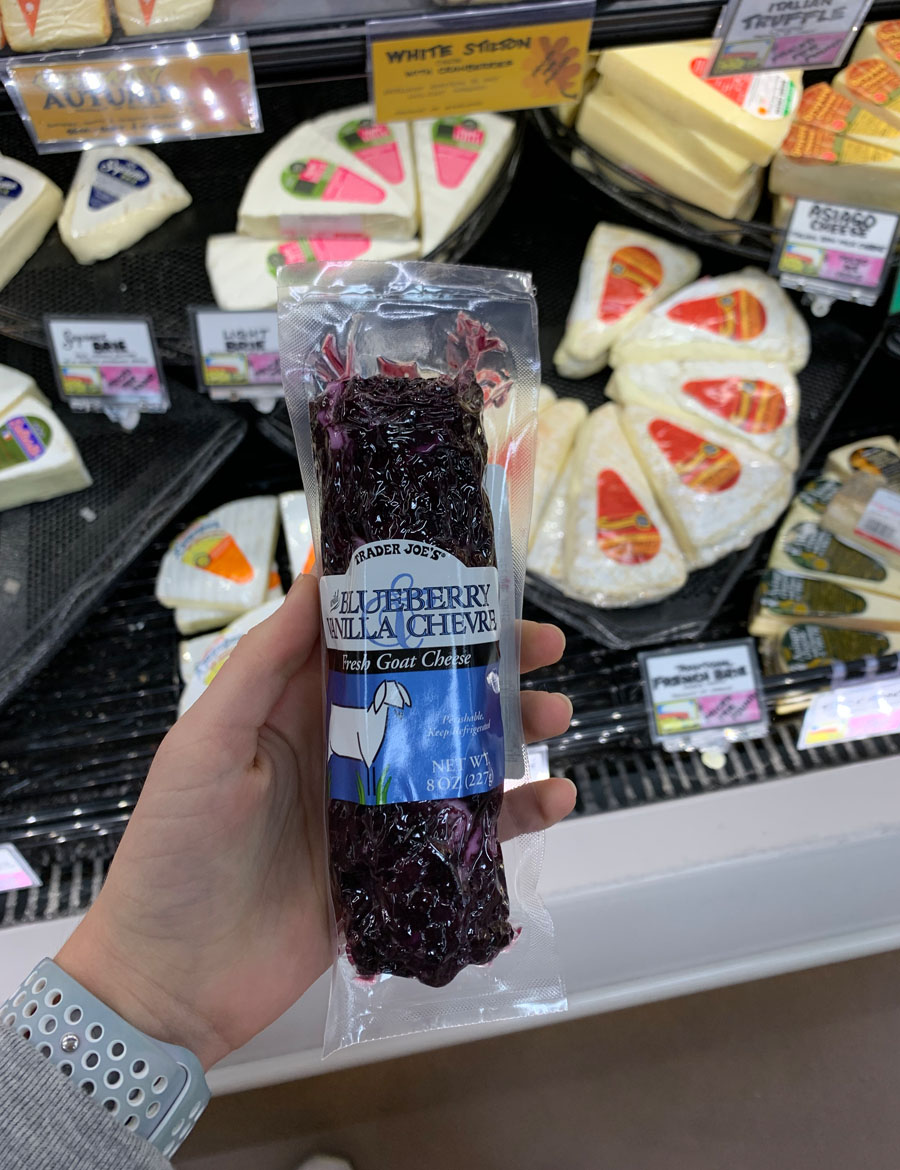 1. Blueberry Goat Cheese Log and Multigrain Crackers
This baby is #1 on the list and #1 in my heart. Goat cheese brings me joy like no other cheese can — especially this one. The sweetness of the blueberries with the tartness of the cheese is a match made in heaven. Spreading it on a multigrain cracker adds saltiness and crunch into the mix.
2. Buffalo Hummus with Celery and Blue Cheese Crumbles
This combo has the rare ability to please wing-lovers and vegetarians alike. Just scoop the hummus into a bowl, sprinkle blue cheese on top, and chop the celery into short stalks for dipping.
3. Pastry Pups
A hot dog, but make it sophisticated. This pigs-in-a-blanket inspired dish just needs a little grainy mustard for dipping and you'll be set.
4. French Baguette and Roasted Garlic & Herb Butter
The "bread and butter" of the appetizer world is literal bread and butter. Slice up one of these two dollar french baguettes and pair it with softened garlic and herb butter for a simple yet delicious combo.
5. Everything But The Bagel Dip and Everything Crackers
How much everything bagel is too much everything bagel? To me, there's never enough! Trader Joe's has taken their beloved Everything But The Bagel Seasoning and turned it into a creamy dip. Pair it with their Everything Crackers for a fun appetizer that's reminiscent of your favorite bagel and cream cheese. Not too sure about the double everything bagel combo? Opt for organic pita chips instead.
6. Burrata, Prosciutto & Arugula Flatbread
Can you say boujee? This flatbread is absolutely delicious and looks way too Gordon Ramsay to cost $4.99. The arugula flavor gets a little bit lost since it's added pre-bake, so if you want it to stand out, buy some fresh to add on top before you serve.
Sides
1. Leafy Greens with Butternut Squash Salad
I'll say it: I'm the worst at making salads. I always choose flavors that don't go well together and then throw whatever dressing is in my fridge on top. I don't want to put any dinner party guests through that, so bagged salads are a godsend. This one is perfect for fall and winter as it features butternut squash, cranberries, and candied almonds. Everything comes in its own package within the bag, so all you have to do is toss it and you can leave out any ingredients according to your preferences!
2. Baby Beets with Feta and Candied Walnuts
Beets are so difficult to prepare, you might as well let your good friend Joe take the grunt work out of it. Drain and chop a pack of baby beets, toss in feta crumbles, and top with candied walnuts.
3. Chicken Soup
I'd like to write a book called Chicken Soup for the Soul and for Dinner Parties. Throw a couple of these containers into a crockpot on "warm" and bask in the soup glory all night. If you want to make it into a chicken noodle soup, you could easily add your own TJ's Egg Pappardelle Pasta.
4. Mashed Sweet Potatoes
This looks like something straight off of my Thanksgiving table and I'm here for it. The sweet potato mash is accented with butter, pepper, and cinnamon — yum. It even includes a package of pecans for texture.
5. Roasted Vegetables
Before a dinner party, which would I rather spend 20 minutes doing: chopping vegetables or perfecting my "cozy chic" outfit? If you said chopping, you have sorely overestimated my patience (and cooking ability). All you need to do for this dish is warm the veggies — more time to send outfit photos to your friends!
6. Sweet Potato Gnocchi
I'm honestly tired of cauliflower masquerading as gnocchi. Bring back the potato — especially sweet potato covered in butter and sage. The texture of this gnocchi is to die for and complements any fall dish.
Dessert
1. Sweet Bites
These SCREAM dinner party. There's a little something for every palette and the tiny size is just so elegant in an amuse-bouche sort of way.
2. Chocolate Chip Cookies
This cookie dough is just like most things Trader Joe's makes: immaculate. Chocolate chip cookies and Trader Joe's are both overall crowd-pleasers — so a combination of the two will definitely win you points.
3. Cheesecake
Cheesecakes are difficult to get quite right when made from scratch and it's not worth taking chances. I have tried the pumpkin version of this and it was to die for, but I'm sure the classic is just as delicious for all you pumpkin haters.
4. Rustic Apple Tarte
This tastes like something your grandma would make in the best way. The toasted almonds on top add tons of flavor while the apples and the crust make such a dynamic duo. Plus, it looks absolutely gorgeous.
If all else fails… just bring flowers.
Trader Joe's has the best (and most affordable) flower selection out there. Grab a bouquet of flowers and one of eucalyptus to make a beautiful bouquet. You can even use a TJ's paper bag as wrapping (inside out of course!).
What's your go-to dish to bring to a dinner party? Which do you want to try from this list?