Maybe it's my Italian genes, maybe it's the undeniable truth that it's one of the most versatile foods in the game, or maybe it's the fact that digesting cheese literally causes your brain to release dopamine. While I may be unsure about the root of my love affair with cheese, there's no denying it—I'm addicted and I just can't get enough.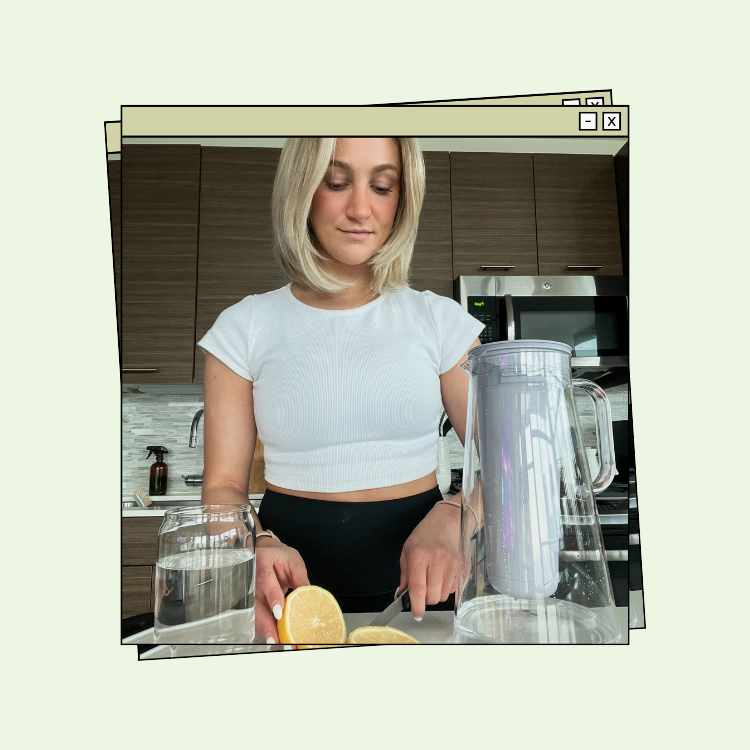 get it right in 2023 and beyond
Whether it's generously suffocating a personal pizza, sandwiched between two slices of sourdough bread, standing alone, or accompanied by a mix of fruits, crackers, nuts, and prosciutto, I do not discriminate. I have found that cheese is my tried and true route to happiness so it's no surprise that one of my favorite places to hang out is the Trader Joe's cheese aisle. With incredibly affordable prices, a wide variety of both non-TJ's staples and standout blends you can't get anywhere else, it's a no-brainer that Trader Joe's is one of the best places to get cheese.
OK, before I begin, full disclaimer: though I am a self-proclaimed cheese groupie and have consumed an impressive amount of cheese in my lifetime I am by no means a cheese expert. So if you're looking for a review with descriptive cheese vocabulary such as yeasty, grassy, nutty, or funky, I regret to inform you that this is not that. I can tell you, however, if, I, an average person who enjoys cheese, would buy it again. Thank you for coming to my TED Talk. Let's get this show on the road.
11. White Stilton Cheese with Apricots
I've been eyeing this White Stilton Cheese for quite some time and finally pulled the trigger on adding it to my cart this week. Traditionally, I love pairing my cheeses with jam or fruit so I really thought I was on to something when I picked this up. I sadly am here to report that this one just didn't do it for me. It was overwhelmingly fruity and weirdly boasted a bitter aftertaste. As far as I'm aware, the rest of the internet didn't hate it, so maybe it's just me but I don't think I'll add this one to my cart again.
10. Port Salut Semi-Soft Cheese
This Port Salut Cheese was recommended to me by a friend and let me preface this by saying: This cheese is not bad. It's just pretty darn plain. Which might be what you're looking for, especially if you're assembling a cheese board that has a lot of bold flavors. Standing alone, this soft, creamy cheese didn't particularly stick out in my brain but it was definitely a safe option especially if you prefer a mild cheese that's not necessarily the star of the show.
9. Italian Truffle Cheese
If you like anything truffle, you need to try this Italian Truffle Cheese immediately. I'm not kidding—stop what you're doing, run (do not walk), and add one of these to your cart. Truffle isn't always my favorite because it is often overwhelming but I will say that this cheese did it right. Standing alone, the truffle cheese flavor lingered just a bit longer than I would like but this minor problem was quickly resolved when I ate it with a Fig & Olive Cracker and some grapes.
8. Cheddar Cheese with Caramelized Onions
This cheddar cheese with caramelized onions sent me into orbit and gave me an out-of-body experience. I'm not sure why I didn't expect this to taste like an Outback Bloomin' Onion but hello, of course it did… it's made with onion. I was really pleasantly surprised by this sweet and savory cheddar that made me truly question, am I eating onion rings RN? I couldn't eat the entire block in one sitting as I would imagine the caramelized onion flavor would get overwhelming but I'm pretty sure that isn't FDA recommended anyways. If you're looking for a switch-up to your average cheeseboard staples, this is it.
7. Unexpected Cheddar Cheese
Unexpected Cheddar Cheese is a long-time Trader Joe's cult favorite and for good reason. It presents itself like aged cheddar, looks like cheddar, and tastes like a cheddar—until it doesn't. The "unexpected" part comes in when you get hit with that hint of parmesan that is oh, so delicious and the perfect surprise. You know, like when you unknowingly hit up your favorite retail store in the middle of a 40 percent off sale. This cheese is versatile, absurdly affordable ($4.99 per pound), and a new staple in my household.
6. Blueberry Vanilla Chevre Goat Cheese
If I could rewind to December when I first picked up the cranberry version of this Blueberry Vanilla Chevre Goat Cheese, I think this would be higher up on my list but even so, this flavor is still so tasty. Before I tried this cheese, I was never a huge fan of goat cheese. While I'm working up to it, this fruity variety is a great transition cheese that even non-goat cheese lovers (my sister) love. Until the cranberry version returns (please, Trader Joe, bring it back!), this is a solid substitute.
5. Asiago Cheese with Rosemary and Olive Oil
OK, now we're getting to our top four which I will also lovingly label as "standalone cheeses I could eat in one sitting." This Asiago Cheese with Rosemary and Olive Oil was a savory dream that I can't stop thinking about. The rosemary made it feel a little bit earthy which somehow perfectly complements the asiago flavor. I have nothing but good things to say about this stuff and will 10/10 be buying this the next time my girlfriends and I go in on a homemade cheese board.
4. Alpeost Cheese
Alpeost Cheese is one of Trader Joe's newest cheese additions and, man, is it a good one. There are no interesting or exotic flavors to this one, but for that reason in addition to the fact that the cheese itself is just so delicious made it one of my new favorites. I truly hope this one sticks around because this would be the perfect staple cheese to have in the fridge for just about all of your cheese-related needs.
3. Toscano Cheese with Black Pepper
This peppercorn Toscano cheese is everything so it's no surprise that in the two first attempts of trying to get my hands on it, it was sold out. It tastes like a mix of cheddar and parm and is truly a gift from Trader Joe himself. When I first grabbed it, I was a little nervous that the pepper-coating would be a bit overpowering, but I can promise you that TJ's nailed it with this one.
2. Syrah-Soaked Creamy Toscano Cheese
Speaking of Toscano cheese, allow me to introduce one of my tried and true all-time favorites. I'll talk about this cheese and recommend it to anyone who will listen so I already knew it would be at the tip-top of this list. It's a bit creamier than the Black Pepper Toscano Cheese (perfect for spreading on crackers) but still has that cheddar/parm flavor that, to me, is simply to die for. This Syrah-soaked cheese is a fancy crowd favorite that I always stock up on whenever I hit up Trader Joe's.
1. Old Amsterdam Premium Aged Gouda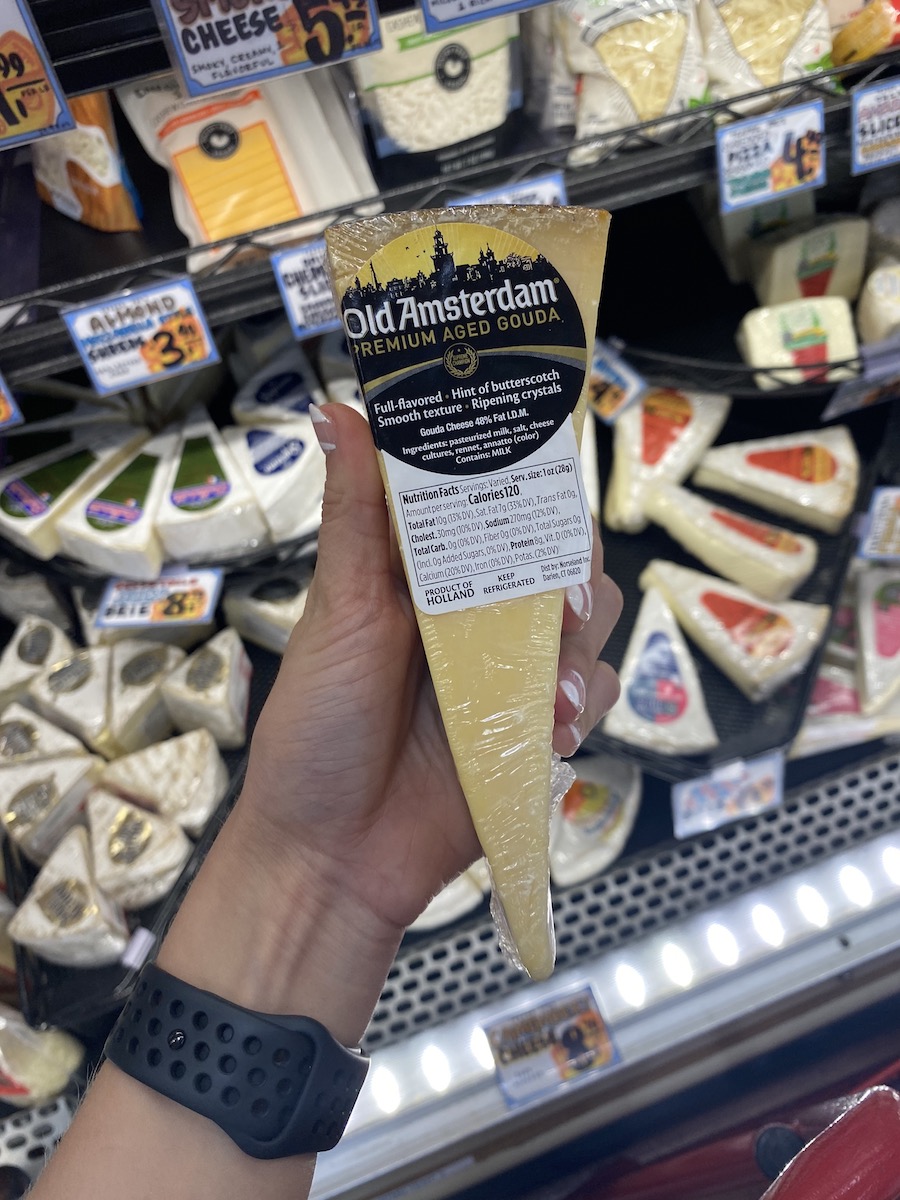 Add this Old Amsterdam Gouda to the list of "Things I Didn't See Coming in 2021." It's been around for a bit but I finally gave it the time of day and, oh my God. This is the best cheese I've had in so long and it has secured the title of My All-Time Favorite Trader Joe's Cheese. It's a gouda cheese that is smooth with crunchy crystals, full of flavor, and an exquisite mix of savory and sweet. I seriously don't know how I lived without this stuff.