I face the same dilemma every year: March rolls around, it's 40- or 50-something degrees, and I somehow completely forget how to dress for the weather. The transition between winter and spring is a happy one, but it can also come with some confusion on what we're supposed to be wearing to be both comfortable in the weather and feeling "springy."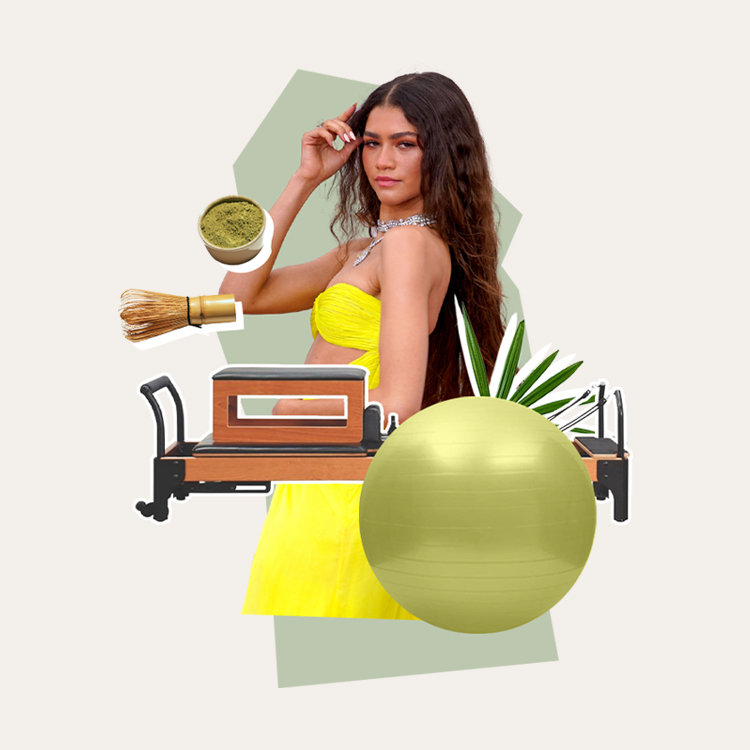 she's (kinda) just like us!
I'm always asking myself the same questions… How early is too early to break out my sandals? Can I put my parkas away yet? What colors are we wearing now? So in an effort to avoid some of the extra struggles that could come with getting dressed in the morning, I took to Instagram to get some outfit inspiration for this transitional time.
Some of the major trends we're seeing right now—light neutrals, monochrome, light wash and white denim, lots of texture—are absolutely perfect for dressing in the awkward is it winter or is it spring? period. Here are 12 outfits that you'll want to copy right now:
1. White jeans + chunky sweater + houndstooth coat
Source: @maddy.corbin
We're ready for white denim in full force again, but we can ease into by wearing a pair of white skinnies with a chunky beige turtleneck and a houndstooth coat (which is also an item in our spring capsule wardrobe). Extra fashion girl points for wearing it draped over your shoulders.
GET THE LOOK

2. Bright maxi dress + boots
Source: @theyusufs
If you're dreaming of pulling your favorite summer maxi dress out of the back of your closet, this is the way to do it. Layer it with your favorite leather jacket; one of the past year's hottest trends, the slouchy boot; and a matching bag for a seemingly effortless look.
GET THE LOOK

3. Midi sweater dress + long fuzzy coat + sneakers
Source: @alexmichaelmay
The midi sweater dress is something that I never want to see go out of style. It's versatile, flattering, and can transition flawlessly between seasons (I know, it'll probably have to sit out for summer). A light-colored option pairs perfectly with a long fuzzy coat and sneakers, so you can look cool while feeling like you're in your pajamas.
GET THE LOOK

4. Bright coat + white tee + jeans
Source: @lovelyinla
Is there anything more springy than a beautifully colored coat? This one is truly simple: switch out that dreary black parka for a structured coat in a fun color, and your go-to jeans and a tee outfit is suddenly *elevated.*
GET THE LOOK

5. Puffer coat + light wash jeans + pop of neon
Source: @theblondeinpink
We all know that neon is one of the biggest spring trends this year. If you're a little weary of such bright colors, try adding it in in a subtle way, like with a fun pink beanie. Add in extremely light wash jeans and a beige puffer, and you get a spring color palette—while also staying warm on those 40-something days.
GET THE LOOK

6. Leather pants + sweater tank + white blazer
Source: @gabrielegz
If you're striving to look like the most stylish girl on the block, this look is perfect for you. You may think leather is just for fall and winter, but we're huge fans of bringing it into spring. Try out leather pants in a lighter tone (like chestnut brown) and pair it with cream and white monochrome layers on top for the ultimate cool-girl look.
GET THE LOOK

7. Longline blazer + distressed jeans + snakeskin booties
Source: @devindeangelis
Blazers are having a serious moment right now, especially oversized ones paired with dressed-down casual looks. Try wearing a double-breasted beige one with distressed straight-leg jeans and statement snakeskin booties to achieve that ultimate business-woman confidence.
GET THE LOOK

8. Teddy jacket + monochrome outfit + black booties
Source: @accordingtomandy
We're not quite ready to stop wearing our teddy coats just yet. On a chillier day, it's the perfect addition to a pair with belted structured trousers and a basic tee in spring neutrals. Round off the look with black booties, because we'll be returning them to the backs of our closets very soon.
GET THE LOOK

9. Gray wool coat + gray sweater + distressed jeans
Source: @cellajaneblog
Have you noticed that we're loving the monochrome look this spring yet?! This outfit is the ultimate way to pair together the basics you've been wearing all winter—a gray sweater and a wool coat—and add in a hint of warmer weather with distressed jeans in a light wash. And we'll count that bit of knee showing through the jeans as finally showing some skin again.
GET THE LOOK

10. Oversized sweater + satin midi + white boots
Source: @ashbegash
A white satin midi skirt may seem daring, but pairing it with a comfy oversized sweater makes it less so. This is such a fun and out-of-the-box way to add white into our spring wardrobes in a way other than white denim. BRB, gotta go find a satin midi skirt to add to my cart.
GET THE LOOK

11. Dad blazer + white turtleneck + wide-leg jeans + snakeskin belt
Source: @misszias
What did I say about blazers? This spring is their time to shine. Throw a super oversized one over a simple white turtleneck and wide-leg jeans, top it off with a snakeskin belt, and suddenly you're serving a serious look.
GET THE LOOK

12. Slouchy sweater + leopard midi
Source: Carrie Bradshaw Lied
I don't think the leopard print midi is going anywhere anytime soon. We're loving the idea of carrying it from winter to spring by combining it with a cream sweater, booties, and one of our team's absolute favorite spring trends (and another capsule wardrobe staple): the rattan bag.
GET THE LOOK