We've all heard of passport photo makeup—it did go viral last summer, after all—but what about the passport photo outfit? Sure, only a quarter of your top-half is shown, but hey, it's still an important decision for a photo you'll be looking at for the next 10 years.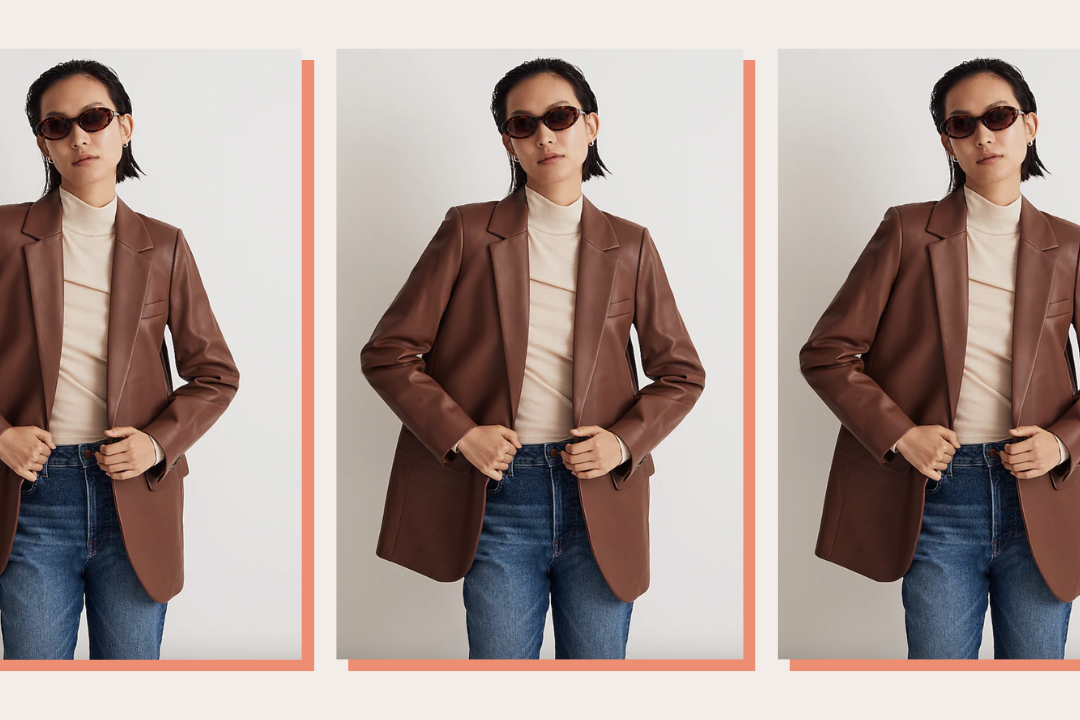 time for your fall wardrobe update!
Your passport photo is a clear, close-up photo of your face set against a white background. The United States has a hard-set list of requirements for your photo, so it's important to follow them in order for the application process to be seamless. Going into your passport photo appointment already knowing what you're going to wear—and more importantly, what you're not allowed to wear—makes the process a lot smoother.
If you've got plans to take a passport photo sometime soon, you've come to the right place. Before you're searching for travel hacks and booking your flights, be sure your passport and documents are in order ahead of time. We're breaking down the perfect pieces to wear for your passport below. Trust us: You'll look so good, you'll be excited to whip it out for TSA for the next decade.
What To Wear for a Passport Photo
When in doubt, grab the white button-up. Everyone's got one in their closet, and when it comes down to it, they're always sure to make you look as photogenic as possible, and come with little-to-no risk. Your collar will peek out in the top of your photo, giving a little hint of extra detail that's perfect for a headshot.
A black boatneck top
Despite only a portion of your torso showing, boatneck tops are an easy way to flatter and accentuate your shoulder and neck area. Paired with timeless pieces of jewelry, wearing a basic black boatneck top to your passport photo appointment is a simple way to elevate your photo.
A plain blouse
If you're choosing to wear a blouse for your passport picture, we'd recommend you wear a dark, solid color, avoiding busy prints and patterns. Even if they're flattering in real life, patterns like stripes and florals can end up photographing funny in tighter shots like a passport photo.
A collared shirt
If you want to bring a little more of your personal style for your passport photo, opt for a collared shirt in a pop of color. You'll still get the aforementioned collar detail featured in your photo, but the color you choose will help to make it a little more you.
Bold earrings
Nobody said you can't have a little fun with your passport photo, and that's where adding a pair of earrings to your look comes in. While we're partial to gold hoops, pretty pearls or subtle statement earrings can also zhuzh up your photo to perfection. If you really want them to be seen, don't forget to tuck one side of your hair behind your ear to make sure they're on display.
A necklace
Wearing accessories in your passport photo is a fun way to add some personality into your photo while still adhering to the guidelines. Draw some attention to your photo by opting for adding a necklace to your look. Add your go-to dainty chain to the mix, or opt for something a bit bolder that'll draw the eye even more.
What Not To Wear for a Passport Photo
A hat or head covering
Hats and head coverings are not allowed to be worn in your passport photo. If you have a religious or medical reason to wear a hat or head covering, you can be permitted to wear one with a signed statement. If so, be sure that your hat or head covering does not obstruct any part of your face and that your face is fully visible.
Glasses (unless for medical purposes)
Anything that can obstruct a clear view of your face in your passport photo is forbidden to be worn. That being said, unless you have a medical purpose to wear them, glasses are not allowed. This includes both sunglasses and seeing-eye glasses.
A uniform
You are not allowed to wear a uniform in your passport photo. If you're heading to your appointment straight from somewhere where you usually wear a uniform, bring a change of clothes or a different shirt to adhere to rules.
Camouflage
Similar to the uniform policy, wearing camouflage in your passport photo is not allowed. We'd suggest straying away from any kind of patterns and sticking to solid colors only.
Headphones
While we love over-the-ear headphones as the finishing touch on an outfit, leave the headphones at home for your passport photo, as they are not allowed to be worn.
Before you leave to take your passport photo (or send yours to be processed), make sure your photo follows the following requirements.
Use a clear image of your face
Take off your glasses
Nothing is obstructing your face
The photo's background is white or off-white
No shadows are in the image
Your head is centered in the photo
You are wearing everyday, normal attire
Your face is in a neutral expression