If you've been around here for a while, you already know how keen we are on the concept of capsule wardrobes—a closet full of items that can be mixed and matched with one another for an infinite number of combinations and a permanent fix to your "I don't know what to wear today" conundrum.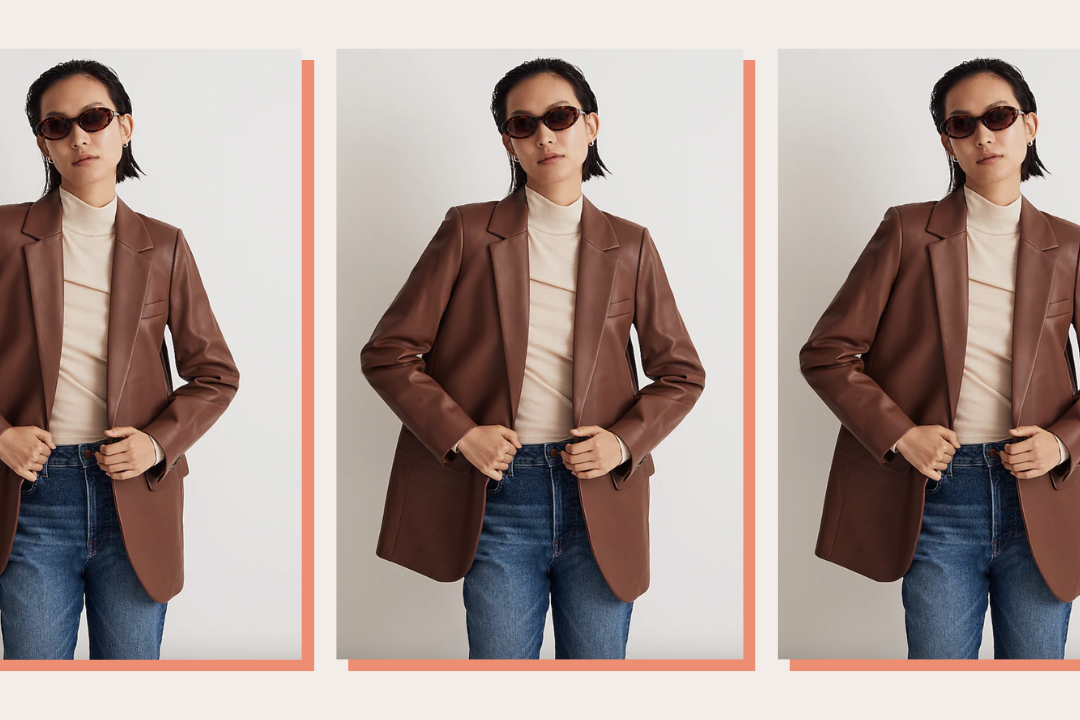 time for your fall wardrobe update!
After months of cold weather (and, let's be honest, a spring that for many of us felt like winter), we're ready to dive headfirst into the waters of the most glorious season of the entire year. Airy, linen dresses, rattan details, vibrant colors that look incredible paired with sun-kissed skin—summer is about waking up, throwing on an easy outfit, and heading out the door feeling like a 10.
No matter what your schedule holds—though we hope it's jam-packed with a lot of patio drinks—these pieces can be mixed, matched, and worn on repeat until the first leaf of autumn falls to the ground.
What is a capsule wardrobe?
The simple definition is that it's a curated wardrobe made up of versatile pieces that you love to wear. Creating your capsule wardrobe should be a testament to your personal style
A capsule wardrobe consists of a set of tops, bottoms, dresses, outerwear, shoes, and accessories that can be easily mixed and matched together to be dressed up, down, and anywhere in between. It means your closet has less trendy pieces that will only be worn for one season and more high-quality, classic pieces that stand the test of time and can be worn for years to come. The best part? While it might feel more expensive in the moment, you'll actually save money in the long-run since you won't be going through so many fast-fashion pieces.
Once you master a starter capsule wardrobe, it can be curated and swapped from season to season. It makes it easy to pack up and take out clothes for the appropriate season because every time you pull them out, they're just as in style as they were at the time you bought them.
How to build a capsule wardrobe
The first step to building a capsule wardrobe is to take a good, hard look at what you already own, then purge the rest. We don't mean opening it and flippantly going through the hangers; we mean that you should take every single piece out of your closet, then evaluate if it should go back in. Don't forget to take a look at your shoes and accessories, too.
Then, sort each item into one of four piles:
I love it and would wear it tomorrow: These pieces fit your body, your lifestyle, and you're happy wearing them. Put these back first.
Maybe: These pieces might not fit perfectly, have sentimental value, or you just can't put your finger on why you don't wear it more. (If you haven't reached for it more than once, it belongs in this pile too). Put all of these items in a box and store it in a place that's easily accessible. If you find yourself reaching for an item, put it back in your closet after; if you haven't reached for it by the end of the season, keep it in the box to take to donate. This is noncommittal (for now) and allows you to change your mind later.
Hard no: Whether it's because it doesn't fit or you just decided you don't like it, pack these pieces up to donate them.
Seasonal: There's no need to keep a chunky sweater next to your summer tank tops. Move all of your seasonal pieces into a storage location that will be easy for you to swap out once the time is right.
The Everygirl's Summer 2023 Capsule Wardrobe
How to style your summer capsule wardrobe
To brunch
denim shorts (plus) | wrap tank | sunglasses | necklace | sandals
If you haven't heard, peplum is back, and this top single-handedly made us happy that it is. Not only is the detail extra-flattering, but it makes for an easy going-out blouse for the summer months. With relaxed denim shorts, heeled sandals, and your favorite accessories, it's a warm, afternoon brunch's dream.
Out to dinner
hoops | sandals | dress (plus) | shoulder bag
Black is one of the trending colors of 2023, and it reminded us just how good black can be in the summer months—especially in the form of a dreamy maxi dress. If you're looking for a dress you can add to your wardrobe to wear on repeat this summer, this is it. Dress it down with your favorite flat sandals or sneakers, or elevate it with heeled sandals and gold accessories for a dinner out with friends or your S.O.
On a date
strapless top (plus) | hoops | shoulder bag | sandals
The last thing you want on a date is to be dripping sweat, and a strapless top is here to keep you cool while looking extra-hot. With a light, airy linen skirt, it gives understated luxury—perfect for a summer date night.
To the office
knit tank (plus) | sandals | linen pants (plus) | necklace | blazer (plus)
Don't know what to wear to the office this summer? A neutral pair of linen pants will be the gift that keeps on giving. They'll keep you from overheating on your commute, and can be styled a million different ways for your 9-5. This crewneck knitted tank is begging for a monochrome moment, and will pair perfectly under a lightweight, warm weather-approved blazer.
To the Farmer's Market
shorts (plus)| vest | sunglasses | shoulder bag | sandals
A vest can serve as your most versatile summer piece, as it can be layered or worn alone for a cool-girl look that'll deliver every time. For an effortless, model-off-duty weekend moment, pair a vest with oversized, tailored shorts and walkable sandals.
To run errands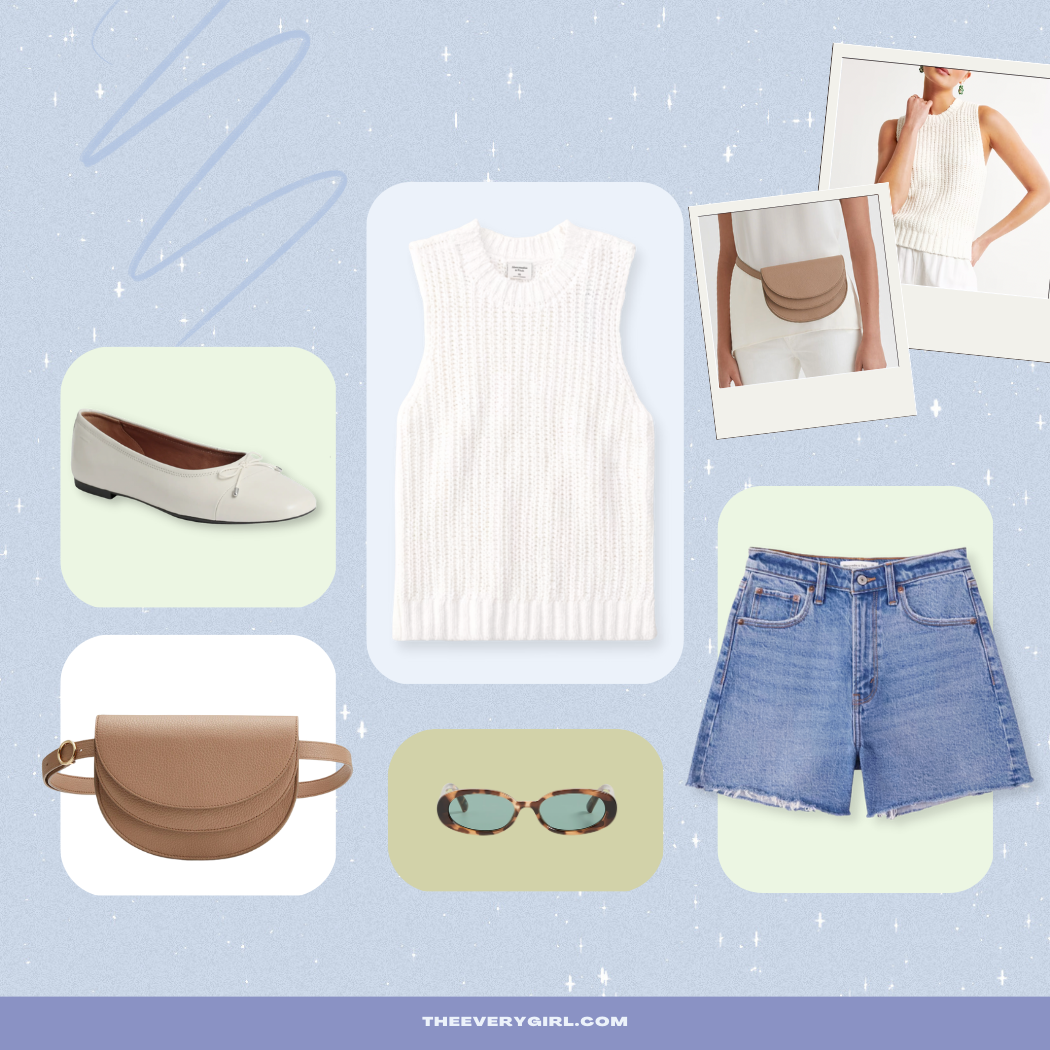 ballet flats | belt bag | knit tank (plus) | sunglasses | denim shorts (plus)
Ballet flats are the 2023 trend that our editors can't get enough of. They're just as comfortable as our sneakers, but give a more put-together essence that's perfect for a Saturday where you're planning on running around all day. Pair yours with a sweater tank, denim shorts, and an easy belt bag for your new weekend uniform.