Everyone knows that calories don't count on Thanksgiving — but your outfit should. In between trying to decide which skirt will look best in pictures and how many servings of stuffing you can eat while wearing it, the art of choosing a Thanksgiving outfit is one we're all trying to master. Regardless of how you're preparing for this stomach-filling holiday, here are 15 ensembles that will be amongst the many things you're thankful for this year.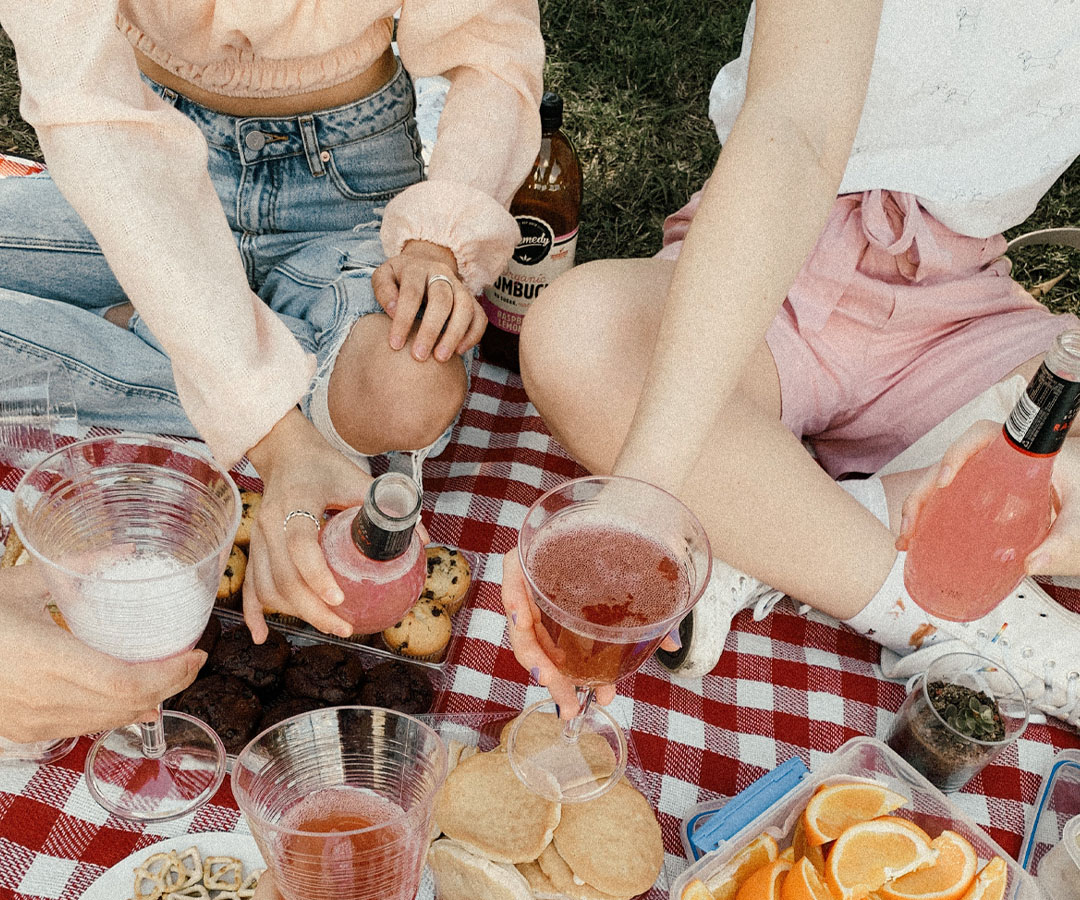 CURRENTLY TRENDING IN /
LIVING
your complete summer shopping guide
1. Your Favorite Sweater + OTK Boots
Stay warm on Thanksgiving with this classic combination of your favorite jeans with OTK boots. We all know these boots are the fashion icon of the season — and this holiday is the ideal time to show yours off. To really get into this fall-inspired look, wear your cozy sweater with a scarf and enjoy the day in the best way possible.
2. Dress Under a Long Vest
There are some occasions where we just don't want to wear pants — and a sweater dress was made for these moments. In order to enhance this outfit, wear it under a chic long vest and pair it with a statement purse. Choose OTK boots as your foolproof option and spend your Thanksgiving looking good and feeling full.
3. Turtleneck Under a Silhouette Jacket
Nothing says sophisticated this season like a simple turtleneck under a classic silhouette jacket. From layering up as you go outside to cooling off as you walk inside, this outfit is as practical as it is current. Throw on some classic black loafers to make the outfit official, and grab a statement purse to keep it trendy.
4. Neutral Top With a Wrap Skirt
Whether you're looking forward to family time or the football game (or both), celebrate this holiday with the perfect wrap skirt. Feminine and preppy, the combination of a neutral top with this skirt is one that will have you feeling confident as you take photos — and comfortable as you grab your second piece of pie. Dress your outfit up with a pair of booties or take it down a notch with some stylish mules.
5. Chunky sweater over leather leggings
For the more casual festivities, start your Thanksgiving off right with your beloved chunky sweater and add the extra touch with your standard black leather leggings. Best worn with clean sneakers, accessorize this look with some dainty gold jewelry and relax with your choice of drink in hand.
6. Knit Sweater and Tweed Skirt
In a world where disappointments are plenty, your tweed skirt isn't one of them. As an elegant approach to your outfit, a simple knit sweater tucked into your tweed skirt will flatter your body and improve your day. To stay in touch with this fashionable ensemble, pair it with your nude strap heels and spend Thanksgiving in this easily admired outfit.
7. Velvet Dress
Fall is for all things comfy and all material velvet. Embrace this heartwarming day with a classy velvet dress of your preference and make your statement with earrings and a clutch. Top this look off with your favorite heels, and let the compliments begin!
8. Blanket Scarf
It wouldn't be the holiday season without the appearance of our favorite cozy fall ensemble — a blanket scarf over a simple sweater. Choose riding boots for a casual feel and booties for an elevated one. Whether you decide to wrap the scarf around your neck or around your body, this versatile combination will keep you warm and your Thanksgiving wonderful.
9. Drape Pants With Heels
As an option for the sophisticated girl, a solid blazer over a neutral top with drape pants is as much of a must-try as it is a must-have. While your blazer will enhance your outfit, your drape pants come with a built-in waistline that will diminish your insecurities. Stick with darker colors to emphasize this business-casual look and pair with your nude heels to accent the party-ready side of it.
10. Bell Sleeves and Midi Skirt
If you appreciate any outfit that's fun and flowing, a bell sleeved shirt tucked into a feminine skirt is your next treasured ensemble. Swap out tulle for a different material (such as metallic), pair with some nude heels, and cherish an outfit that's just as free as you feel.
11. Classic Black Dress
A classic black dress — we all have one. Regardless of if it's the outfit in the front of your mind or the back of the closet, the magic of a black dress is one none of us question. As a more flattering color option, it's time to showcase your black dress this Thanksgiving. Accessorize with statement jewelry, pair with lace-up heels, and prove why this outfit is meant to live up to its reputation.
12. Suede Moto Jacket
Similar to your black dress, a sleek moto jacket is a fashion staple that should always be taken seriously. From suede to leather, the material depends on your preference and what you pair it with depends on the weather. Our suggested combination? A knitted sweater, black leather leggings, and the OTK boots you never get tired of wearing.
13. Classic Sweater Dress
A sweater dress meets all the requirements of the perfect Thanksgiving outfit. Meaning that you can look nice enough that your grandma won't give you the confused side eye (it's okay – she doesn't know sneakers and dresses are in) but also roomy so you don't have to worry about eating too much. It's also a great piece to pair with your favorite tassel earrings.
14. Blazer
Wear your blazer as a statement this holiday by combining it with a monochromatic outfit. Whether you choose to wear all black (or all white), pair your blazer with some nude heels and gold accessories to create a look that's appropriate for all moods — and fitting for all events.
15. Fall Dress and Boots
If wearing heels all day seems a bit too much, ditch em and go for your favorite pair of boots. The key is to pair them with a dress that's a little more feminine and dressy so you still look put together. Go for a fall floral, moody colors, or keep it simple with a classic, neutral piece.