In a perfect world, we'd have the time to brainstorm, plan, purchase, and rock the hell out of an amazing Halloween costume – but as a real human with real life responsibilities, I know that's probably not going to happen. BUT you can absolutely still get in the spirit without having to make it this whole *thing* with these Halloween costumes that are pretty much just makeup! And makeup that I'm confident you've got lying around or use every day. We're showing you how to do three super easy – but pretty effective – Halloween looks to pull out for that office Halloween spirit day, the party you got invited to, or just for, you know, being your spooky self.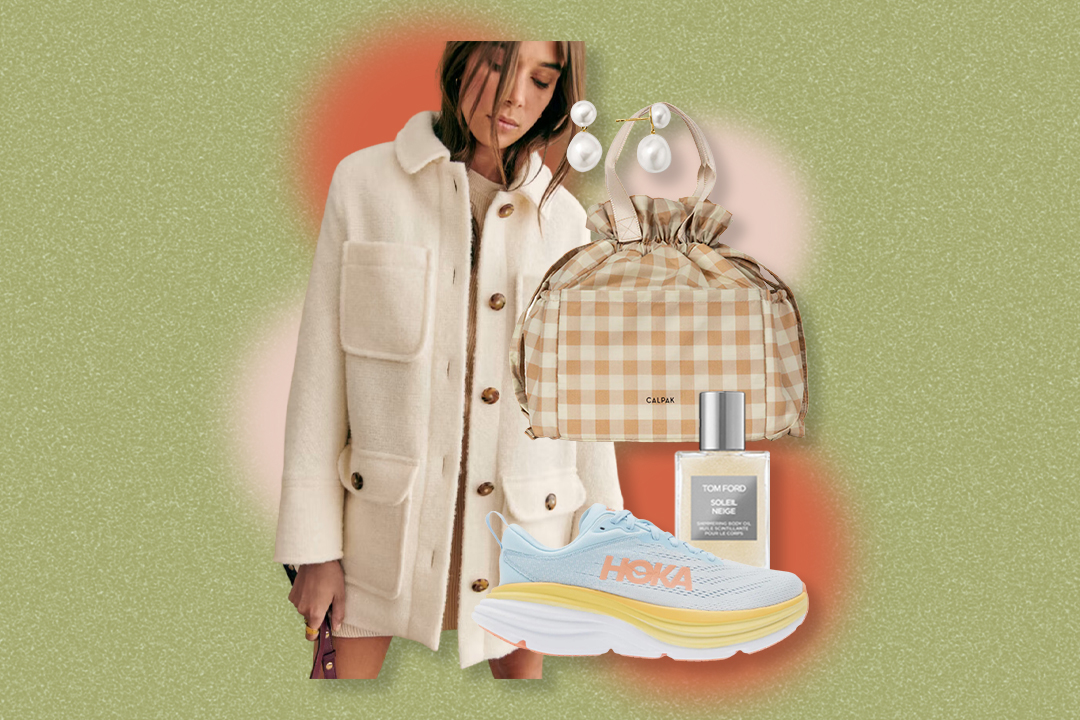 Look One: Purrrrfectly Spooky Cat
Okay, so we all know a cat is not exactly the most original Halloween costume in the world. But you know what it is? Fast, easy, and freakin' adorable. Our version is achieved with lots of liquid eyeliner and a pair of studded silver cat ears we snagged on Amazon for less than $10.
Watch Our Full Tutorial
You'll Need
How to Get the Look
1. Start with your base ready to go. Achieve this however you normally do it — we aren't going to tell you how to live your best base life. Finish by filling in your eyebrows or spoolie-ing them or whatever lights your eyebrow fire.
2. Next, apply your false lashes. I always like to do this before I do the rest of my eye makeup — your eyeshadow and eyeliner will help hide any residual glue and if your lashes make it through the rest of your makeup application, you can be reasonably assured they'll make it through the rest of the night.
READ: 8 Steps to Gorgeous Faux Lashes
3. It's eyeliner time! (It's like Hammertime, only, you know… with eyeliner). For this look, we did a little feline flick (pun intended obviously) with our liner to get the full-on "cat" effect. Winged linger can be tricky, so be sure you have some cotton swabs and makeup remover on hand in case you need to quickly correct any mistakes.
NEED HELP? This video is amazing and so easy to follow.
4. After you master your wing, extend your eyeliner line past the edges of your eyes, toward your nose — on both the top and the bottom to increase the dramaaaa of the look. Let the liquid eyeliner dry, and then trace a line of white eyeliner (pencil preferred) in between the top and bottom lines.
5. Next up, layer neutral eyeshadows over your lids for a soft, blurred version of a smokey eye. Use as much or as little as you like — depending on how intense you want your eye look to be. Finish with a swipe of mascara.
6. Now that your eyes are done, grab your liquid eyeliner again and trace the outline of the tip of your nose to create a feline look. Dot each of your cheeks with the liner, then draw whiskers out from the center of the dots.
7. Finish with a bold red lip and your studded cat ears. You're ready to slay — meeeeowwww!
Look Two: Sassy, Bronze-y Giraffe
This look is amazing because it looks SO MUCH harder than it actually is — meaning you'll be showered with compliments all night while you shrug all cool like "nbd fans" … or something like that anyway. It's all about a bronze-y face, the signature giraffe spots, and a hair look that mimics horns.
Watch Our Full Tutorial
You'll Need
How to Get the Look
1. Start with your base ready to go, eyebrows lookin' fly, face the perfect canvas for the masterpiece that awaits it.
2. Add your falsies! Remember, false eyelashes take a lot of practice — and even then they can be tricky to apply. Allow yourself plenty of time for trail and error, and if they really aren't working, feel free to ditch them and invest in an amazing eyelash curler instead. This is your lewk to do with what you will.
READ: 8 Steps to Gorgeous Faux Lashes
3. Create a smokey eye with different shades of brown, bronze, and neutral eyeshadows. Layer your shadows until you get a really pigmented look — you want your eyes to stand out, especially after you apply your giraffe spots! Line your eyes with black or brown eyeliner pencil (tightline for a more dramatic effect!) and add a swipe of mascara to finish.
4. Now it's time to add some color to your nose — you can either achieve this by contouring or simply shading in your nose with the same eyeshadow palette you used for the previous step. It's more about adding color to your skin than reshaping your bone structure. Take the deepest brown shadow you have and buff it around the outline of your nose — to create the effect of an animal nose. Dust bronzer across your face and then add strategic pops of a highlighter to complete the look.
READ: Secrets from a Makeup Artist: How to Contour Your Face
5. Time for your spots! We used old-school makeup sponges to achieve the effect. Cut them with scissors until you have a good amount of shapes, edges, and sizes to choose from. Using a liquid makeup that is a few shades darker than your skin tone, apply to the back of your hand and dip one of your sponges until it has a good layer of product on it. Then, press the coated edge of the sponge to your face, creating your first spot. Repeat until you have a cascading pattern, starting from your forehead and moving down across your cheek and neck. You can also take the pattern all over your entire face — up to you!
6. Finish your makeup with a swipe of a brown or beige lipstick.
7. Time for your hair/horns! Two ways to do this — the first is to part your hair and then create space buns on either side, basically using all your hair to create the horns (here's an example!). If you have thicker hair — like our lovely editor, Victoria — you can part your hair down the middle and then pull a small section from each side into a pony. On the last wrap, only pull a small amount of the hair through, to create a small loop or "horn" on each side. Bobby pin in place and then liberally add hairspray.
Look Three: Saucy Pirate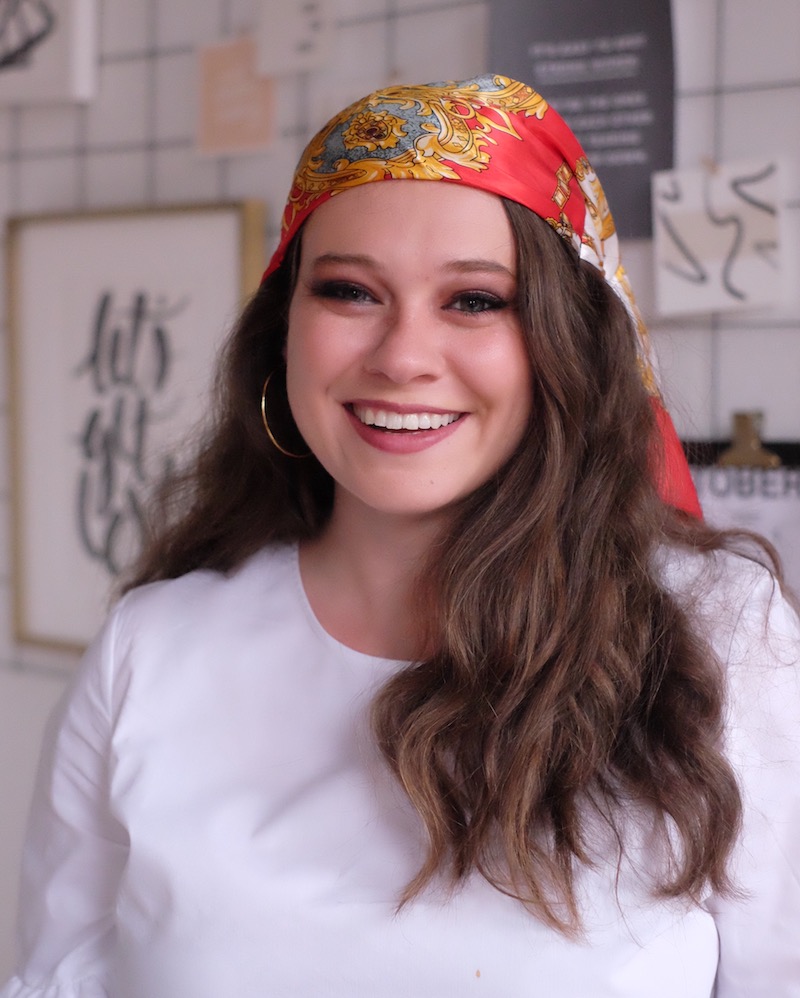 Our last look is the easiest yet — you can (literally) whip out this look in less than 10 minutes. It's perfect for those incredibly last-minute parties that inevitably pop up in October ("oh, I forgot, wear a costume!"). The base of the look is a smokey, sexy eye and a bold lip. Finish with gold hoops and a silk scarf and ahoy! there lady, you're ready to sail the high seas or at least drink some Captain Morgan.
Watch Our Full Tutorial
You'll Need
How to Get the Look
1. Start with your base ready to go — take the time to perfect your skin and as an extra step, spray a setting primer over your whole face to ensure maximum makeup stickage, even in sweaty circumstances.
2. Apply your false lashes. Try using tweezers if you're having trouble working with the falsies with just your fingers. I always recommend buying a pack of three as well — just in case you mess up and the first (or second) pair is unusable. Another pro tip: trim the lashes to better fit your eye shape — don't be afraid to get the scissors in there .
READ: 8 Steps to Gorgeous Faux Lashes
3. Create a smokey eye with shades of plum, burgundy, and wine. Think deep purples for a regal yet spooky yet pirate chic look. That's a thing, right? Keep layering the shadows for a deeply pigmented look and drag your shadow brush underneath the eye for more drama.
READ: Secrets from a Makeup Artist: How to Create the Perfect Smokey Eye
4. Eyeliner is up next! Get dramatic with your black eyeliner pencil for a very pirate-y look. We tightlined both the lower and upper waterlines, then went back and built up both lines for a truly eyeliner-forward effect. Finish with a swipe of mascara.
5. Round out your makeup with a bold, dark lip. Choose a purple-ish shade that complements your smokey eye. And remember — there is no going over the top, this is Halloween! Choose a longwear lipstick to ensure it stays alllllll night.
6. Take your silk scarf and fold it in half. Then drape it over your head until the edge is resting in the middle of your forehead. Bobby pin the sides in place until you have a nice cascading effect. You can knot the scarf in the back of your head if you like, or just let the bobby pins do their work. Spray liberally with hairspray to ensure the scarf won't budge. Add your large gold hoops (go big or go home) to complete your look.
Which look is your favorite? Do you have your Halloween costume ready to go yet? Tell us in the comments below!