I have never considered myself a shopper. I hate waiting in lines, sifting through racks, and trying things on. I am, however, an online shopper. I spend a cringe-worthy number of hours each week perusing through my favorite sites, comparing sales, and clicking through photos of beautiful models wearing trendy pieces. I'm a sucker for that "Free Shipping! Today only!" email, and my PayPal account has been known to stretch a bit too thin.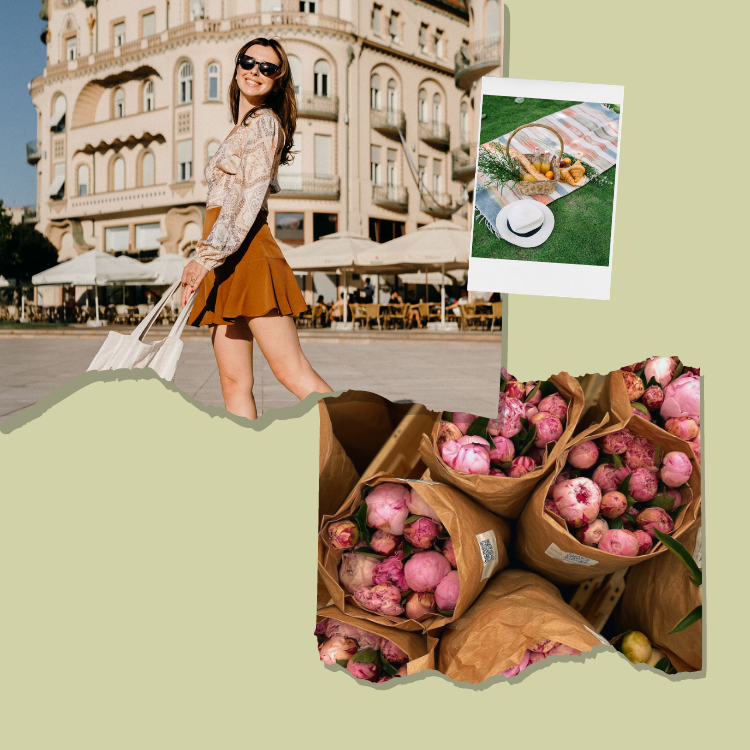 read this if you're in your saving era this summer
Thanks to all this (incredibly useful!) experience, I've curated a closet full of an assortment of clothing: wore-it-once rompers, brightly-colored Lululemon sale pieces, and about a thousand pairs of shoes from Target (Free shipping and 5% off!! How could I not?). With this collection of randomness, of course, comes some regret. I've often experienced buyer's remorse after a particularly large online shopping binge, and I've become weighed down by items that don't go together. I don't have a capsule wardrobe, all because I used to buy impulsively from a variety of boutiques. But the silver lining? Due to my own mistakes, I'm now an expert when it comes to knowing whether something is worthy of being purchased online. Today, I'm here to share this knowledge and enhance your online shopping experiences.
When buying clothing online, there are four simple questions to ask yourself.
How does this item compare to what I already own?
This first question is one you undoubtedly ask yourself even when shopping at a brick and mortar store, but it gains a whole new meaning when shopping online. Not only do you need to read the item's specifications, but you also need to compare and determine whether or not the style is too similar to something you already own (as you would in store). Before even considering the next questions, you should have a comprehensive understanding of what the product is and how it (and its quality and style) would fit into your wardrobe.
Would I spend that same amount in cash, in person?
Considering how easy it is to click "Pay with PayPal Account" on a site's shopping cart page, it's all too common to purchase something without actually factoring it into your budget first. When you have to hand over cash or physically sign or enter your pin into a card reader, you're more likely to better consider your spending and its ramifications. But online? Not so much. A good test? Write down the exact amount of money you'd spend on this particular online item. Go to an ATM, withdraw that amount of money, then ask yourself if you'd still be able to get by if that exact amount of money was stolen from you. Obviously, online shopping provides much more of an ROI than getting mugged, but the principle remains: If you're thinking of spending money you can't live without, it's money you shouldn't be spending online.
What are three items I already own that I can wear with this?
Once you've passed both the style and budget tests, it's time to get down to the fun stuff. Unfortunately, just because it could fit into your wardrobe does not mean that it's practical. To combat this, choose three items of clothing you already own, and imagine the ways you could style your new piece. Example: I just bought a black romper online. Before doing so, I imagined myself wearing it with my favorite olive green cardigan, with a denim jacket, or layer-free with tall wedges or a floppy hat. Done.
What three events coming up can I wear this to?
The final question may seem like overkill, but it's equally important to the others (especially when you online shop as much as I do!). It's crucial to imagine yourself wearing the new piece in as many realistic settings as possible. Considering a sassy new pencil skirt, but you work in a casual-friendly office? Maybe not realistic. Dreaming of that peacoat from the new winter line, but you live in California? Shut it down. Example: When it came time to hit "purchase" on my black romper, I first told myself I could wear it to 1) my friend's engagement party, 2) an outdoor concert next month, and 3) any Saturday evening date night. Done and done.
Do you enjoy shopping online, or in person? How do you limit yourself when shopping online? Tell us in the comments!