With the holidays coming up, there will be plenty of opportunities to catch up with family, enjoy our favorite recipes, and participate in the traditions we look forward to all year round.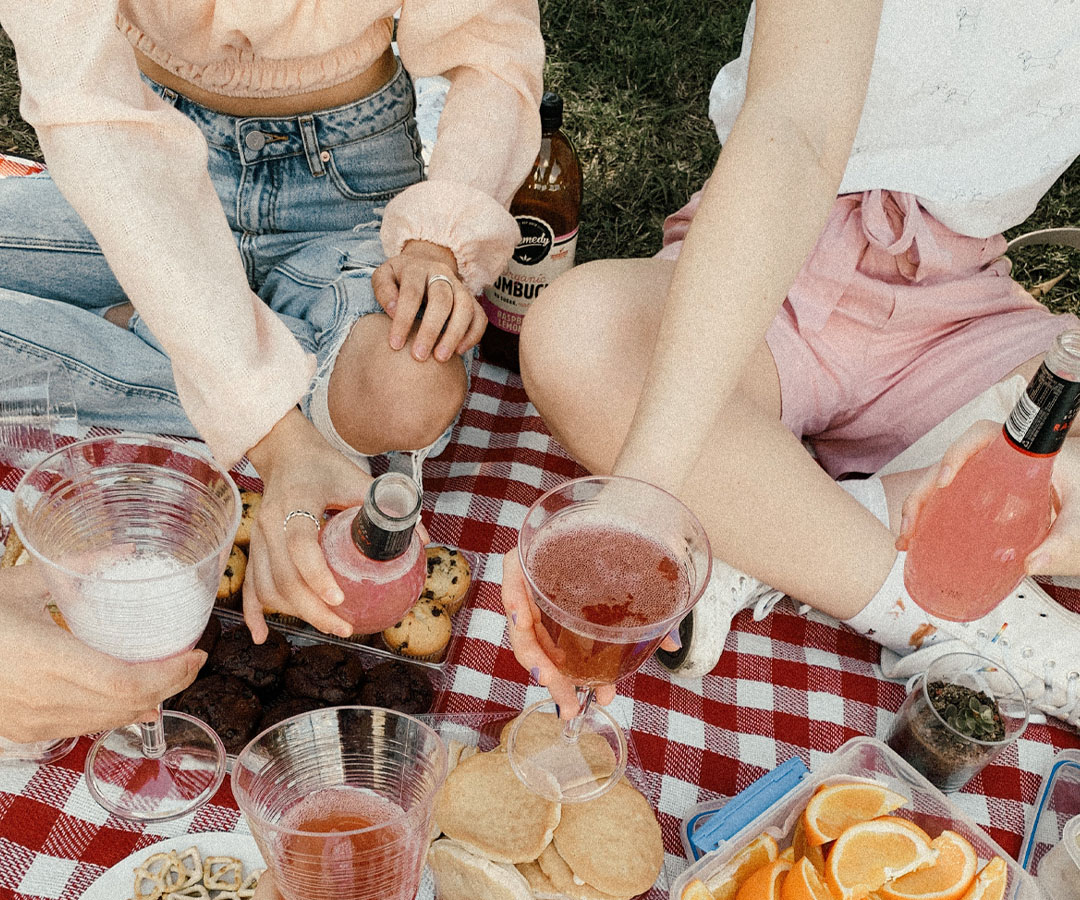 CURRENTLY TRENDING IN /
LIVING
your complete summer shopping guide
However, along with the perks of being with family for the holidays comes the potential for conflict. Whether it's the drama that's created when the various characters in our family get together, the tension that stems from political discussions, or the unnecessary comments and questions about our personal life, chances are most of us have had difficult family situations over the holidays at one point or another. While dealing with uncomfortable family get-togethers on our own is one thing, it can be even more stressful when we take that next step and decide to bring our significant other home.
The good news is that instead of jumping in holding our breath and hoping for the best, there are things we can do to make the visit a little easier so we can really relax and enjoy the festivities.
1. Give your partner the play-by-play.
One of the best ways to prepare for this homecoming is to go over the plan for the holidays. Make sure you are both on the same page about things like which events you are expected to attend, what the dress code is, who will be there, and how everyone is related. If you're comfortable, give your partner some insight into your family dynamics, including who gets along (or doesn't) and any major conflicts.
It's also a good idea to talk about the traditions and expectations your family has for the holidays. For example, if your family takes turns telling stories, sharing highlights of their year, or reading out loud, make sure your partner knows if he or she is expected to participate. If your partner is from a different cultural background, it can be helpful to give them some information about the meaning of the holiday and the traditions that are important to you. Not only will your partner feel more prepared, they'll be able to participate more authentically if they understand what it is all about. Chances are this will also translate into brownie points with your family.
We are very familiar with all of the little things our family can do to make our lives difficult. By pointing them out, we bias our partner and they notice things they wouldn't have otherwise.
2. Identify hit or miss topics.
It goes without saying that politics and religion are often topics that are best avoided at social gatherings. The truth is, however, that what is considered controversial by one family might be seen as harmless to another. Before visiting your family, it's not a bad idea to go over some of the surprising topics your partner might not realize are controversial. As a side note— it might also be worth giving your partner some pointers about what to say (or not to say) in situations where the conversation drifts to the current political climate.
It can also be helpful to brainstorm topics your partner can bring up if the conversation runs dry. When in doubt, a good rule of thumb is that people generally love the opportunity to talk about themselves! Asking about family hobbies, recent travels, or childhood memories are likely safe bets that can lead to entertaining (and potentially embarrassing) stories and conversation.
3. Avoid exaggerating conflict (or a specific difficulty).
When we're nervous about bringing our significant other home, it can be tempting to highlight or even exaggerate just how difficult our family can be, in the hopes that it will make the actual experience a little less stressful. The truth is, this tactic usually backfires. We have a long history with our family and are very familiar with all of the little things they say and do that can make our lives difficult. When we point all of these things out ahead of time, we bias our partner and they can be more likely to notice things they would not have picked up on otherwise. Instead of listing all the potential conflicts that might come up, narrow it down to the ones that are most likely and make sure to balance these with some positives as well! Ultimately, the idea to is to prepare our partner, not scare them.
4. Make sure to prepare your family.
Sometimes, it's easy to get so wrapped up in preparing our partner that we forget about the people on the other side. Talking to our family beforehand is another way to prevent miscommunications or conflict. It's generally a good idea to tell your family a bit about your partner's background, experiences, and interests so that they can use this to guide the things they ask or talk about. Of course, how much you share with your family is up to you. However, giving them some information about your partner and the status of your relationship will limit awkward moments or silences and help the conversation flow more naturally. As a bonus, the more you prepare your family ahead of time, the less likely you will have to play mediator during the festivities.
5. Facilitate the moments.
Even if we prepare ahead of time, there can be moments during the holidays that feel tense. We all have different comfort levels when it comes to addressing these kinds of situations. However, you don't have to be passive bystander to avoid making waves. The key is to build on everything you have done so far. If your partner and family aren't connecting as much as you hoped they would, you can bring up things they have in common or some of the topics you already came up with. If things are getting heated and you (or your partner) could use a break, it is absolutely OK to prioritize your well-being. Find a way to get some space, like asking your partner to help you with something in another room. Sometimes, taking a few minutes to ourselves is exactly what we need to continue enjoying the celebration.
Above all, it's important to be open-minded about how the holidays will turn out.
6. Schedule time for self-care and connection.
If you know that the holidays might be stressful, plan ahead on how to relax and recharge afterwards. You know yourself and your relationship best. Are you the kind of people who crave downtime (either alone or as a couple) or do you prefer to shake things off by going out to catch a movie or grab a drink? Not only will this help you to de-stress after interacting with family, knowing you have something to look forward to can actually make the get-together more enjoyable.
7. Set realistic expectations and enjoy the moment!
Above all, it's important to be open-minded about how the holidays will turn out. It's really easy to get caught up in extremes, either anticipating that things will go terribly or building the situation up and hoping for the perfect get-together. The reality is probably somewhere in the middle. When we get ahead of ourselves and set unrealistic expectations, we create pressure that can take away from the actual experience. At the end of the day, the holidays are all about spending time with the people we love most. Sometimes the best thing we can do is to sit back, take a deep breath, sip a glass of wine, and focus on how special it is that the important people in our life are coming together to celebrate.