When I first moved to Chicago, I was somewhat taken aback by the holidays. Granted, I was in school, so I was focusing on finals week, trying to figure out my holiday travel back to Ohio (so close, yet so expensive), and trying to imagine how I'd buy gifts when I had approximately $10 in my bank account. I remember feeling like there was no way it was the holidays just yet.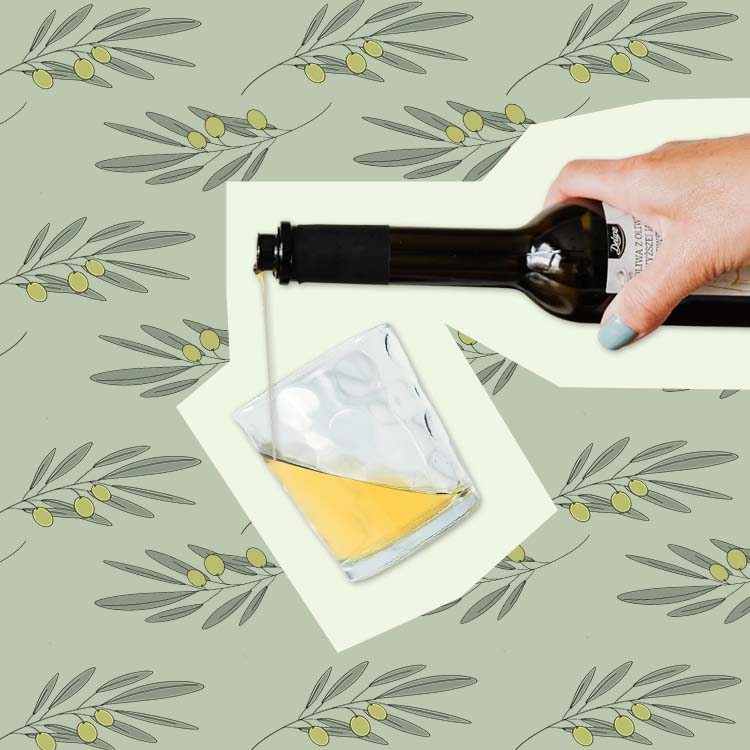 we love olive oil, but this seems a bit too far... or is it?
Every Christmas, I
Go shopping with my dad on Christmas Eve for my mom's gifts (we procrastinated one time, but now it's a tradition!)
Drink hot chocolate and go shopping with my mom on Black Friday
Have a movie marathon with my brother on Christmas Eve
Spend all of Christmas day with my family in our pajamas
Go ice skating downtown
Spend a whole day baking cookies and listening to Elvis Christmas
So, when those weren't happening, I basically felt lost. What's Christmas without all those family traditions? Not only did it not feel like Christmas, but I also started getting serious FOMO from missing all of my favorite parts of the holiday season. November 1 through January 1 is my favorite time of the year, but without my family to spend it with, it was a little lackluster.
Now that I've been here for a few years, Chicago has become my home, and I've found ways to make spending Christmas here just as great as back home with my family.
Friends!
Whether you're not able to be with your family this season or you don't have a family to celebrate with, creating your own traditions and being around people you love can make all the difference in spreading all that holiday joy and cheer we love.
If you're trying to amp up your holiday game this year, this is why you should be creating traditions with friends, and ideas on traditions to start!
You'll grow closer
Of course, the more time you spend with your friends, the closer you're going to become. The holidays, however, can have an even deeper effect on your relationships. Something about this time of year makes bonds stronger with the people around you. The memories you make will last much longer than the holiday season, and you'll be so grateful for all the time you were able to spend with each other when you get busy with work and life come January. 
This is also an incredible way to make bonds with people you normally wouldn't, such as your coworkers!
It'll relieve your holiday stress
From the stress of finding the perfect gift for everyone on your list to all the wine and cheese to the inevitable cold coming our way, the holidays can be pretty overwhelming. Giving yourself some time in the midst of all of that busyness for fun with friends is much-needed.
The holidays aren't reserved for family
Not every holiday tradition has to involve your family or happen in your childhood home. You can make traditions with anyone (including yourself!). Starting December 1, I set my alarm in the morning for Holly Jolly Christmas by Michael Bublé. It's so simple, but I've been doing it since high school and gets me in the mood for Christmas every single year. Highly recommend!
It might help those without a family get into the cheer
I am so grateful to have a loving, amazing family I get to see every Christmas, but I can tend to forget this isn't the experience for others. For individuals who in the past haven't associated Christmas as a happy time with family, this time of the year can be difficult for them. Creating traditions with these individuals show them that they ARE loved and DO have people who want to celebrate this time with them (religious or not).
Experience your city's holiday events
As Justin Bieber says in his hit holiday classic, Mistletoe: "It's the most beautiful time of the year!" Go to the holiday pop-up bars in your city, go ice skating on the square, spend a night looking at all the holiday lights — there is so much to do in your city during the holidays to get to know your area on a deeper level and (best part) cost as little as nothing!
Want to start your own holiday traditions with your friends? Here are some ideas:
Secret Santa
We all pretty much know this by now, but a Secret Santa can be so fun if everyone gets into it. This requires a few people and a little planning beforehand. For The Everygirl's Secret Santa, we used Elfster, a website that allows you to RSVP to a gift exchange and pairs everyone up randomly. You could also do this old school and pick from a hat. Make sure you set a price limit in case someone gets carried away (me) and wishes he or she could buy their BFF everything on his or her wishlist.
Cheese and Wine Night
Last year, my friends and I hosted a cheese and wine night to have our gift exchange. One person brought the cheese, one brought the charcuterie board, and one tackled the wine. We had so much fun setting everything up, Instagramming it (of course), and it was a great segue into gift giving! It also gave us an excuse to dress up and take pictures that didn't involve going outside in the cold. Win-win!
PJs and Christmas Movie Marathon
Gather up your favorite holiday DVDs, queue up the Netflix, and pick out your favorite holiday PJs! Check out this list if you want some new ideas for your movie marathon. We recommend adding hot cocoa and every blanket in your house.
See a Holiday Show
If you live in a city, odds are there are so many theater and music options for the holiday season. I'm partial to The Nutcracker and How the Grinch Stole Christmas, but an orchestra, ballet, or any Broadway show is a lovely tradition to start with your BFF. Plus, you'll have someone to hum all the songs to for the next month!
Holiday Shopping Trip
Holiday shopping should never be spent alone (or else I end up buying more gifts for myself than other people — oops). Ask a group of friends to head out for a full day of shopping. Equip yourselves with a peppermint mocha and your shopping list, and you're good to go.
Christmas Carol Karaoke Night
We LOVE Christmas music at The Everygirl, and I'm sure you do, too! Host a karaoke night Christmas music style with all of your favorite songs. We recommend all the Michael Bublé, Mariah Carey, and Nat King Cole to go around. Listen to The Everygirl's holiday playlist here!
Do you make traditions with your friends?! What are your favorite holiday traditions with friends or family? Let us know!