Hi, my name is Jess, and I have a problem: I can't stop watching TikToks. I know that the app began as a bunch of high school-aged kids lip syncing and that at 24, I might already be considered "too old" for it—but you know what?! It brings me joy in these dark times, so I don't care what anyone has to say about it.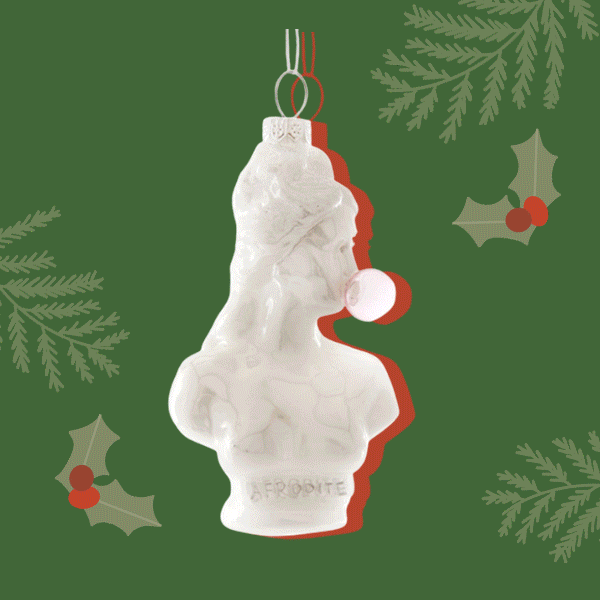 Whether you prefer your tree to be a masterpiece or a beautiful array of memories, there's something for everyone at Carlyle Avenue's ornament shop. Don't miss their expertly curated collection!
And aside from all of the funny videos (that make me laugh out loud all alone in my room more than I'd like to admit), dance challenges, beauty hacks, and cooking accounts, there is one sector of TikTok that I can't get enough of: fashion. I have found some of the coolest hacks, best affordable finds and dupes, and tons of outfit inspiration through my "For You" page.
Although I could go on for days about the joys of TikTok, I narrowed it down to my favorite fashion lessons that I've picked up on in the last few months of consuming under-60-second content. Take a page out of the TikTok handbook and spice up your style with these nine lessons:
1. You CAN look super stylish in loungewear
As we all know, everyone has been pretty much living in loungewear for the past few months. TikTok has been there from the beginning with all of the stay-at-home outfit inspo I could possibly need. I've learned how to make loungewear look expensive (go for a monochrome look and add some jewelry!), how to think outside the box and switch it up from basic sweats, and have been consistently tempted to add new comfy pieces to my wardrobe.
2. Take style inspo from past decades
This sector of TikTok fashion is one of my faves. It's really a chance for people to show their creativity, and I've definitely been educated on how to pull style trends from past decades into 2020. As we know, the '90s are back—and TikTok is here to tell us how exactly to use our current pieces for an iconic Cher Horowitz-approved look.
3. All the cool fashion girls are thrifting their clothes
I've always loved thrift shopping (although in these times we have to turn to online resale stores versus the usual Goodwill runs), but TikTok has showed me just how far you can go when it comes to secondhand shopping. Chances are that when you see an Instagram blogger wearing a unique designer bag or a pair of vintage Levi's, they are thrifted! There is also the trend of "thrift flipping," or turning not-so-cute items into something new (see lesson #5!).
4. Cater your clothes to your specific body type
As I've written about before, sometimes it's hard to find representation of your specific body type when you're scrolling through social media. TikTok is a great resource for finding girls who are sharing exactly how they dress for their specific body types. You can find inspiration like "for curvy girls," "for larger chests," "for hourglass figures," or for a specific size—and so much more!
5. See old clothes as the opportunity to flip them into something new
The DIYs are aplenty on TikTok. I would even venture to say that one of isolation's biggest trends (at-home tie-dye) began on this platform. And aside from that, people are getting SO creative with their clothing, from cutting up old shirts and making them new to DIY designer dupes to no-sew thrift flips.
6. Get creative styling pieces in more ways
If there's one thing you can always count on from TikTok, it's that you'll always see styling videos while scrolling your #fyp. I love getting ideas for how to take one piece (like a pair of simple black leggings) and style it in more ways than you could ever think of on your own.
7. Recreate looks from pop culture
Here is another sector of fashion TikTok that is just so fun. Take your favorite TV show, movie, or even Disney theme, and create outfits that you can actually make work in real life (versus a costume-y feel). I mean who wouldn't want to dress like our favorite Outerbanks characters?!
8. Don't sleep on Amazon fashion finds
Instead of scrolling for hours and reading countless reviews on Amazon to find something worth ordering, just open your TikTok app and find all of the best hidden gems, designer/high-end dupes, and tips for making your pieces look more expensive. I don't even want to know how many things I've added to my Amazon list after seeing them on TikTok.
9. Don't sleep on Walmart either
Last, but certainly not least, is perhaps the most surprising TikTok lesson: Walmart has tons of cute and high-quality fashion finds that will keep us on-trend this summer. They have everything from biker shorts to summer sandals to flattering denim—and these TikTok-ers know exactly which pieces are worth it.