Feeling like you have nothing to wear is always most prevalent at the forefront of a new season. When pulling out those fall clothes you haven't touched in a year, there's no reason to be afraid. There's no reason to over-shop, either. Chances are, you have plenty of pieces already in your wardrobe to create the Instagram-worthy fall outfits of your dreams.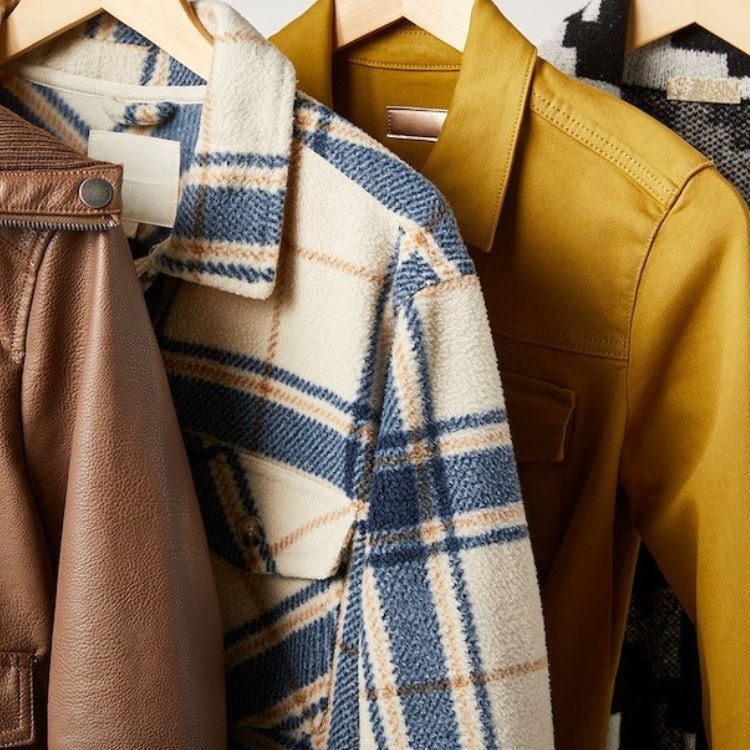 ...and it's wallet-friendly
Let's be real. There's nothing wrong with re-wearing your faves over and over. (Hello, we love capsules here for a reason!) Sure, it's fine to pick up a new sweater or the perfect pair of denim, but at the end of the day, fall wardrobes are the most versatile of the entire year. Think about it: It's not too cold, the sun is still warm, and the changing leaves just make you want to spend all your time outside.
Whether you're revamping your old scarves and jeans or layering your summer basics with some knitted pieces, there are endless ways to try new trends with what you've already got. Keep reading below for some of our tried-and-true faves.
1. A graphic tee and jeans
Tuck it in, wear it oversized, or throw a button-up on top. A classic graphic tee can be worn year-round with your favorite pair of jeans. If you want to elevate it for fall, add similar textures throughout the outfit, like a black leather jacket and suede bag.
2. A sweater dress and boots
Something about this fall just has me longing to wear a sweater dress again. Whether you dress yours up with booties or keep it simple with some sneakers, it's the perfect base for layering. Or, you can wear it alone on warmer days. Whether you opt to dress it up or down, there's really no going wrong. Your sweater dresses deserve to be re-worn all season.
3. Black pants and a button-up
A foolproof combo: the black pants and button-up. It's an outfit that just can't be beaten. Not only is it refreshing to keep it simple, but it's endlessly chic and re-wearable. If you're itching to switch it up, turn to your accessories to alter your outfit to fit the day's mood.
4. Gray trousers and a black long-sleeve
The trouser trend doesn't look like it's going away any time soon. We're to the point that we're reaching for our trousers more than our denim. The combination of trousers and a simple black tee is perfect for fall, and it's a combo we'll be reaching for time after time.
5. All black with a pop of color
Everyone has their favorite all-black outfit hanging up. Make it your own by adding a fun pop of color to it with a coat—or accessories if you don't have a bright coat lying around. It'll add visual interest to your all-black uniform and is sure to turn heads. The best part? The contrast of the color against the black base will make it stand out even more.
6. Leggings, sneakers, and a trench coat
When you just can't be bothered but still want to look chic, throw a trench coat over a hoodie-and-legging combo. It has an edge to it that will make you feel your absolute coolest. Oh, this old thing? I just threw it on.
7. A leather jacket, jeans, and platform sneakers
Leather jacket? Check. Jeans? Check. It's just that easy! Fall is really the leather jacket's time to shine. It elevates every single outfit to perfection. Pair yours with your favorite sneakers for an effortless, cool vibe that's worthy of being your fall uniform.