Unless you're living in a beauty product desert, you've most likely heard of all the major players in the beauty industry: Fenty Beauty, MAC, Colourpop, NARS, Neutrogena, Pantene. You know them, and you've probably tried them. But as these brands gain popularity, we sometimes forget about all the brands hiding in the shadows, and there are quite a few hiding in the depths of the Internet. Namely, the Amazon beauty section is quite full and possibly contains a slew of brands you've never even heard of—but definitely need to try.
Our editors sifted through the massive beauty archives on Amazon to find the best brands lurking in the shadows, and there are so many products we immediately added to our wishlists. Here's what you need to try next:
Released in spring 2019, Amazon's dedicated skincare line largely flew under the radar, but its product assortment was enough to get our editors excited even two years later. Everything in this line has near five-star reviews, and everything is under $30.
Belei
This has a tri-peptide blend, caffeine, and hyaluronic acid to plump up the area under your eyes and reduce fine lines over time. It also dries to a semi-matte finish, so it's ideal for wearing under makeup.
Belei
A charcoal mask is a necessity in every person's skincare collection, especially if you get the occasional pimple (and who doesn't?). This one contains tons of aloe to balance out the typically irritating kaolin clay, along with glycerin and beeswax. If charcoal/clay masks usually make your skin feel tight and dry AF, try this one instead.
Belei
If adding retinol to your routine feels a little overwhelming, opting for a moisturizer with it as an active ingredient might be the perfect solution. Retinol can be drying and sensitizing, but when combined with a moisturizing formula with hyaluronic acid and squalene, you likely won't experience the negative parts while still getting the amazing resurfacing benefits of retinol.
This one is hard to find on Amazon if you don't know what you're looking for because search results might just give you Knorr Pasta Sides. But when you finally come across it, it's a total gem. Knours is focused on women getting to know their skin once and for all and finally taking control of its hormonal changes and fluctuations. The line is filled with products that specifically target the three hormonal changes women experience: menstruation, maternity, and menopause, resulting in clean, effective, and gentle skincare anyone can use.
Knours
This cleansing oil contains five different botanical oils (including some of our skincare faves like jojoba and cannabis sativa seed) to remove makeup, dirt, and excess oil from your skin without drying it out. When mixed with a little water, this becomes a milky cleanser that removes makeup easily and leaves no residue.
Knours
A face mist is one of the most underrated skincare essentials. Use it to rehydrate your skin, help skincare products apply and adhere better, and refresh after a long day—the uses go on. This one knocks it out of the park as a toner and mist and contains soothing and moisturizing ingredients like aloe and jojoba oil.
This is one of the most reviewed and loved skincare brands on Amazon, but it still doesn't have the cult-following like other brands you'd find in Target or Sephora. Admittedly, their tagline "Flawless. Younger. Perfect." is a little outdated, but the products are all extremely budget-friendly and seriously work.
Tree of Life
If anti-aging is your skincare goal, matrixyl 3000 is a must-know ingredient. It's an anti-aging peptide that's powerful in stimulating collagen production in the skin, which plumps up existing fine lines and wrinkles while preventing them over time. This matrixyl moisturizer gives your skin a dewy look without looking too oily, but the real magic is how it improves your skin's elasticity over time.
Tree of Life
Clocking in at under $15, this serum contains a blend of vitamin C and E to brighten skin tone and add a natural, dewy glow. If you're new to vitamin C, this is a solid starter.
Tree of Life
This is one of the most popular retinol serums on Amazon with over 20,000 reviews and for good reason.
Shaina B. is inspired by the vibrant and busy streets of Miami and is focused on showing people how they can be their most authentic, confident selves. The line contains brushes, eyeshadows, face palettes, and more to help you create fun, beautiful looks.
Shaina B. Miami
This is a travel kit of makeup brushes, but don't be fooled—these are full-sized brushes, so they'll round out any makeup brush collection. They're soft and well-made, and this set contains pretty much everything you'd need for a trip away (or even just at home).
Shaina B. Miami
Buying makeup (especially eyeshadow) on Amazon is a little intimidating because you never really know what quality you're going to get. But you can trust these shadows to be the perfect mix of pigmented and blendable. This neutral palette has a mix of mattes and shimmers that has a space in both the novice and experienced eyeshadow wearer's collection.
Nuxe is an amazing French beauty brand, so being able to easily order them on Amazon is a game-changer. They're known for their classic French beauty products as well as their famed oil (which has the most amazing summer scent ever).
Nuxe
The oil that started it all, the Nuxe Oil has a cult-following for its gorgeous finish (it's not too oily or sticky but still gives your skin a glow) and its phenomenal scent. It's the perfect summer vacation scent, best described as a floral vanilla. You can use this on your hair, body, as a perfume oil, and even on your face because the ingredients are so mild—heck, some even call this the French beauty secret!
Nuxe
Say goodbye to drying body washes now that this is in your life. A cleansing body oil is the secret to soft, supple skin that still gets that oh-so-clean feel. This has that same Nuxe oil scent, but when mixed with a little water, it turns into a foaming wash, leaving skin super smooth, hydrated, and lightly fragranced.
Developed by two members of Grammy-nominated international band Steriogram, Fatboy started after the rockstars couldn't find products that kept their hair in place on stage. So they made their own hair putty, and once the band went on hiatus, Fatboy became their full-time gig. The brand has expanded into a full line of products that combine hold with movement and body, and it's sold at salons all throughout the country.
Fatboy Hair
This hair oil is a first of its kind, containing a finish that mimics a sticky foundation primer. It gives your hair lots of extra hold all day long and tons of shine, bounce, and movement. With jojoba, castor, and argan oils as well as aloe, it's also nourishing and conditioning on the hair.
Fatboy Hair
A flexible hold hairspray can go very wrong, but this one gets it all right. It gives your hair enough hold to maintain your style all day, but it still allows for a lot of movement that makes any hairstyle look natural. It's also humidity-resistant, so if your hair usually freaks out when humidity strikes but a crunchy hairspray just isn't your style, you've found your match.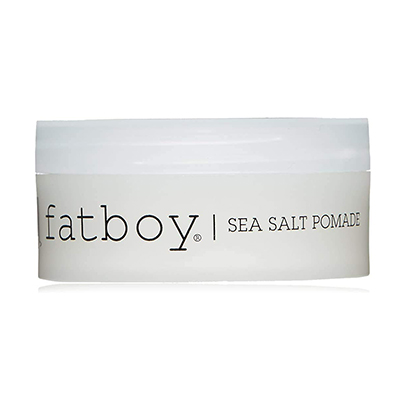 Fatboy Hair
The perfect beachy waves can be made a reality with this pomade. That matte, bouncy texture you crave can often make your hair look dry and dull, but not with this. Instead, it adds that shape while still keeping the hair moisturized. It's the texture of a sea salt spray with the extra hold of a pomade and the moisture of a hair cream—what more could you ask for?