Right about the time I picked up the A Court of Thorns and Roses series, I became inundated with videos from BookTok: a community of readers on TikTok who rave, review, and recommend books to like-minded book lovers. It was also about this time I started hearing whispers of an upcoming book from R.F. Kuang, the beloved author of The Poppy War trilogy, called Babel: Or the Necessity of Violence: An Arcane History of the Oxford Translators' Revolution. I was immediately intrigued by two things: the long AF title that is both compelling and cheeky and the jaw-dropping cover. I know, I know. Don't judge a book by its cover and all, but I can't help it; I love pretty things.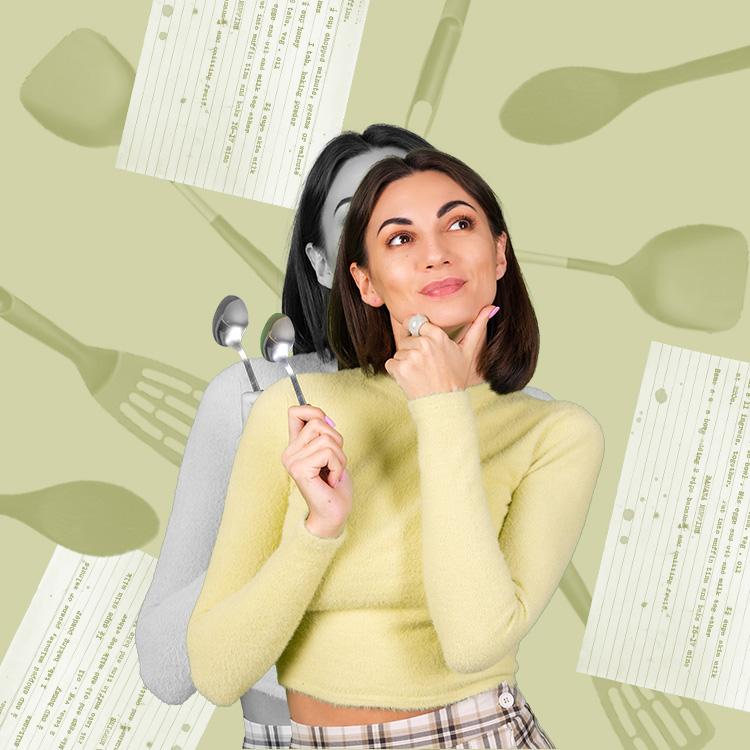 high in protein, good for gut health, and anti-inflammatory? yes, please!
When the opportunity to review Babel came up, I was absolutely not going to turn it down. Do I have a mountain of books on my TBR list waiting patiently? Yes. Do I care? Yes, but not enough to ignore something shiny and new. This was my, and many others, most anticipated fantasy release of the year. Despite all that buzz, I was extremely worried I'd be let down. Fortunately, that worry was unfounded. Instead, I read my favorite book of the year, and by the time I finished, I had no idea how to go on. What do you read after you finish one of the best books of your life? Yes, Babel was that good. So without further ado, here's my review of Babel, and why I think every Everygirl needs to add it to their TBR list ASAP.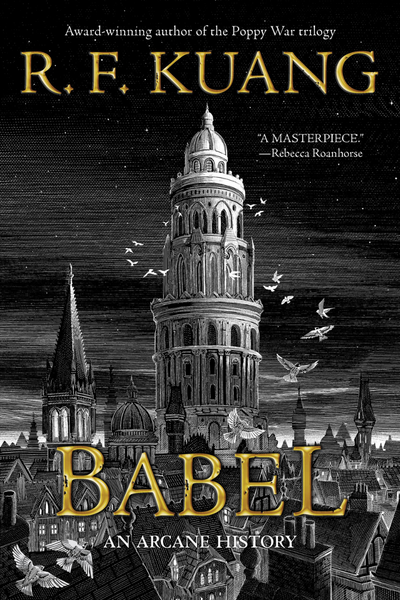 R. F Kuang
1828. Robin Swift, orphaned by cholera in Canton, is brought to London by the mysterious Professor Lovell. There, he trains for years in Latin, Ancient Greek, and Chinese, all in preparation for the day he'll enroll in Oxford University's prestigious Royal Institute of Translation—also known as Babel.
What It's All About
We enter the world of Babel through Robin Smith, a young Chinese boy who is plucked from his native Canton by a mysterious Englishman named Richard Lovell. Robin is then whisked away to London, the heart of the British Empire. Once there, tutors put him through a rigorous learning program in Latin and Greek so he's ready when the day comes for him to in enroll in Babel, Oxford's esteemed school of translation and silver working.
In this alternate historical fantasy, The British Empire is built through the use of translation and magic, and Babel is the center of knowledge that fuels Britain's colonial efforts. As Robin rises through Babel's ranks, he begins to realize the life he's been imagining for himself since the day he set foot on British soil might not be all he thought it was.
Who Will Love It
If your Pinterest aesthetic mood board is filled with cobblestone streets, fall hues, beautiful old buildings, rain, and old books, then this book is the dark academia story of your dreams. While it's categorized as a fantasy, those elements are not the heart of Babel. Instead, this is a story of love and identity and what it means to belong set on the enchanting backdrop of Oxford University.
If you loved Donna Tartt's The Secret History, Leigh Bardugo's Ninth House, or any other dark academia story, Babel is a can't-miss. And if you're not sure if dark academia is your thing, the book's exploration of larger themes like colonization, race, and friendship is so thorough that any reader is bound to take something away from it.
Fair warning, Babel is a heavy book that doesn't shy away from or skirt around the trauma Robin and his cohort experience. Please check the trigger warnings before picking it up. While I absolutely loved this book and the story will stay with me for a very long time, I would be remiss not to mention that it is also at times very hard to read.
Why I Loved It
While I've thus far raved about Babel, I've got to be honest: The first few chapters didn't sell me on it. To the point where I even contemplated shutting down my kindle and never returning to it. It's a slow start, for sure, but Babel also doesn't have many of the elements I'm currently loving in my fantasy books. Namely, a shameless romance between a tall, dark, and handsome man and a badass main character whose responsibility, for some reason, is to save the world. That said, as soon as I realized Babel wasn't my usual fare, I reframed my expectations and dove headfirst into the world.
In Babel, R.F. Kuang proves she is a master of prose. I haven't annotated a book since college, but I found myself using Kindle's highlight feature nonstop. There are passages upon passages that resonated with me that I know I'm going to want to remember for the rest of my life. Whether it's commentary on heavier topics like race and colonialism or things like the depth of love Robin and his friends have for each other, Kuang wields words as if they were knives and has a way of always nailing me right where it hurts: the feels.
Speaking of the feels, I would absolutely die for Robin and his friends, and that's in no small part due to how Kuang brings the characters to life on the page. There are moments where I wished (and sometimes even felt) like I was one of the gang. When they laughed, I laughed, when they cried, I cried, and ultimately, when everything fell apart, my heartbreak felt real. While the world of Babel is a fantastical one, the characters and their experiences were grounded in reality. Robin, Ramy, and Victoire are all minorities navigating 19th-century England. At Babel, they're valuable because of how they could aid Britain's colonial efforts, but outside of it, they're treated as outcasts. This distinction forms the heart of Babel's story and Robin's place in it.
I mentioned Babel's slow start, and it did take me a minute to get into it. But as Robin unravels the mystery of Babel's true purpose and gets embroiled in a secret society working to dismantle the system, the tension and pace of the story ratchet up, to the point where I found myself holding my breath while I read, unable to peel my eyes away from my Kindle and go to bed at a reasonable hour.
Babel strikes the perfect balance between transporting me to another world and introducing me to characters I relate to, while also offering a sharp commentary on race, colonialism, and what it means to truly belong. It's funny, honest, beautiful, and heartbreaking. It's a book that is going to stay with me for a long time and has permanently earned a place on my all-time favorites list.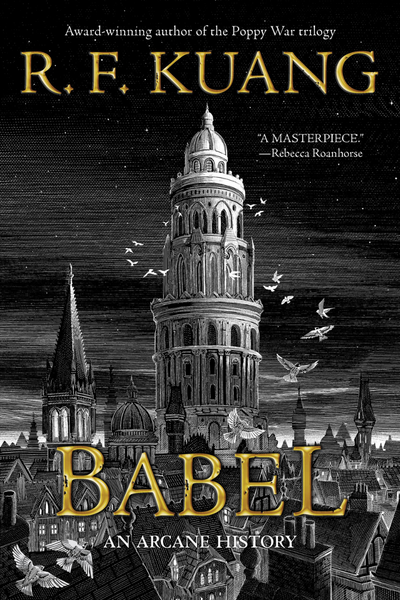 R. F Kuang
1828. Robin Swift, orphaned by cholera in Canton, is brought to London by the mysterious Professor Lovell. There, he trains for years in Latin, Ancient Greek, and Chinese, all in preparation for the day he'll enroll in Oxford University's prestigious Royal Institute of Translation—also known as Babel.