Some people love to talk about books; some are obsessed with sharing their favorite playlists; others have a favorite recipe to hand out at all times. But if you asked our three editors—Beth, Bianca, and Maddie—beauty is our thing. We love to dish out our favorite products, talk about trends, give recommendations (and take them just as much—often from each other), and try new things. And one of the most common amongst us is skincare. All three of us have different skin types and concerns, from acne-prone to sensitive to oily, but we all have a few common goals in our skincare: it has to be clean, cruelty-free, at least somewhat affordable, and easy to use. So when we saw Beekman 1802 launch at Ulta, it was a clear fit.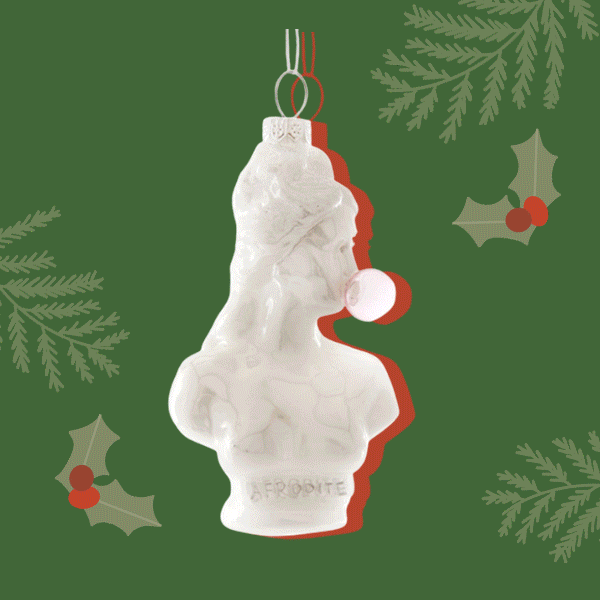 Whether you prefer your tree to be a masterpiece or a beautiful array of memories, there's something for everyone at Carlyle Avenue's ornament shop. Don't miss their expertly curated collection!
Our three beauty-obsessed editors gave Beekman 1802's probiotic skincare line a try to see how it fit into our daily skincare—and these products have become new staples in all of our routines. Read on for our favorite products, how they've transformed our skin, and why we all can't stop recommending this line.
WHAT WE TRIED
available at ULTA Beauty
I was one of the first girls in my class to get boobs, just as I was the first to start getting acne. My hormones have always been a little wacko—thanks, endometriosis!—but I've had a hard time finding the right skincare routine for me. I've tried expensive creams, recommendations from dermatologists, and every drugstore favorite you'll ever see, and while some worked and some didn't, I had the hardest time creating a routine. I'd try a cleanser, get excited about it for a few weeks, and then be over it and try something else. (Not to mention, I had a major issue with drinking a little too much and falling asleep with my makeup on—I know, you have permission to take my beauty-lover license.)
Then, the world imploded, and I had nothing to do every night but figure out my skin. I finally had enough of breakouts, dry cheeks, an oily T-zone, and blackheads beyond abandon. So, I hopped on a call with my dermatologist and created a routine that I knew I could stick to. After months of this, I was really excited to add some new products in. I write about beauty products for a living—it's not feasible for me to use the exact same products every single day and not try anything new. When Beekman 1802 launched at Ulta, it sounded like the perfect fit.
It can be frightening to add new products to your routine, but I was thrilled to try Beekman 1802 because their products are Clinically Kind—meaning they're clean, safe, and cruelty-free so you can enjoy good skin without worrying about what's in your products. I get nervous that a new product will disrupt the rest of my routine or will break me out, but these are filled with probiotic ingredients that help balance your skin's microbiome (the community of both good and bad bacteria).
Out of the line, I've identified three hero products that have completely transformed my skincare routine. In the morning, my main focus is on hydration. I wear lots of makeup, so I like to make my skin look as good as possible first so my makeup goes on evenly and smoothly.
My #1 product in the lineup is the Bloom Cream Probiotic Moisturizer. It's made with a triple-milk complex (a core ingredient in all of Beekman 1802's products) that hydrates and soothes irritated, sensitive skin. Whether you were born with rosy red cheeks or love to use retinol or acids (me me me), many of us have sensitive, reactive skin every now and then that needs a little extra something to calm down redness and balance the skin. Bloom Cream is also formulated with Epsom salts, aloe leaf extract, chamomile flower extract, and cucumber extract—all ingredients that are known to calm irritated skin. I use this product before SPF every morning, and I've noticed a major difference in how radiant my skin looks and how soft and smooth it feels all day. I've actually been skipping foundation lately because my skin already looks healthy and radiant thanks to this product.
no makeup, just Bloom Cream 😍
My acne-prone skin really needs a salicylic acid wash in the evening, but I like something that will gently remove any acids or oils from the night before without drying out my skin in the morning. The Milk Wash Exfoliating Jelly Cleanser has become my absolute new favorite. I love the texture; it comes out like a jelly, but as you rub it into your skin with a little bit of water, it turns into a milky consistency that leaves your skin ulta-hydrated. This is the first cleanser I've ever tried that makes my skin feel soft and hydrated after I use it with absolutely no tightness, but my combination skin also loves that it contains a few acids to gently exfoliate. Made with lactic acid (a great natural acid gentle for all skin types), glycolic acid, salicylic acid, and malic acid, this cleanser combines a light exfoliation with goat milk (a cornerstone of all of Beekman 1802's products) and milk probiotics to soothe tired, irritated skin in the morning. I've also tried it in the evening and loved it too; it's great at removing any excess makeup after I use an oil-cleanser. But I love how soft and supple my skin feels when I use it with the Bloom Cream in the mornings.
Like I've said too many times to count, I'm known to cover my face in makeup: glitter, eyeshadow, blush, bronzer—the whole nine yards. So at night, I focus on deeply cleansing my skin to make sure I'm not going to sleep with any makeup on. This has had the biggest impact on my skin, especially breakouts. Right now, Beekman 1802's Buttermilk Makeup Melting Cleansing Balm is my go-to. I love a cleansing balm—it's perfect for taking off waterproof mascara, bright eyeshadows, liquid lipsticks, blush stains, and my favorite this summer, all that sunscreen you applied all day. But this one is special in my routine because it uses all of those same ingredients I love in the Bloom Cream—aloe leaf extract, chamomile flower extract, and cucumber extract, goat milk, and milk probiotics—to calm sensitive skin, which I love at bedtime. The other great thing about this product is that it never gets stuck in my eyelashes or gives me cloudy vision—if you know, you know.
I like to think of skincare as my thing. Ask me about a specific ingredient, and I can give you a product recommendation. Ask me about a face mask that does just what it claims it will, I've got you. Though I like to think I'm pretty well-versed on skincare, my skin is far from perfect. For everything from my hormonal breakouts to the hyperpigmentation aftermath, I'm always trying new things and learning about new and cleaner ingredients (and just trying to have a good skin day at least once a week.)
I typically like to keep my tried-and-true products in rotation with little deviation from my routine, because the moment I add anything new, my skin will give me a visible, "Now, why did you do that?" With my negative experiences at the forefront of my mind, I was a little nervous about Beekman 1802. However, as I looked into their mission and ingredients, I felt a little less apprehensive. One of Beekman 1802's key ingredients is goat milk. Now, if someone had told me I was going to be using milk from a goat on my face, I would have given them a firm side-eye. But here we are.
Since goat milk is rich in fatty acids and high in vitamin A, your skin is in excellent, moisturizing, exfoliating hands. Probiotic skincare can also be beneficial for those with skin conditions like eczema and rosacea. When it was time for me to give this a try, my skin was going through one of its breakout moments. I still can't pin down what caused it. However, one thing I know that my irritated, breakout-prone skin always benefits from moisture. With my skincare history in mind, I switched out my foaming cleanser for a jelly cleanser I know calms my skin. Then, I added the Beekman 1802 Milk Foam Calming Bubble Mask to my routine.
I learned from a dermatologist that you should never throw out your entire skin routine and start with something new. Instead, it's best to add one new product at a time to ensure your skin doesn't react negatively to that new product. On the off chance that your skin doesn't mesh with the new product, you'll know what the culprit is and can eliminate it. I applied a couple of pumps of the bubble mask to my skin. My experience was sensory overload in the best way.
As the foam started to show up on my skin, I could feel the sensation too. We all love a fun mask, right? I left it on for 20 minutes, rinsed it away, and followed up with the Milk Drops. Like I said before, I am usually leary about trying new skincare products. But again, the ingredients sold me. Ceramides? Check. Squalane? We love to see it. Hyaluronic acid? Please and thank you. These are the trifecta of ingredients the skin needs to keep the skin barrier protected, hydrated, and plump.
I used the dropper to pinch a few drops of product on to my skin and patted it gently. What I liked about this product is how nice it played with my vitamin C serum and tinted moisturizer. The drops didn't cause any peeling, which I was honestly expecting. The other plus was neither of these products caused any new breakouts. My skin also felt less irritated and looked healthy, even though I was dealing with an active breakout.
I can't say these new products gave me perfect skin after adding them to my routine, but what I can say for sure is the calming face mask and milk drops helped my skin start to look and feel like itself again because of the gentle, calming ingredients. I suggest those with sensitive, reactive skin give Beekman 1802 products a try, because it's nice to reach for a calming product at the first sign of irritation without fear of making matters worse.
Over the past few years, my skin and I have been on quite the journey. I've never really struggled with acne, but I've dealt with just about everything that comes with having ultra-sensitive skin: redness, endless dryness, and what feels like constant irritation.
But sensitivity aside, my biggest skin concern is my struggle with perioral dermatitis, a rash that I get around my mouth for a reason I've yet to figure out. Long story short, perioral dermatitis can be inflamed by just about anything, so I have to be very, very careful about the products I use. Striking a balance between effective skincare that doesn't irritate my skin can be a struggle—but that's where Beekman 1802 comes in.
Adding new products into my routine can be scary for me, since more often than not, knowing what's going to irritate my skin versus what isn't is a shot in the dark. But once I heard about Beekman 1802's Clinically Kind™ products, I knew the formulas would be safe for someone with skin like mine. Since my skin is so dry and prone to rash flare-ups, one of the things I prioritize most in my skincare is making sure my skin's natural barrier isn't compromised in any way (something that can happen from use of acids and harsh active ingredients). Beekman 1802's products are transformative without stripping my skin like other products do, and have left me with my healthiest-looking skin to date.
The best product I've tried for my skin in 2020 is the Milk Drops Probiotic Ceramide Serum. Milk Drops are packed with ceramides, squalane, hyaluronic acid, and plant enzymes to invigorate dull skin. Usually I'm so preoccupied with avoiding irritating my skin that anything beyond that is a bonus to me, but the Milk Drops have completely transformed my skin for the better. They have helped my skin's hydration deeper than the surface—my skin feels healthy from the inside out, rather than like I just have a product sitting on top of it. My skin's overall appearance has gone from dull to radiant, and the Milk Drops actually soothe any irritation—something I've found extremely hard to find in a product.
The hardest part of my skin's irritation is that I struggle to find products that actually help it—I've always just waited out flare-ups with a bare-minimum skincare routine until it passes. Beekman 1802's Milk Foam Bubble Calming Mask is a soothing mask that's meant to calm and cool redness—an absolute dream for someone like me. The first time I used this mask, I was quite literally speechless. After I put it on, it bubbled up into an airy, foamy texture, and when I rinsed it off 20 minutes later, there was a noticeable difference. All sights of redness had diminished, and my skin felt soft and hydrated and calm—three words I normally would never use to describe it. This has quickly become a skincare staple for me; I've been using it three times a week, and it's helped me avoid any major skin disasters. I no longer feel like I need to fear my skin or risk irritation to make a noticeable change in it.
This post is sponsored by Beekman 1802, but all of the opinions within are those of The Everygirl editorial board.