By design (literally), vibrators are always a little weird-looking. But as we've evolved into a more sexual, open society, vibrators have surprisingly become less and less odd. These days, vibrators are beautiful and worthy of a spot on your bedside table (not in). They're in minimalist packaging with neutral colors and luxe details. So you'll understand my ~intrigue~ when this Demogorgan-looking toy stumbled across my screen—and because I'm a child of science, I gave it the old college try. Hear me out: the Bellesa Finger Pro Vibrator is it.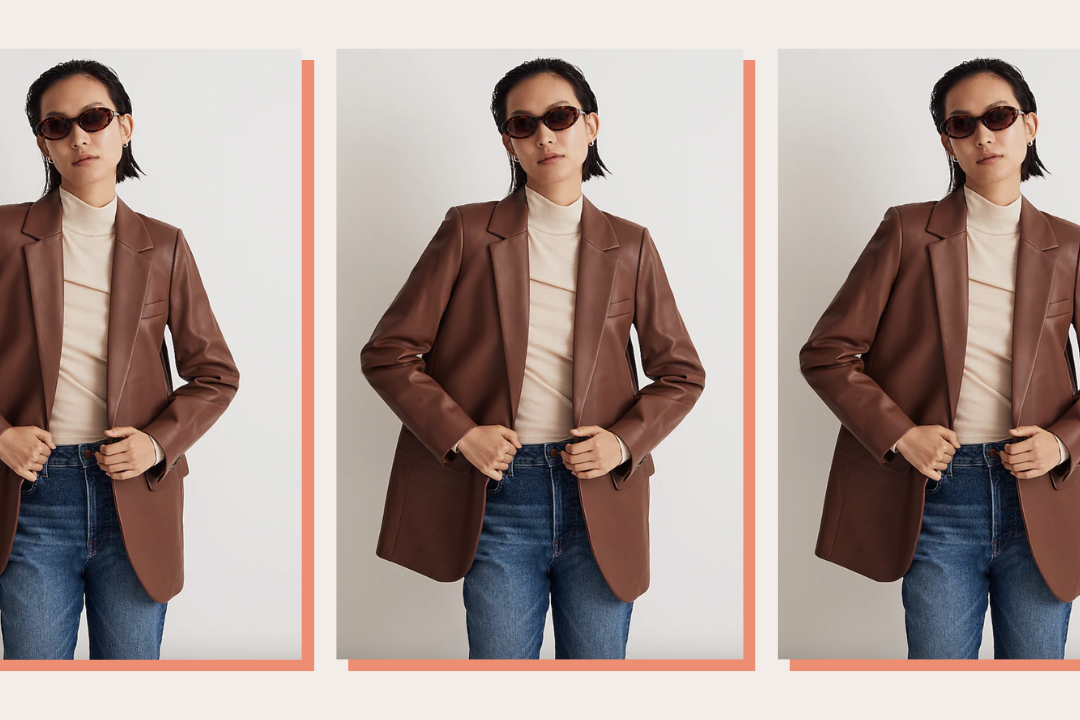 time for your fall wardrobe update!
About the Vibrator
Bellesa, originally known for its made-for-women porn, is all about empowering people with vaginas to take charge of their sexuality. The brand is loved by celebrities and influencers alike—think Cardi B, Katie Thurston, Demi Lovato, and more—for their wide collection in fun colors and unique styles (like this vibe!). With this in mind, they launched a slew of sex toys and now have a full catalog of dildos, vibrators, butt plugs, and more, whether you have a vagina or a penis.
When I first saw this vibrator, I was a bit confused. It looked like something out of an '80s alien flick more than something I would nuzzle up against my vagina. But don't fret: It has all the makings of a good vibrator. This vibe was meant to ~enhance~ the experience of masturbating with your finger. Slide your finger in the strap on the back and press the center of the vibrator (where you'll see a little flickering "tongue") against your clitoris. Without even turning it on, the silicone spikes—which there are 105 of, by the way—level up your finger masturbating game immensely. But once you turn it on is when the magic happens. The tongue flickers back and forth, and with 10 intensities to choose from, you can go from a light flutter to extra intense.
And for the specs: This vibrator is waterproof, USB-rechargeable, and made of silicone (which feels really soft against the skin and is easy to clean). A charge lasts up to 45 minutes, which I guarantee you'll get more than a handful of orgasms out of. It only takes two hours to fully charge, so if it ever dies on you (the literal worst), you won't have to wait long at all to get back to it.
Design
I mean, it's obviously a little weird, but aren't all good things in life a little weird? While this isn't going to be the most beautiful, sculpture-esque vibrator in your collection, that's not its point. Its point is to give you toe-curling orgasms, which it does.
The silicone rods add a texture element to your masturbation that I've never experienced with another vibrator. It feels so good against your skin that you don't even have to turn the vibrator on to start feeling good with it. This has actually had a great impact on my masturbation routine, as I rarely take my time. I'm all about efficiency, getting as many orgasms as I can in the allotted time I have to do the deed. With this, I focus more on the pleasure and am mindful of how everything feels, which has led to longer and stronger orgasms. In this case, less is definitely more.
The flickering tongue is also pretty unique. I've used my fair share of clitoral suction vibrators in the past, and I'm definitely quite used to that sensation. This was very different. When you first look at it, you might ponder how that tiny little thing could do much of anything, but trust me: It's got power.
The finger aspect of this vibrator isn't essential, but it definitely makes it easier to hold. I didn't try this with a partner, but I could see this being a great addition to partner sex, whether you turn it on or not, because even someone who's never touched a vibrator before would feel comfortable sticking this on their finger and using it on you.
Lastly, I appreciate that you only have one button to turn it on, off, and change the intensities. I hate having to tinker around with a toy, especially if I have to lift it off my body to change an intensity. This makes using the vibrator beyond easy. Just press the button, and go.
Intensity
I was skeptical, but this little guy is strong. I'm no novice when it comes to vibes (ahem, read our sex archives), so when I start using a new one, I pretty much always pump it up as high as it can go. With this, I had to work up to it. The strongest intensities gave me a sensation I've never experienced before, and I actually preferred going a little lighter and slowly adding more. The orgasms? Mind-blowing.
But don't worry if a tongue-punch isn't your idea of a good time; the first couple of intensities are beginner-friendly. Heck, I even got a few orgasms using it lightly because the feeling is so unique, thanks to the silicone spikes.
Volume
This is a middle-of-the-road vibrator in terms of volume. It's not loud by any means, and you could easily use this if you have roommates. But I wouldn't recommend trying to use it, say, if you were sharing a hotel room with your friends (unless that's your thing, and in that case, proceed!).
Price
When a vibrator cracks under $100, I'm excited, but I also do a little side-eye at anything over $50. If I'm spending over $50 on a vibrator, it better give me at least double the price in orgasms in the first six months I use it. That's my rule. This? I might have already reached that number in just a few weeks.
For how unique and well-made this vibrator is, the under-$60 price point is beyond fair. I can see myself having this for a long time, and it stacks up with a lot of my very expensive vibes too. Re: price, I have no complaints.
Final Verdict
While this vibrator made me furrow my brow just a little bit, it proved me wrong. Sometimes, the weirdest-looking toys are the best. I mean, no one thought the original Hitachi Wand was all that beautiful, but it's arguably the most famous vibrator on the planet. This weird design gave me some of the best orgasms I've had in a while, all for less than I spend on dinner with friends. Trust me: The Bellesa Finger Pro is a keeper.