To be completely honest, I'm a major homebody. I love a good night in with a home cooked meal, fuzzy socks, and a classic movie more than just about anything in the entire world. Just like everyone, though, I experience wanderlust from time to time, which I prefer to look at not as a reason to leave my house but as an opportunity to buy new travel bags.
It doesn't matter whether you're a proud introvert like me or you're barely in your apartment—if you're living through this summer, you want to be out and about. Traveling has a new appeal after over a year of going absolutely nowhere, and everyone is ready to jet off to a destination that isn't the couch. Netflix and books are no longer fulfilling the thrill of an actual trip. However, with newfound wanderlust comes the realization that your travel bags might be in need of an update. Your L.L.Bean duffle from 2010 just isn't going to cut it anymore, which is why we've rounded up the best travel bags on the internet—for reformed homebodies and consistent globetrotters alike.
Checked Bags
Carry-On Bags
Weekender Bags
Backpacks
Calpak
The chic yet durable backpack at the top of everyone's wishlist—from students to moms to commuters—is perfect for a traveler as well.
10+ colors available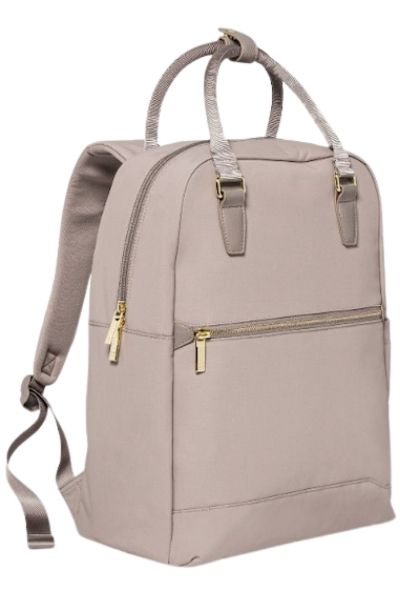 Open Story
If there's one thing we love around here it's POCKETS. And this backpack from Target has tons of them. Whether you're traveling for work or pleasure, this backpack is the only personal item you need.
Béis
If you're looking for a backpack that can literally do it all, your search is over. Because the main compartment zips all the way open, you can fit so much into this little bag. Heading on an overnight trip? This is the only bag you need. For a longer vacay, this serves as the perfect personal item with its dedicated laptop sleeve, water bottle pockets, and front compartment.
Toiletry Bags
Accessories
Amazon
Keeping your belongings organized while traveling is absolutely essential. These packing cubes from Amazon are the perfect addition to any luggage.
6 colors available
Amazon | Hibag
I know I'm not alone in my frankly impressive ability to overpack. These compression bags from Amazon are lifesavers for those whose suitcases are constantly bulging and pushing the weight limit.
Away
Gone are the days of untangling countless cords and wires while unpacking. Away's tech case organizer comes with a mesh pocket for laptop chargers, plus elastic loops for earbuds and charging blocks.
3 colors available