There's something magical about this time of year: the nostalgia of back-to-school vibes, pumpkins on every doorstep, crackling fires, crisp weather, and foliage so beautiful you'd think it was fake. I love fall, but after the initial excitement of pumpkin-flavored drinks and sweater weather wears off, the shorter days and chilly temperatures can leave me feeling physically and mentally drained. If this is the case for you, too, you're not alone. As the season changes, it's natural for our moods to shift too. Experts have confirmed that a decrease in daylight can affect our sleep, energy levels, and social ability.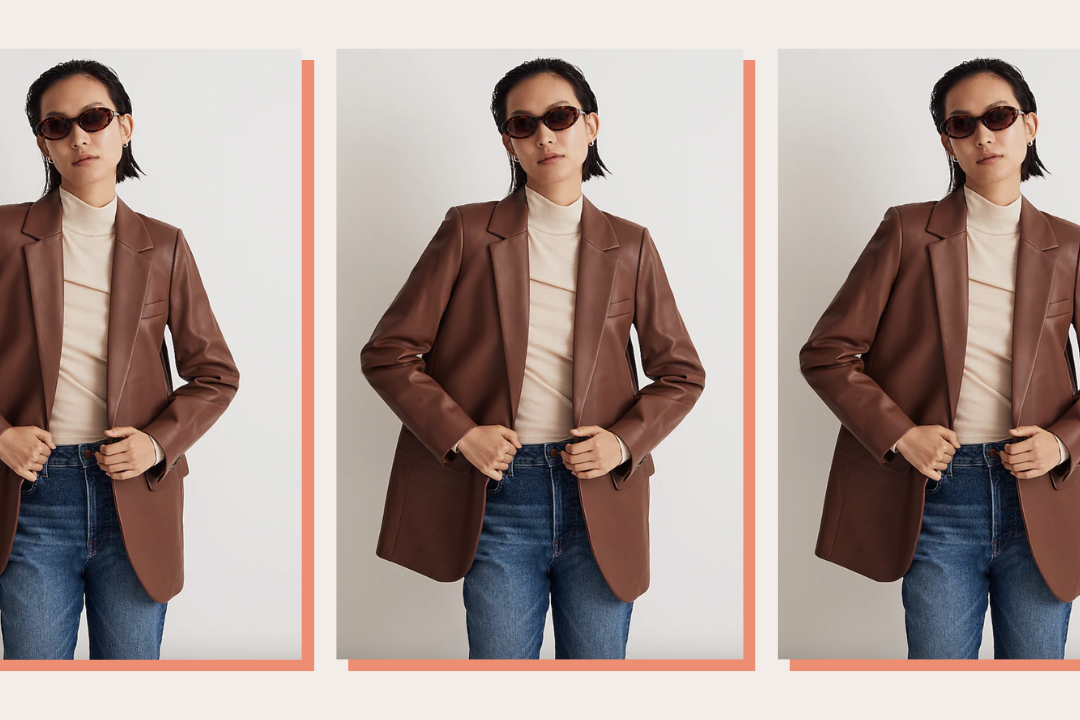 time for your fall wardrobe update!
While it's essential to take steps to protect your mental health all year round, the change in seasons may require extra support. We need to be proactive to prevent the fall and winter blues from setting in. (If you struggle with mental health concerns, it is always best to consult with your primary care provider or a licensed therapist or counselor.) This year, I've decided to make a commitment to protect my mental health by engaging in rituals that support me in a positive way. Read on for seven wellness rituals you can implement now for a happiness boost that will last the entire upcoming season.
1. Pick up a new hobby
As the weather outside turns frightful, we spend more time indoors. And if you're anything like me, this means you tend to spend more time mindlessly scrolling, making you feel less energized. As you cozy up inside this fall, consider putting down your phone and picking up a new hobby. Hobbies help to relieve stress while providing a creative outlet. As a bonus, hobbies can also allow you to connect with community members who share your interests. They can even help you perform better at work. So whether it is picking up an instrument, learning to knit, or trying a new workout, there's something for everyone to try this fall.
2. Spend time in nature
Summer might be ending, but it doesn't mean your hot girl walks have to. Regardless of the season, experts have proven that spending time in nature boosts mood, eases stress, and helps increase confidence. Bundle up in your favorite fall layers to enjoy walks or workouts outside. And if you're looking for more ways to reap the benefits of nature, consider taking advantage of fall-themed activities, such as hiking, apple picking, corn mazes, and pumpkin patches.
3. Try a new recipe
I could go on and on about how much I love to cook and bake in the fall. Call me basic, but I will take all the pumpkin- and apple-flavored foods. When it comes to fall cooking, I feel like the possibilities are endless for creating comforting and nourishing meals. Take this as your sign to try out new fall recipes. By making it a point to try a new recipe each week, you create intention, purpose, and something to look forward to, which can be energizing and inspiring. Better yet, invite your friends over to cook together or consider starting a monthly cookbook club and taking turns hosting.
4. Plan something to look forward to
Having something to look forward to can increase happiness and make you feel more creative and productive. But that doesn't mean you have to go on a luxurious vacation or plan a huge party. This fall, try planning experiences with your friends or family, such as a Halloween costume party, pumpkin carving contest, football watch party, or Friendsgiving. These events can help build anticipation in a positive way. And on a smaller scale, take the time to make your morning cup of coffee or work outfit exciting, which can also boost your happiness.
5. Do a fall cleaning session
You've heard of spring cleaning, but what about fall cleaning? Like the leaves falling, the changing season is the perfect time to let go of what's no longer serving you. Consider this your moment to go full Marie-Kondo-meets-The-Home-Edit and clear away items you no longer use, wear, or need. Check out local organizations in your community to donate old items or organize a clothing swap with friends. And aside from physical objects, fall is also a great time to check in on your inner self and reflect on the current year and the months ahead. Are you meeting your goals? What habits are you looking to form? What behaviors are no longer serving you? Dive in to make the last few months of the year the best ones yet.
6. Bring the outside in
As we spend more time indoors, it's easy to start feeling restless. We know that spending time in nature is great for our mental health, but did you know having elements of nature in your home can have similar effects? Some studies have found that interacting with indoor plants or incorporating natural elements in a room can help reduce stress and anxiety. Luckily, fall decor leans heavily on natural elements (dried flowers, wreaths, pumpkins, etc.), so those fall essentials you've been eyeing may be more than just cute decorations. If pumpkins and gourds aren't your ideal decor, there are plenty of other options. Try moving your desk chair next to a window for more sunlight exposure. Add indoor plants and photos of the great outdoors to your living space. Burn scented candles or use diffusers that smell like the outdoors. All of these easy options can help improve your mental health.
7. Prioritize rest
When the days get shorter, it's natural to feel more tired. You shouldn't push through it or get down on yourself for feeling less energized. Take a cue from nature and use this time to prioritize rest–physically and mentally. Getting enough sleep is proven to help strengthen our immune systems, which is something we can all benefit from this time of year. Make it a point to create a consistent sleep schedule that works for you, and if your sleep is already in check, find other ways to protect your energy this season. That could mean choosing your commitments wisely, spending less time scrolling, or cultivating more self-love.