Growing up, I was lucky to have a mom who made dinner for us every night. Don't get me wrong—dinner consisted of a DiGiorno pizza some nights, but for the most part, we had a home-cooked meal every night. In college, I had the luxury of a dining hall that served delicious meals every day (don't even get me started on the fresh cookies and cakes from the dessert bar).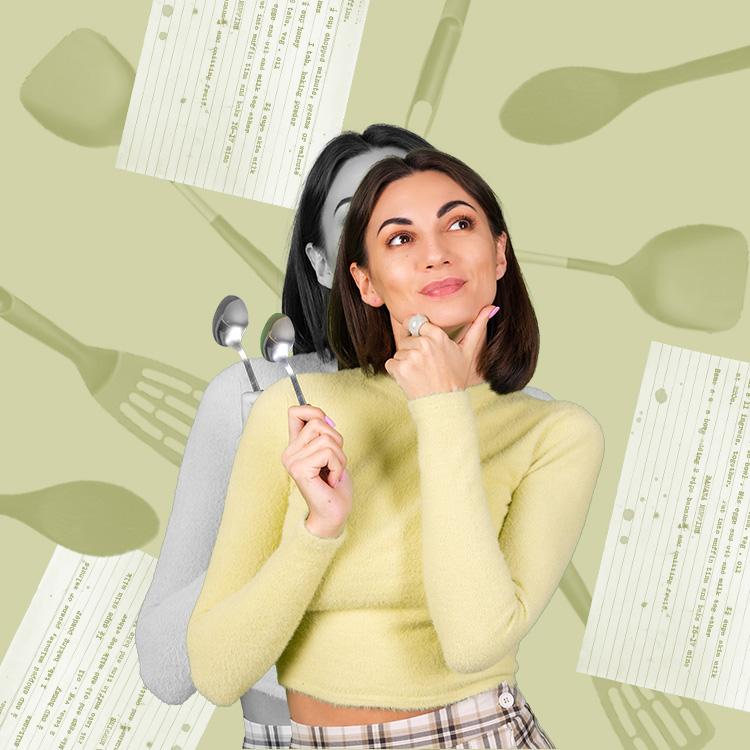 high in protein, good for gut health, and anti-inflammatory? yes, please!
Needless to say, when the day came that I had to start cooking for myself, I was not prepared. Although I've since (mostly) figured it out and have stopped calling my mom to ask how to cook chicken, I still hate cooking. So much so that I've been known to eat cereal or chips and salsa for dinner to avoid it.
If you, like me, also hate having to find recipes and cook every night, you need to know about this TikTok trend that helps make meal planning easier: a capsule pantry. Read on for everything you need to know about the trend and how to implement it in your own kitchen.
What is a capsule pantry?
I'm sure you're familiar with the concept of a capsule wardrobe by now, but if not, I'll bring you up to speed. Essentially, a capsule wardrobe consists of carefully curated, versatile pieces you can easily mix and match together to create many different outfits. Almost every top matches every bottom, every pair of shoes works with each outfit, and everything can be easily dressed up or down.
A capsule pantry follows the same principles. But instead of selecting high-quality denim to match both your everyday tees and silk blouses, it involves choosing ingredients that can be used in multiple dishes throughout the week.
Kara Perez, financial expert and founder of financial education company Bravely Go, recently broke down the concept on TikTok. She explained that she sticks to the same base ingredients every week: tortillas, eggs, black beans, chickpeas, kale, onions, poblano peppers, mushrooms, and potatoes. With these items, she's able to easily create go-to meals like veggie egg cups for breakfast or black bean tacos for lunch. Then she adds in a few extra ingredients each week depending on what she's in the mood for.
Much like a capsule wardrobe provides you with a variety of outfit options at your disposal, a capsule pantry is meant to supply you with full meals rather than a random assortment of ingredients, an old container of kiwis, and six string cheeses (AKA what's currently in my fridge).
Why we love the capsule pantry concept:
It saves time
One of the best things about a capsule wardrobe is that it takes the guesswork out of getting dressed in the morning. Likewise, a capsule pantry consists of pre-selected ingredients to ease the stress and time-suck of deciding what to eat every day.
"I like cooking and grocery shopping, but it still takes a ton of time," Perez said. With a capsule pantry, she can grocery shop and meal prep on the same day and use the same few ingredients throughout all her meals for the week. By purchasing versatile ingredients like vegetables, rice, and pasta, meals become easier to mix and match, and you'll no longer scramble to decide what to make.
It saves money
By cutting back on the number of different ingredients you need to buy (and cutting out those last-minute impulse buys), you can save tons on your monthly grocery budget. "If there's one place we're going to gatekeep our money, it's going to be the grocery store," said Monica D'Agostino, registered dietician and founder of Salt and Sage Nutrition. In her TikTok series "$$ Saving Meals w Monica," D'Agostino explains that this strategy enables her to spend about $50 or less each week at the grocery store. That means more money to pay off debt, take that dream vacation, or simply spend on drinks out with friends.
It reduces waste
As we all become more conscious about our consumption habits, a capsule pantry can be a great way to cut down on food waste. Especially if you're the kind of person who forgets about the carton of strawberries in the fridge until it's too late (guilty).
"There are food bloggers who show something different every single day, and you don't see all the food that goes bad," D'Agostino said. By narrowing down the meals you're making each week and purchasing fewer items at the store, there's less risk of having a fridge full of uneaten food by the week's end. Perez also recommends going into the grocery store with a plan to help you stay mindful about what you throw in the cart and avoid spending money on extra food that will go to waste.
How to create a capsule pantry
Much like capsule wardrobes vary from person to person, there's no one-size-fits-all answer to capsule pantries either. The staple items and go-to meals that work for some people may not work for others, depending on their likes, dislikes, dietary restrictions, or health goals. It's important to find the items that work for you. "You can take the concept and adjust it for what works for you," Perez said. "If you hate kale, get a bag of spinach."
The key to this method is to purchase items you'll actually use and want to eat. "People get afraid [that] if they make a plan, they're only going to be eating food they don't want to be eating," Perez said. To avoid this, she recommends mentally reviewing what your favorite dishes are and what types of food you gravitate to. Then pick out several recipes you can make with similar ingredients.
Another strategy? Choose a specific cuisine to plan your meals around for the week. For example, if you're in the mood for something Greek-inspired, grab lettuce, dill, cucumbers, chicken, onions, feta, wraps, Greek yogurt, and raspberries. With these ingredients, you can make yogurt bowls for breakfast, Greek salads for lunch, and cucumber chicken wraps for dinner. This same method works for Italian, Indian, and Mexican-inspired meals, too.
Creating a capsule pantry sounds simple enough, but like most things, it can take time to adjust to. Take each day at a time and don't be too hard on yourself if you slip up and add a pack of Oreos to your cart on a whim. Feel free to try it out and see if this meal-planning strategy could work for you.