At this point, normal daily activities like grabbing a smoothie with your work(out) wife or taking a class at a yoga studio seem like distant memories (sigh remember heated rooms and cool lavender towels!?). However, just because you can't meet up with your accountability buddy or head to the gym doesn't mean you can't stay motivated, active, and reach all of your fitness goals.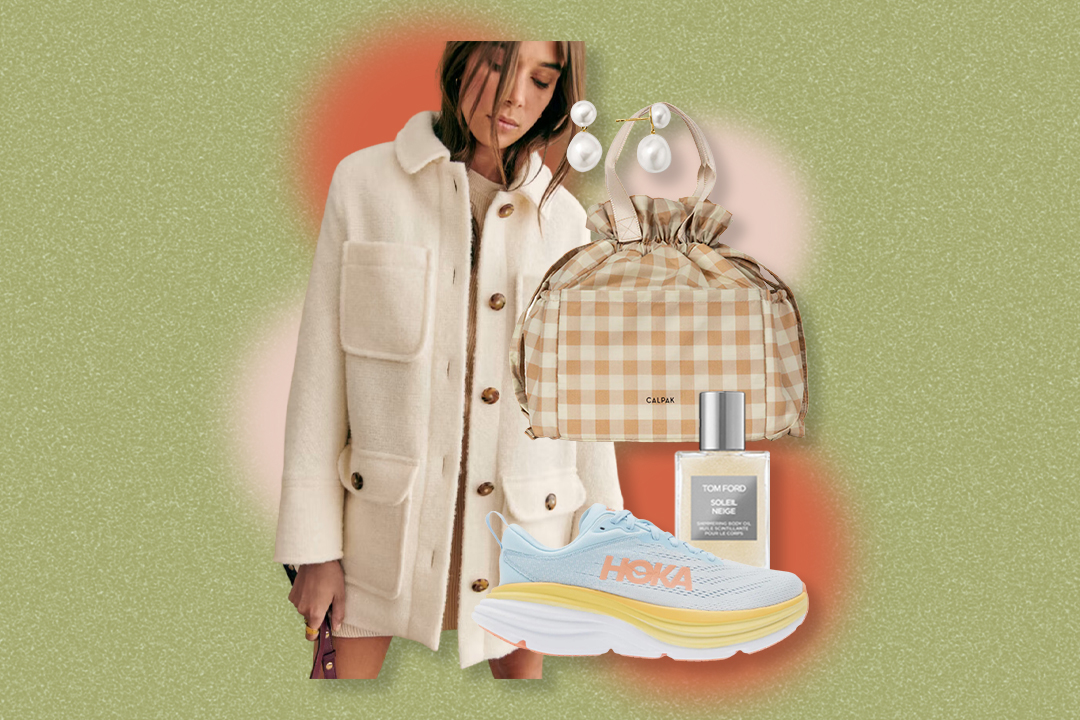 Whether you're just getting into fitness out of sheer boredom (because you've already tie-dyed everything in your closet and baked more bread than can fit in your kitchen), or are a fitness guru looking for new ways to challenge yourself, take inspiration from your favorite celebrities and try the workouts they love to do in the comfort of their own home. Here's how 15 celebrities are working out at their homes, and how you can copy their workout at yours.
1. Karlie Kloss
Our queen, Karlie Kloss, knows that workouts don't have to require big chunks of time. To get your heart rate up and your muscles working, all you need is 10 minutes to fit in this killer ab workout whenever (and wherever!) you have the time.
2. Brooke Burke
Even your favorite celebrities are getting creative when it comes to at-home workouts. You don't need an at-home gym or high-tech equipment to keep your fitness goals; all you need is a set of stairs and a whole lot of motivation to do Brooke Burke's go-to workout she does at home (bonus points for getting outside!).
3. Kate Upton
OK sure, this Instagram post proves that supermodel Kate Upton and her husband are totally #relationshipgoals, but it also proves that you can get your body moving anytime, anywhere. Challenge yourself to a one-minute plank whenever you need a quick break from work or while you're waiting for your coffee to brew. She's right: planking is a lot more fun when you're singing (and have a hot pro-athlete husband, but we can't win 'em all).
4. Tracee Ellis Ross
The at-home go-to for our girl crush, Tracee Ellis Ross, is the method from celebrity trainer, Tracy Anderson. You can stream her iconic classes from the comfort of your own home with online programs (we'd try anything to be more like Tracee. Plus, these classes are fun).
5. Ashley Graham
It's almost summer, which means we're all itching to get outside. Instead of the usual workout on the yoga mat on your bedroom floor, make your workout more fun and take it outdoors. If there's an empty pool or lake near you (lucky duck!), try swimming or paddle boarding, à la Ashley Graham. You can also go for a jog in the great outdoors or take your yoga mat to a local park for some downward dog under the sun.
6. Kate Bosworth
Kate Bosworth is just like us (besides the world-wide fame, successful movie career, and that flawless workout hairdo–our ponytail does not look like that while sweating)! Her go-to at-home workout is the Instagram-favorite P.volve, which is basically like your favorite Pilates or Barre class, except it's streamed from your laptop or smartphone.
7. Jessica Alba
https://www.instagram.com/p/B_nUzjeFmPn/
Leave it to Jessica Alba to motivate us, even when we're feeling lazy at home (successful actress, founder of our favorite beauty brand to shop at Target, and a mom of three??). All you need for this booty-blasting workout is a resistance band. Be warned: you will be sore tomorrow.
8. Miranda Kerr
Remember that you don't have to be out of breath or exhausted to get a "good workout." Supermodel Miranda Kerr knows that restorative and stress-relieving movement like yoga is just as important. Our favorite part of yoga is that it works your breath and mind as much as it works your muscles, which is the kind of workout many of us need during a time like this.
9. Molly Sims
The best kind of workout is the kind that gets your body moving and gives back to the community. Whether it's the pushup challenge or Molly Sim's #WorkoutWednesday to help healthcare workers, celebs are moving their bodies to spread awareness for a good cause or helping those in need. Participate in one of the viral initiatives by getting your body moving, or better yet, start your own (like asking friends and family to donate $5 to healthcare workers for every mile that you run. The treadmill counts!).
10. Lea Michele
One of the perks of being a celebrity is having access to all the fancy equipment that will motivate you to work out at home. But don't worry, you don't have to have Lea-Michele-level star power to get access to the best workouts. Try the Instagram-favorite Mirror workout for yourself, or simply set up a mat and play a Youtube video from your favorite trainers for a workout that's just as effective, without the fancy equipment (and hefty price tag).
11. Julianne Hough
During a time where every day is starting to get a little too repetitive (is it Monday or Thursday?? No, but really), we look to celebrities who like to get creative with their workouts, like dancer and performer Julianne Hough (I totally dance just like her when I'm making TikToks in my bedroom!). You can register for an online class from her go-to Kinrgy fitness method (which also happened to be featured on Oprah) for a combination of meditation and movement.
12. Venus Williams
Of course, we can't talk about workouts without mentioning our fitness idol (and total badass), Venus Williams. Besides the obvious (tennis, duh!), Venus stays active while at home using the Peloton app for a mixture of guided runs, yoga flows, boot camp classes, meditation, and more.
13. Reese Witherspoon
If there's a trail near your house, make like Reese and get outdoors for a workout that will be as beneficial for your mental health as it will be for your physical health (there's something about being outdoors that's an instant mood-booster). Just make sure you're walking in an area that's easy to keep a safe amount of distance (so avoid crowded beaches or hiking trails), and know that walking around the block counts too. Bring your social distancing buddy along for bonus points!
14. Nicole Scherzinger
TikTok has dominated our screen times and gifted us with an endless amount of entertainment and juicy gossip (are Hannah B and Tyler C dating or not!?). Not only can it be used for keeping up with the latest viral food trends (whipped coffee for the win), but it can be used for workouts too. Celebs like Nicole Scherzinger have been posting workouts on the social media platform, but practicing those viral TikTok dances all the cool kids are doing, counts as a workout too.
15. Kaley Cuoco
HIIT (or high-intensity interval training) has taken the world by storm, becoming one of the most trendy workout methods over the past couple of years. You don't need a fancy trainer or interval-training studio to reap the benefits and try the workout for yourself. Take a lesson from Kaley Cuoco and play a HIIT video from Youtube for a killer workout (who says you can't hit your fitness goals while staying at home?).
What have been your go-to workouts at home?