Between the TikToks and mind-blowingly beautiful Pinterest boards starring seashells and sand, it seems that everyone and their mother fell victim to the chokehold one specific trend had us in all summer: the coastal grandmother aesthetic. But as we gear up for fall and put the swimsuits away, we don't have to forget about the coastal grandmother aesthetic. In fact, the aspirational, feel-good vibes are perfect for any season, especially in the autumnal delight that we PSL and sweater enthusiasts live for.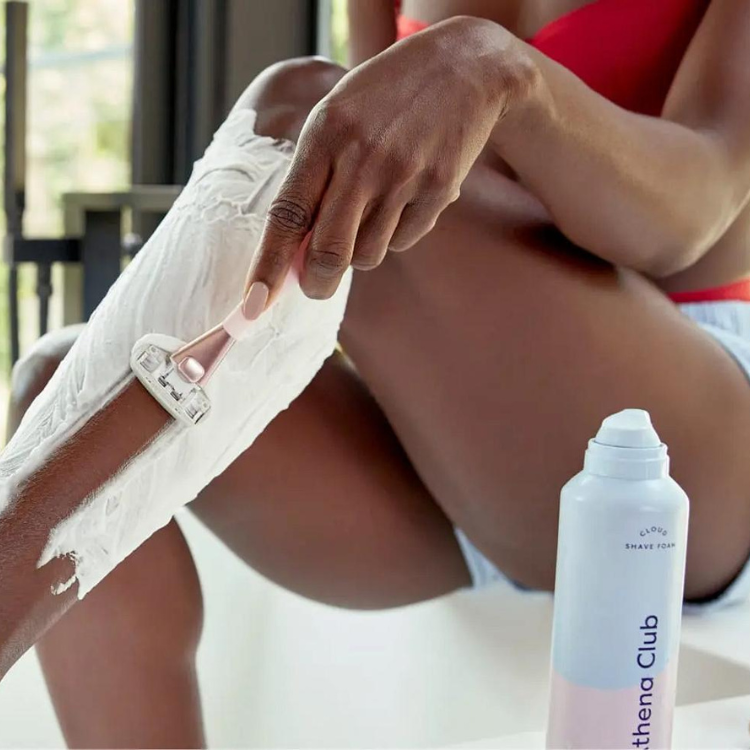 "This razor gave me the silkiest, smoothest shave I've ever had! I never get any cuts or scrapes, even on those hard-to-shave places."
Coined by TikTok user @lexnicoleta, this aesthetic is all about living in the moment and letting your worries melt away. While this may be a newer term circulating amongst Gen Z, you've definitely seen it in popular culture, especially throughout the '90s and 2000s. But the blueprint for the coastal grandmother comes from Nancy Meyer's masterpiece, Something's Gotta Give. As Diane Keaton strutted around in a crisp, white outfit, she exuded confidence, beauty, and an envy-inducing sophistication. At its core, the coastal grandmother aesthetic isn't just about the coast—it's all that feel-good, not a care in the world escapism. In other words, exactly what you feel after watching delightful banter between Keaton, Jack Nicholson, and Keanu Reeves for about two hours.
For anyone ready to bring this aesthetic into the fall, here are 12 coastal grandmother-approved movies that'll feel like a warm hug from your refined, immaculately dressed grandma.
1.
Fried Green Tomatoes
Where to stream: Amazon Prime
The wise grandmother figure is the star of the show in this fall-ish flick. The story takes place over two timelines, with flashbacks to the past in which the elderly Ninny recalls the women that shaped her in her youth. In the since abandoned Whistle Stop, Idgie, a relative of Ninny is devastated when her brother is killed by a train and soon develops a friendship with Ruth, another woman with a close connection to her late brother. The two soon become nearly inseparable and, in Ninny's eyes, have a friendship that will never die. When Ruth moves away to Georgia and ends up with an abusive husband, Frank, Idgie convinces Ruth to return to Whistle Stop, making sure to warn Frank what will happen if he tries to hunt Ruth down. However, Frank is reported missing years later and Idgie is the main suspect—and it's up to her and Ruth to prove her innocence. With several twists and turns, this drama marries Southern Charm, feminist perseverance, and what I will call some mildly sapphic undertones.
2.
When Harry Met Sally
Where to stream: Netflix
A classic autumnal movie choice, this story gives us comedy, romance, and best of all, Meg Ryan. Not to mention, Sally (Ryan) has all the charm of a coastal grandmother—well, as long as you can overlook her bizarre restaurant orders. The story follows the budding friendship between Harry and Sally from college to adulthood. From the moment they meet, their distaste for each other grows with each passing minute, eventually resulting in an explosive argument when Harry claims that men and women can never really be just friends. Despite their contrasting ideals, the two soon strike up something quite like a friendship a hefty 10 years later and discuss every aspect of their failed love lives, dreams, and desires. Their love story lays down the foundation for the slow-burn romance we all know and love in modern rom coms, and their chuckle-worthy banter simply cannot be matched. Based on a real-life couple, you'll root for Harry and Sally as you trade in your summertime raffia cruiser for Sally's signature velvet bowler hat.
3.
Letters to Juliet
Where to stream: Amazon Prime (Premium)
If romance is what you're after, Letters to Juliet has not one but two tales of love. When Sophie, portrayed by the incomparable Amanda Seyfried, goes on a pre-honeymoon with her boyfriend, she soon discovers the infamous "letters to Juliet" in Verona, a real-life phenomenon in which the heartbroken leave handwritten letters addressed to Shakespeare's Juliet Capulet to be answered by Juliet's "secretaries." Intrigued by the tales of longing and tenderness (I would be too), Sophie joins the secretaries and answers a letter from the '50s from Claire, who's still searching for her lost love, Lorenzo. When Sophie tells Claire she'll help her find Lorenzo in the present, the two promptly meet, but Claire brings her grandson, Charlie. In a classic haters-to-lovers trope, Sophie and Charlie don't see eye-to-eye on anything as they help Claire search for her love, but they soon realize they have more in common than a grandma's Italian romance. If you're looking for something with picturesque scenes of Italy and a little bit of comedy, this is the perfect film to accompany you and your vino.
4.
Mamma Mia!
Where to stream: Hulu (Premium)
Whether you love musicals or love to hate them, Mamma Mia! is undisputedly one of the best cinematic, melodious pieces of fiction you can put on. A jukebox musical featuring Swedish supergroup ABBA's greatest hits, the one and only Meryl Streep stars as Donna, a dreamer, mother, and hotel owner. When her daughter, Sophie, finds Donna's old diary from around the time Donna found out she was pregnant, Sophie realizes that one of her mother's past flings must be her father. Determined and possibly disillusioned into thinking that she'll figure out which of the three contenders is her dad merely by spending time with them, she invites them to her wedding in the Greek islands. However, figuring out who her dad is proves to be more difficult than she thought, and she, Donna, and all the guys sing their way through the whole musical conundrum. I'm not sure who dreamed up the concept of this musical, but somehow, it all works.
5.
The Parent Trap
Where to stream: Disney+
Of course, we can't talk about feel-good, family movies without mentioning the OG Nancy Meyers masterpiece, The Parent Trap. This childhood favorite has stayed with most of us through adulthood—especially since we can now fully appreciate Nick's California vineyard and the poise and glamor belonging to the one and only Meredith Blake. In case you've lived under a rock, Lindsey Lohan stars as two twins separated by birth, Hallie and Annie, in this '90s classic. When the two meet for the first time at summer camp, they devise a plan to switch places and eventually get their divorced parents back together. Throughout it all, we have laugh-out-loud antics, a chic and relaxed wardrobe from nanny Chessy, and a movie soundtrack that'll be stuck in your head for days. And of course, it can't be coastal without that classic dinnertime yacht scene.
6.
The Notebook
Where to stream: HBO Max
Contrary to the coastal grandmother aesthetic, this movie might not be a feel-good film for all. In fact, I could not stop crying throughout the second half of the movie the first time I watched it. But alas, The Notebook is still a classic romance set on the coast. With a star-studded cast (Rachel McAdams stars as Allie, and Ryan Gosling portrays Noah), two young romantics fall for each other despite seemingly insurmountable difficulties. After dealing with her family's disapproval of Noah, Allie breaks up with him and eventually becomes engaged to another man. But years later, the two cross paths again, and this time, Allie has to come to terms with what's more important: staying with the love of her life or winning the approval of her family. Yes, it's sappy, but the message of following your heart combined with the coastal setting makes it the perfect film to watch as you cry into your buttery Chardonnay and wipe away your tears on the sleeve of your Diane Keaton-esque turtleneck. If I'm a bird, you're a bird.
7.
Father of the Bride
Where to stream: Disney+
Especially as an Only Murders in the Building fan, I have a huge soft spot for Steve Martin. And all his dad jokes and fatherly demeanor will definitely make your heart melt in this unconventional rom-com. When George's daughter, Annie, returns home from Europe engaged to a guy she met three months ago, her dad isn't having it. Initially trying to talk Annie out of the engagement, he soon turns his attention to finding faults with her fiance, Bryan. Despite claims that he loves Annie and proof of financial stability, George soon spirals into a series of wild goose chases and, frankly, a few meltdowns as his daughter plans her life ahead. At the end of the day, this movie is all about a father-daughter relationship and what it means to love your family, which gives me all those warm, fuzzy feelings.
8.
Monster in Law
Where to stream: HBO Max
Monster in Law was Jane Fonda's first return to the film industry after over a decade, and she proved to be a force to be reckoned with since her performance as the horrific mother-in-law was flawless. Whether you get along with your SO's parents or not, the pure chaos surrounding Charlie, played by Jennifer Lopez, as she attempts to plan a wedding alongside a mother figure who hates her is plain hilarious. When Fonda's character, Viola, decides that it's her job to destroy Charlie's reputation in the eyes of her son, Kevin, she doesn't expect the sweet, likable bride-to-be to retaliate. Soon, the two women engage in an all-out war, stopping at nothing to make sure Kevin chooses only one of them. Filled with both comedy and heartwarming moments, this is a great option for a night in with friends or a tub of ice cream.
9.
How Stella Got Her Groove Back
Where to stream: Hulu (Premium)
The soundtrack, casting, and tropical coastal vibes alone make this flick worth the Hulu premium subscription alone. When Stella, a successful stockbroker and all-around boss lady goes on a vacation to Jamaica, she wasn't looking for romance. Oh, but that's what she got. In taking in the beauty and newfound relaxation away from her life as an executive and mother, she soon meets Winston, a handsome islander with some smooth dance moves. The only problem is, he's 20 years her junior and Stella isn't really believing that age is just a number. Besides seeing Angela Bassett as Stella, we also are treated to a Whoopi Goldberg appearance, as she portrays Stella's best friend, Delilah. Find me channeling my inner Stella as I can only hope my next vacation is half as eventful.
10.
Mystic Pizza
Where to stream: HBO Max
Pizza and a relaxing evening by the sea. Name a better combo—I'll wait. A classic Julia Roberts film, this '90s flick serves all of the feel-good small-town energy. Sisters Daisy and Kat, two teenagers working at a little restaurant called Mystic Pizza could not be more different, much to their mother's dismay. While Daisy is here for a good time and good vibes, Kat is focused on preparing to transform into her own main character at the one and only Yale. Though both girls are as different as can be, they soon meet a couple of guys who they consider to be the men of their dreams, and it's a roller coaster from there. At moments, this movie is a rom-com and at others, it's an ode to an undying sisterly bond.
11.
The Sisterhood of the Traveling Pants
Where to stream: HBO Max
OK, there may not be a lot of coastal vibes in this one. But, think of Lena and her outfits. It's giving coastal granddaughter, isn't it? Known as Blake Lively's big break, this movie adaptation of a novel about female friendships and growing up follows the lives of Lena, Tibby, Carmen, and Bridget, four best friends about to spend their summers apart for the first time in their lives. True to the name of the movie, their summer away from each becomes a little more tolerable when they find a pair of jeans that somehow fit all four girls perfectly on their final shopping trip. Throughout the summer, the four pass the pants back and forth, taking the clothing on adventures in love, sex, and family drama. I love seeing how each girl develops her own character throughout the summer but still cares about her friends from home, which is more relevant than ever through adulthood. Touching on topics like depression, familial strains, and classism, this is a great movie to watch when you really want to feel something.
12.
The Last Song
Where to stream: Disney+
Who knew that Miley Cyrus herself could be a part of the coastal grandmother gang? Before her Bangerz days, Cyrus took on the role of the rebel as Ronnie, a New York transplant whose mother sends her to stay at her father's beachside Georgia home for the summer. Distant from her dad since her parent's divorce, she sets off to explore the town on her own and is completely caught off guard when an extremely charismatic local, Will (portrayed by the it guy of 2010, Liam Hemsworth), crashes into her, causing her to spill her milkshake all over herself. Angry and a little embarrassed, she ignores Will's advances until they meet again on the beach—not a milkshake in sight—where they begin to fall madly in love. Based on a Nicholas Sparks novel, this movie is all the right kinds of cheesy and mixes up the coastal grandmother genre by starring a younger cast.