We all know the images of Kim Kardashian and other models with dots and stripes all over their faces telling us where to contour. A few years back, contouring and highlighting were all the rage. Every brand was coming out with contour palettes, sticks, creams, and powders, and every YouTuber and makeup artist had a video on how to sculpt your face. Everyone wanted to know how to make it look like they lost ten pounds and got a facelift just by using makeup.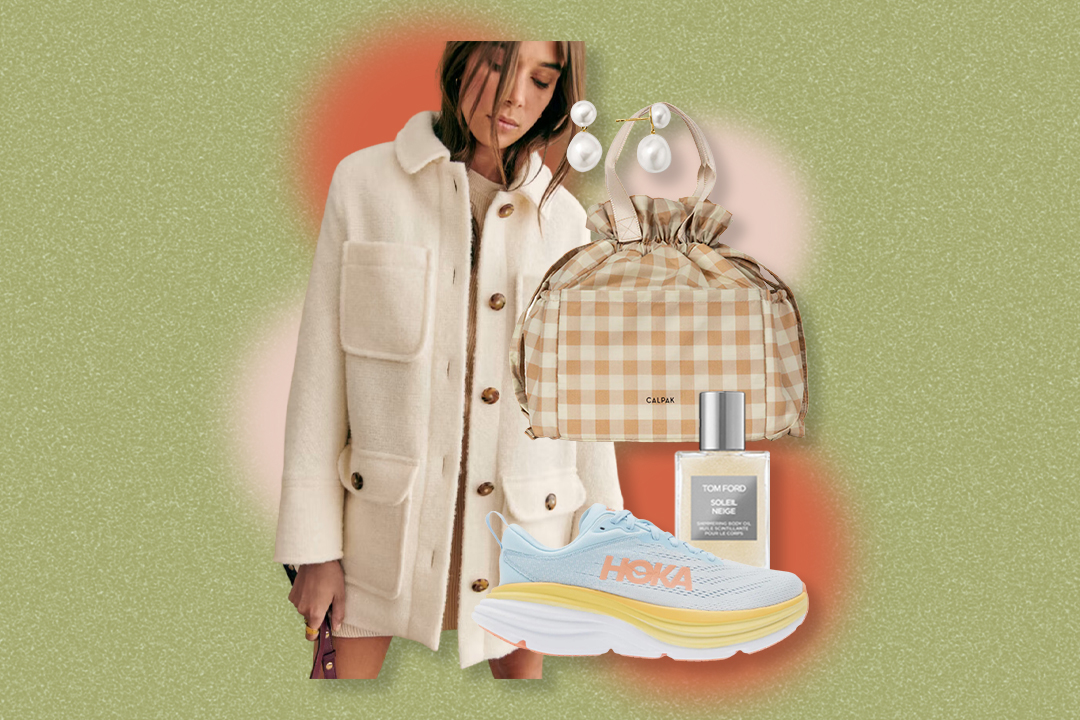 With the rise of the natural, "no-makeup makeup" trend, makeup is changing. The heavy creams, dry powders, and intense, sharp lines are a thing of the past. Well, it's 2019, and newsflash: contour has changed. Makeup artists are still chiseling their clients' cheekbones and creating shadows to get that Angelina Jolie jawline of their dreams — but without the heaviness, how are they doing it? What kind of trickery is this?!
We figured it all out, found the best products and techniques, and we're telling you all the secrets. It's not about changing your entire face à la FaceTune, but it's to shape and enhance what we've already got. We're giving you the 411 on contouring that looks natural, dewy, and sculpted (without all the cakeyness).
Use the right tools
The first step to achieving any makeup look is the tools. The brushes and sponges you use can completely change the look of something, giving it more or less coverage, blending it in a certain direction, or changing the finish. When contouring was popular a few years ago, it was all about the dense, slanted brushes to chisel the hollows of the face.
If you're going for a no-makeup, natural contour, apply cream contour either directly to the face (if the product has an applicator) or with your fingers. This allows you to place the product exactly where you want it, and using your fingers warms it up, making it creamier and more blendable. Then, to blend, use a damp sponge to diffuse the product into the places you contour, such as the cheekbones, forehead, chin, and jawline.
As for powder contour, instead of using a dense, stiff brush, go for an angled, fluffy brush. This diffuses the product on the skin in a way that is light without getting too precise. If the product gets somewhere you don't want it, go in with a translucent powder to dust off the excess.
Source: @patrickta
Opt for a thin cream or liquid formula
Because cream products blend into the foundation you're wearing underneath, they usually look the most natural (unless they're too overdone). The key to getting a natural-looking contour with cream products is to choose something with a thin formula that blends in seamlessly with the foundation.
Pay attention to the shade
Contour is meant to create shadows on the face to sculpt and create hollows that might not naturally be there. Many people confuse this with bronzing the skin, which is meant to place color where the sun would naturally touch your face. Contour is to sculpt, whereas bronzer is for bringing light and color into the skin. Therefore, they should never be the same shade.
Shadows are naturally more of a gray, cool tone, so a contour should never be orange or red, just as bronzers should have more of a warm tone, even if you have fair skin. Heavily contoured skin usually takes these shades to extremes, so it's important to pick something that is appropriate for your skin tone. Something too gray can look muddy and obvious on the face.
Opt for a shade that is no more than three or four shades darker than your skin and has just a slightly cooler undertone. If you have naturally cooler skin, this means you can usually go a little bit cooler with your contour, whereas someone with warmer, yellow, or olive skin should look for something on the neutral side.
You don't need a whole kit
For a long time, contour was for expert makeup artists and drag queens, so they needed multi-use products that would work on a variety of clients. This is how the contour kit or palette we know and love was born! However, when you're only working on your own face, there is no need for so many shades. You should only need one or two perfect contour, bronzer, and highlight shades to match your skin tone. Find the one product that works for you and invest in that instead.
Source: @kkwbeauty
Apply cream products before foundation
Natural highlight and contour are achieved by blending the product so that it looks like it's naturally there. The trick to doing so is applying it before your foundation. Apply the product, then go in with your sponge or foundation brush (whichever you use) to blend foundation on top of the contour.

Make sure you don't blend the contour away, so avoid swiping or buffing motions when you blend. Stipple or push the product in with your brush or pat a damp sponge onto your face. You don't want the contour you so accurately applied to move anywhere else!
Nose contour
Nose contour is a little different than the rest of the face. Use a small, stiff brush for placing contour on the nose. This allows you to place it exactly where you want in a straight line to achieve the shape you want. Use a brush to draw two lines on the sides of the nose. The closer the lines are to each other, the thinner you're going to make your nose appear. You can make nose contour look natural by placing the lines just in the natural contour of your nose, following just where your eyebrows start.
You can blend nose contour in just as you would anywhere else on the face. A sponge will make the product look more dewy and natural, whereas a brush will sculpt the nose even more.
Don't forget to bronze and highlight!
It's impossible for contour to look natural if the rest of your face is one flat color. Bronzer and highlighter get a bad rap for being orange, cakey, glittery, and intense. We're here to tell you that along with better contouring products are bronzers and highlighters that tick none of those boxes!
Like we stated before, opt for a bronzer that is slightly warmer than the tone of your skin and no more than three to four shades darker. If you're using a cream product, you can apply this the same way you would a contour except focus the product in the area between blush and bronzer, the top of the forehead, and under the chin and jawline. Use a fluffy brush to apply a powder bronzer in the 3E shape.
As for highlighter, choose a cream or liquid concealer that is no more than one shade lighter than your skin tone. Blend this in the same way you would blend the contour under the eyes, on the tip of the nose, and on the center of the chin and forehead. You can also add illuminator to the cheekbones for some extra glow!
Source: @fentybeauty
Set with a contouring powder
Once you've applied all your cream products, set them with a contouring powder. Even if you don't normally set your face with a loose powder, going over where you contoured with powder helps bring some extra color back after foundation. This also ensures your contour will last all day! Diffuse these products with a brush lightly rather than blending it all away with the brush.
Did you love the old contour trend or do you like a more natural look? Let us know in the comments!