I truly have done the impossible: I've cracked the code when it comes to sneakers that are cute, on-trend but still classic, and most importantly, comfortable as hell. Last year, I had been lusting after a pair of white Converse platform high tops but found that they were constantly sold out or it just wasn't the right season. But I'm happy that didn't work out because this year, Converse released their "Move" line, which has extra cushiony soles for ultimate comfort. And ever since the Move Platform High Tops have come into my life, I literally can't bring myself to wear any other pair of shoes.
There's nothing worse than knowing you're going to be walking a lot—like while you're on vacation or just during a long day—and having to decide between the worst blisters ever or looking like a 60-year-old dad at Disney World. These sneakers solve that problem. You look like you're just wearing regular high-top Converse (which are back in a big way, BTW), but you feel like you're wearing your nicest athletic sneakers.
I came across these sneakers on Instagram when a blogger I follow was talking about trying to decide between these and another pair of Converse. She pointed out that she liked that they don't have a black line around the sole like the classic pair does, which is honestly a good point. The completely white look is super sleek and clean, and there's nothing better than a crisp white sneaker.
Converse
The white canvas is a classic that will stay in your closet forever.
So naturally, I swiped up, looked at them one time, and then was served about a million ads for them over the next week or so. After an intense text debate with my sister over whether I should take a chance on this new style or just stick to a more classic pair, I decided to go for it and placed my order.
To be honest, I wasn't really expecting much. I didn't even read any of the reviews—I just liked how they looked and wanted a new pair of white sneakers for summer. However, when I first wore them outside of my apartment, I was blown away by how comfortable they were. You might think I'm being kind of dramatic here, but if you've ever had to break in a new pair of Converse or worn them for an extended period of time, you know how shocking this is.
There was absolutely zero need to break them in, and there's no better way to describe them than to say it feels like you're walking on clouds. I'm not kidding when I say I think I could go for a run in them and not have an issue. I even wear them on some long walks just for fun.
I really want to shout from the rooftops that these are the most comfortable pair of sneakers I've ever worn, but we also can't ignore how cute they are as well. I constantly get compliments whenever I wear them, and I've had multiple people tell me how cool they are. I love that they're different without being too out there.
They're also extremely versatile: They look cute dressed down with an athleisure look or denim shorts but also work well with dresses (as we know from Demi Lovato's hit song "La La Land").
While Air Force Ones have become basic (it's OK, I still love mine) and Adidas Superstars have become outdated (see how I purposely didn't say cheugy?), Converse have stood the test of time. They might ebb and flow in popularity, but they're never truly "out"—and Converse is constantly switching things up to keep people coming back.
I'm calling it now: The Move Platform High Tops are the "It Girl" shoes of the year, so you better get yourself a pair before they sell out!
I own them in white canvas, but I noticed that Nordstrom released them in leather, so obviously I had to order them in black leather for the fall and winter. What can I say? I really do like them that much.
And more Everygirl editors are obsessed too…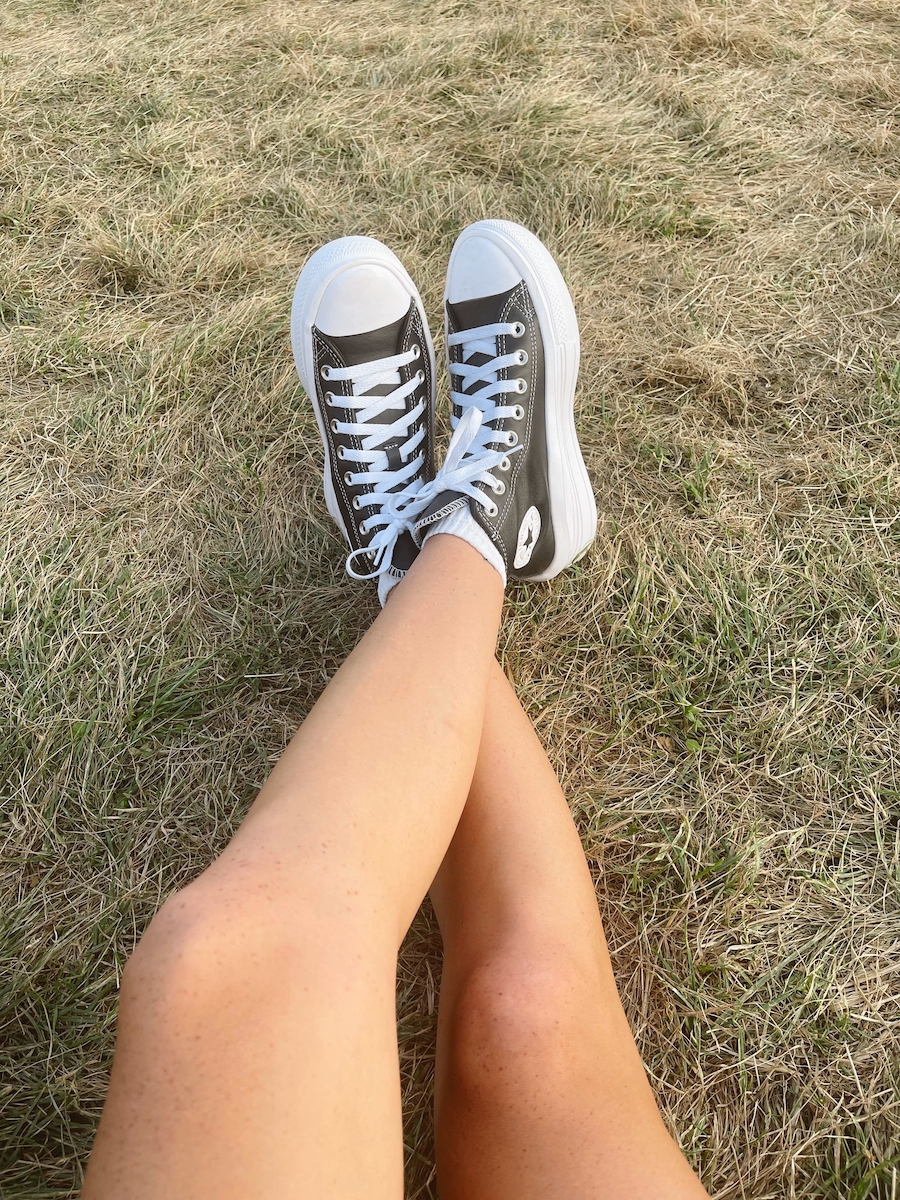 "I have been loving the return of Converse this summer, and these feel like the new, cool, 2021 way to rock them. I got them in black leather, and I am so into the elevated look it gives them. The fit is also surprisingly great. The first time I wore them, I walked around Chicago all day, and my feet didn't hurt once. They were actually super comfortable! I think these are going to be my new go-to shoes this fall because they will look just as cute with jeans and a blazer or a maxi and leather jacket as they will with leggings and a hoodie."
-Keely Geist, Senior Social Media Editor
"I have a lot of sneakers (more than I'd care for anyone to know about), so it takes a lot for a pair to really become the ones I reach for the most—but these have done it. With the platform bottom, they don't feel reminiscent of the ones I wore in high school like I feared they might and rather just feel retro and fun. I got mine in white leather, and I know they'll look just as good in the fall with jeans and a blazer as they have this summer with denim shorts and a tee. Nothing can cool up an outfit like these do."
-Madeline Galassi, Fashion Content Manager
Shop our favorite Converse Move sneakers:
Converse
The black leather option is perfect for fall and winter.
Converse
I think this colorway and unique texture is super fun and different for fall and winter.
Converse
They also come in a low-top version, which is great if you're looking for something more classic!