Hot girl walks aren't going anywhere. But if strutting down the street is feeling more womp womp than putting a pep in your step, it may be time to shake up your strolls. While you've got your foolproof, hot AF 'fits at the ready, you could use a little more motivation to get your steps in. These six hacks are equally fun, exciting, and motivating, so your walk will be the highlight of your day instead of a chore to check off the to-do list. You'll get in 10,000 steps without even trying–hot girl status still intact, of course.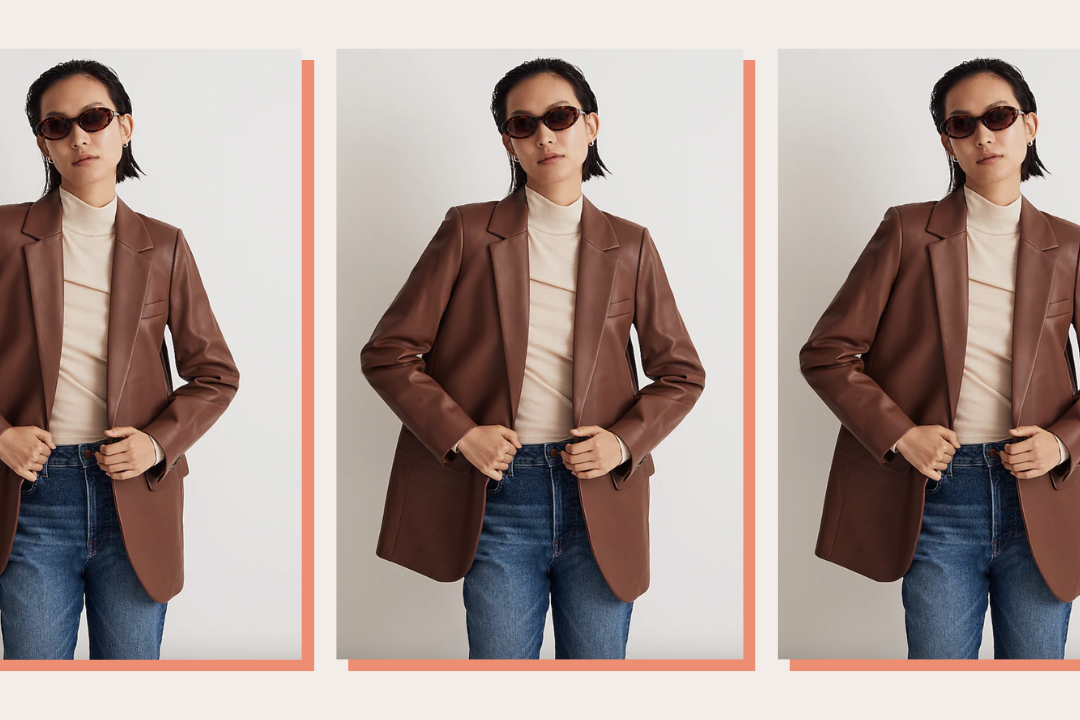 time for your fall wardrobe update!
1. Go on a "scavenger hunt walk"
As the name implies, the premise of TikTok's latest walking trend is to find certain objects as you walk. Think: discovering one item for every color of the rainbow (AKA "rainbow walks"), collecting flowers, leaves, or sticks (this is where a dog BFF could come in handy), or locating murals throughout your neighborhood. Before you set out on your walking adventure, decide what you'll be on the hunt for and mentally check off items of choice as you go. The main objective of scavenger hunt walks is to be fully present and mindful. The result? A fun and motivating alternative to get your movement in for the day. Spice it up more and make it a friendly competition by adding friends, your S.O., or a date to the mix.
2. Try Nordic walking
Regular walks feel too boring for you? Step it up a notch by increasing the intensity. Enter your Nordic walking era; with specially-designed poles to engage the shoulders, arms, and core muscles, the full-body exercise involves keeping the poles close to the body at a 45-degree angle with the ends always planted behind your body (not straight up and down in front of your body), leaning slightly forward, and opening and closing the hands with each step. The idea is to use the poles to propel you forward. The more you practice, the easier you'll walk the (Nordic) walk. Start with a flat, leveled surface (your neighborhood or a park) until you get the hang of the motions. Then you can work your way up to more rugged, uneven terrain, such as trails or hikes. Walking sticks: the latest hot girl essential? We think so.
@tula1505

#fittok tipoftheday: incorporate some #nordicwalking into your #cardio routine! #PowerWalking is one of the best workouts in the world: it's accessible, lowimpact, and amazing for your health, #fatburning and mentalwellness. You can do it every day to #loseweight and reduce your risk of diabetes. But did you know that you can amplify all of these benefits AND reduce risk of falling (due to age, #jointpain etc) by tapping into the european #fitness routine of Nordic Walking? More #muscles used – core, #upperbody – means a better #calorieburn and a more effective workout fit for any age and ability, from #athletes to novices. It's fun, #affordable and personally motivates me to (sometimes!) walk outside when it's cold. Make sure to learn the basics – not just for your safety but also to ensure you maximize all the fitness benefits. Or grab your poles and join me. Enjoy!
3. Get lost in an audiobook
Calling all multitaskers and book-lovers: this one is for you. Most of us would rather get lost in a book than get our hearts pumping–say hello to audiobooks. What better way to reach your daily step goal while soaking up vitamin D, improving your mental health, and solving the problem of never having the time to read for pleasure? Bonus points for finishing your walk feeling refreshed, inspired, and productive. Whether it's romance, thriller, or self-development that speaks to you, before you know it, you'll have outpaced your personal best in walking miles or discovered your new favorite route.
4. Listen to a full album
Sometimes the difference between a solid walk and an insanely fun walk is a good album to put you in the right mood. Another trend taking over TikTok is listening to full albums (for example, click here if you like a relaxing album like The Lumineers or here if you're more of a Nancy Meyers' album girlie) and ranking them based on how they affect a walk or run. You don't have to keep hitting "next" like you do when you shuffle, and it allows you to go through a range of relaxing chill vibes to higher intensity energy with the right album. Why bother with a playlist when you've got T-Swift's Speak Now album cued up on your phone to take you through your entire walking workout? On days you feel like leveling it up or the weather is not on your side, give the Taylor Swift treadmill workout a whirl.
5. Embark on a manifestation walk
Kill two birds with one stone and power your next saunter with a manifestation practice. Walking can help clear space for what you want to attract in your life by fostering mindfulness, reframing your mindset, and aligning your energy with your goals. And because manifesting takes commitment and consistency, pairing it with your daily walk can make it feel like a natural addition to your wellness routine. As you walk, think about what you really want and tap into the feeling of it using visualization. Then, map out actionable steps to take to work towards your goals, whether that looks like outlining them in your head or jotting them down in your Notes app. And remember one of the golden rules of manifestation: The energy you put out is what you get back, so walk as the future you who already has what you're manifesting.
6. Give cozy cardio a go
Looking to rack up your mileage in the comfort of your own home and in comfy PJs, no less? Say hello to cozy cardio, AKA "doing some cardio in your favorite cozy outfits, watching your favorite shows, and drinking your favorite beverages," in the words of creator Hope Zuckerbrow. No intimidating gym atmosphere, HIIT, or cute matching set in sight. First, set a relaxing environment that gives you warm, fuzzy feels. That might look like dimming the lights and turning on a comfort show or podcast episode, or it could mean lighting your favorite candle and donning your coziest pair of sweats. Next up? Walk it out on a walking pad or treadmill at your own pace to get in some steps while enjoying your favorite comfort show or movie.