It's not that I want to be the kind of person who brags about her dating app profile. At the same time, though, I have to give myself some props: I love being on dating apps, I feel like I meet amazing people on them, and I have to credit at least some of that lack of digital animosity to my dating profile itself.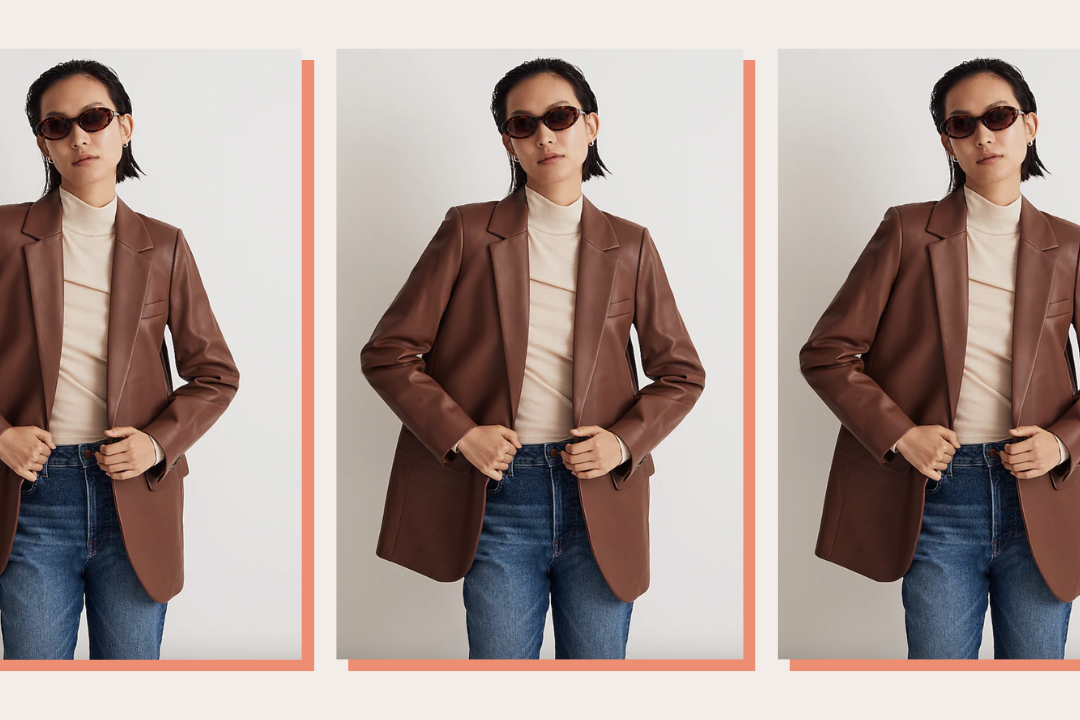 time for your fall wardrobe update!
However, I consider myself a seasoned pro. For someone who is creating their first-ever dating app profile (congratulations!), or anyone hopping back on the apps after a long break, making a profile can be an intimidating part of the process. Much like crafting a profile on any social media app, the pressure is on to come off as cool and exciting, while also being genuine. To ease the stress of the process, here are our top do's and don'ts for creating a dating app profile—because everyone deserves to have a great experience on dating apps, and your profile is the first step to putting the fun back into dating.
Do these 4 things on your dating profile
Do: Include solo shots of yourself that make you feel confident
Hands down, solo shots are the best images to include on a dating profile. According to a survey conducted by Plenty of Fish, 86% of singles prefer photos of the person by themselves, rather than with a large group of people, when they are swiping through dating profiles. That's 86% of the dating pool that you could be missing out on by not including pictures of yourself all by yourself! If you struggle to find solo shots of yourself that you really love, try including different formats, from selfies to full-body images. I personally am partial to the classic sitting-at-a-dinner-table-with-a-drink-and-smiling pose—find what works for you, and put that on your profile.
Do: Add at least one ~provocative~ prompt
Time to get real: The secret to my successful dating profile has to do with the inclusion of one specific prompt that pulls in the vast majority of my matches. This prompt may or may not consist of a story in which I rode electric scooters with some friends in the dead of night and the middle of winter, sans several important clothing items. Fear not: Your top prompt does not need to be as spicy as mine. However, including at least one prompt that initiates a memorable reaction (from "wow" to "I strongly believe that pineapple does NOT belong on pizza") is a fantastic way to ensure that your profile gets a lot of responses. Plus, for me, whenever someone responds to one of my lesser-loved prompts, I know they're genuinely interested in my profile.
Do: Communicate your sense of humor with your prompts
One of the biggest green flags you can find on a dating app profile is a matching sense of humor. According to the aforementioned survey from Plenty of Fish, 84% of singles say that their favorite thing to see on a profile is something funny and humorous, and 69% look for positivity in the prompts of potential matches. Of course, you don't need to try to be funny on your dating profile. Instead, just try to include a prompt or two that showcases either the things that bring you joy in life or your genuine sense of humor. If that means adding your original memes to your profile, you go girl; if that instead looks more like a punny prompt, stick with that instead.
Do: Consider the type of person you want to attract as you add prompts and photos
Not to bring manifestation into an article about dating apps, but in a way, the way we present ourselves and swipe on dating apps should be a reflection of the kind of connections we are trying to create. It is totally great and OK to be on dating apps for any reason, whether you're looking for a casual fling or a long-term partner. However, always reflect on what it is that you want out of the dating experience as you put together your profile because the photos and prompts you include (and possibly even the app you choose to swipe on) will influence the kind of people you attract into your life.
Don't do these 4 things on your dating profile
Don't: Include pictures with more than one other person
On the opposite side of the stellar solo shot in your dating profile is the dreaded group shot. We all know the feeling of swiping onto someone's profile on a dating app and immediately thinking, "Wait…which one are they?!" Avoiding this phenomenon whenever possible is the best way to ensure that your profile pops; after all, it's a profile of you, not your 10 closest friends! Plenty of Fish revealed that 59% of singles skip over profiles with unidentifiable group photos included in them, which means that more than half of that dating pool wants to see your face, rather than your friends. Minimize confusion on your profile by keeping your group shots to a maximum of you and one other person.
Don't: Leave your profile incomplete
The more info you add to your profile, the more likely you are to attract people who are actually great matches for you. Filling out as much information on your profile as you feel comfortable with is important because incomplete profiles can be a huge turn-off to the dating pool. Personally, when I come across a profile that does not include certain details about a person (such as hometown or political beliefs), I am much less likely to swipe right on that person than someone who has taken the time to add several details about themselves. Though you can leave some things to the imagination as conversation starters, try to add all of the things you would want to know about a person before going on a date with them. Chances are, you'll get the same energy in return.
Don't: Forget to double-check your spelling and grammar
This might seem mundane and boring, but take it from a seasoned swiper: one time, I came across a guy's profile in which he misspelled the word "breakfast," and the poor spelling turned out to be a deal breaker for me. And it's not just me, 53% of singles identified poor grammar and spelling as their biggest turn-off on dating apps according to the Plenty of Fish survey. So when you're putting together your dating profile, make sure that you double-check your spelling and grammar before launching it to the world. If it means running your prompt responses through Grammarly, it might just be worth it.
Don't: Be too general with your personal interests
If I'm being totally honest, every time I come across a dating app profile where someone says they love to travel, I usually swipe left. It's not that I don't want to date people who love to travel or that I'm not interested in adventurous individuals; it's just that I have seen so many profiles of people who say they love to travel, I hardly know what it means anymore. On the other hand, when I encounter a profile with a great travel story, or featuring a cool picture at a travel destination? Now that's a green flag in my book. Often, showing your personality and interests rather than telling about them is the best way to communicate who you are to potential matches.