Call it a comeback or a French girl staple—denim-on-denim is taking over 2023. And as a '90s baby who's wary of trends, even I can't resist the allure of this audience-dividing look. Flooding my memory with AMA flashbacks of then-it-couple, Britney and Justin, 2023 seems determined to turn a fashion faux pas into something wearable for those daring enough to try it.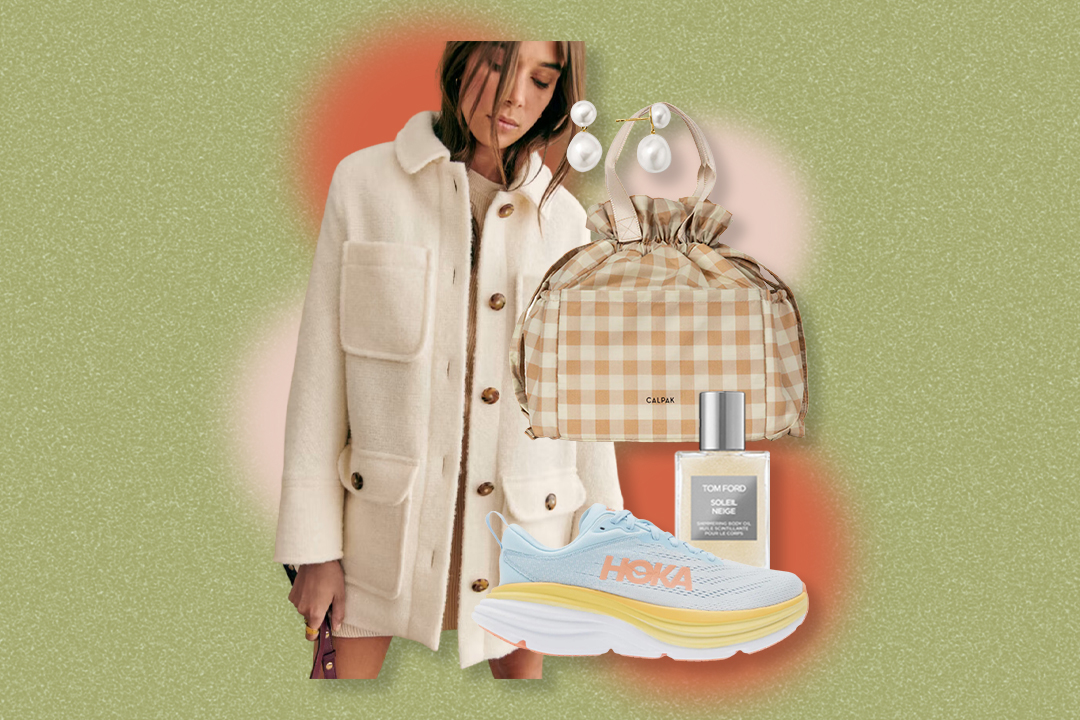 But what if we told you that wearing denim-on-denim doesn't have to be a high-stake risk?
According to French girls, the trend isn't nearly as tricky or cyclical as the Y2K interpretations TikTok may have you believe. That's why we're taking notes from their playbook on how to conquer the look à la française.
Denim-on-denim: A brief (French) history
French women have been wearing double denim since the '60s. And while the original trend is attributed to the Canadian tuxedo of Bing Crosby in 1951, leave it to the French to turn an American trend into a classic of their own. Starting with the trendsetters of their time, Françoise Hardy, Jane Birkin, and Brigitte Bardot, denim sprung onto the scene of cinema and street style with a rebellious and liberated attitude to match.
In the 1980s, Vanessa Paradis breathed new life into double denim's evolution. Instead of following the fitted looks of previous generations, Paradis opted for the oversized fits of the time. Her laid-back yet stylish take cemented the denim-on-denim look as a French fashion staple, which continues to reign supreme today.
More recently, French model and style icon Jeanne Damas has been seen sporting the denim-on-denim trend with her signature Parisian flair. She often pairs a denim jacket with high-waisted jeans or a denim skirt, creating a timeless-yet-effortless look that's quintessentially French.
How to get the French girl's denim-on-denim style
While it's clear that French women have been perfecting the trend for generations, achieving the denim-on-denim look on your own can feel like a gamble. One denim patch too many, and what was once chic quickly becomes faux pas. So, how do today's French women style a trend that easily lends itself to being dated? Timelessness isn't as elusive as it seems when you follow these six styling rules.
Mix and match
The key to nailing the double denim look is to mix and match different (but similar) washes and textures. Don't be afraid to explore different combinations to see what works. For an easy-to-wear style, try pairing a true-blue denim jean with a chambray shirt or jean jacket of a lighter hue. You can also play with different textures to bring dimension to your look. A little distressing or raw hem jean can add a touch of Parisian edge while complementing a more refined, tailored top.
Or aim for the same shade
Some of the most classic looks are achieved by pairing two pieces of a similar wash. These monochromatic combinations elevate the look with intent, by suggesting, "I'm trying… but not too hard."
You can also replicate a jumpsuit style by pairing two pieces of the same shade. Not only does it create a seamless look, but it also adds an unexpected twist to the traditional jumpsuit.
Play with proportions
Experiment with different proportions to style creative looks that flatter your body. For example, if you want to highlight your waist, pair a high-waist, wide-leg jean with a cropped, tailored denim jacket. This combination is visually interesting and draws attention to the midline.
Add a pop of color
Break up a sea of blue with the playful addition of a pop of color. A bold red lip creates an authentic French touch that complements your ensemble. Or, if you're looking to express even more of your personal style, a colorful silk scarf can be the perfect finishing touch without becoming too loud.
Keep it simple
When it comes to denim-on-denim, and French fashion in general, less is more. Instead of trying to make a bold statement with flashy accessories or heavy makeup, the French approach is to let the denim speak for itself. This means keeping your accessories simple and opting for natural makeup that lets your OOTD shine.
Embrace imperfection
French women are masters of effortless style, and that includes embracing imperfection in an otherwise stylized look. Don't stress over perfecting every detail; a little bit of fraying or a crease here and there can add character to your look. In fact, it's the little imperfections that make the outfit uniquely yours. So relax, embrace the imperfections, and wear your double denim with confidence.