You should know that I've been a major stan of the wellness company Sakara since I first found their website in college (spoiler alert: the branding is good). If you're not familiar, Sakara is a plant-based meal delivery service, line of products, and lifestyle brand dedicated to making plant-based eating easy and helping people use food as medicine. As a wellness editor and holistic health coach, I have a lot of thoughts about how the wellness industry needs to change, like, yesterday (read: damaging diet culture, chemical-filled foods that pass as "healthy," and an oversaturated supplement industry). Sakara has been one of the brands that, in my opinion, has always done it right. So when the founders released a cookbook, Eat Clean, Play Dirty, I ordered it as fast as I got my hands on a copy of Breaking Dawn when it came out in 2008 (since then, I've switched to #TeamJacob, thank you very much).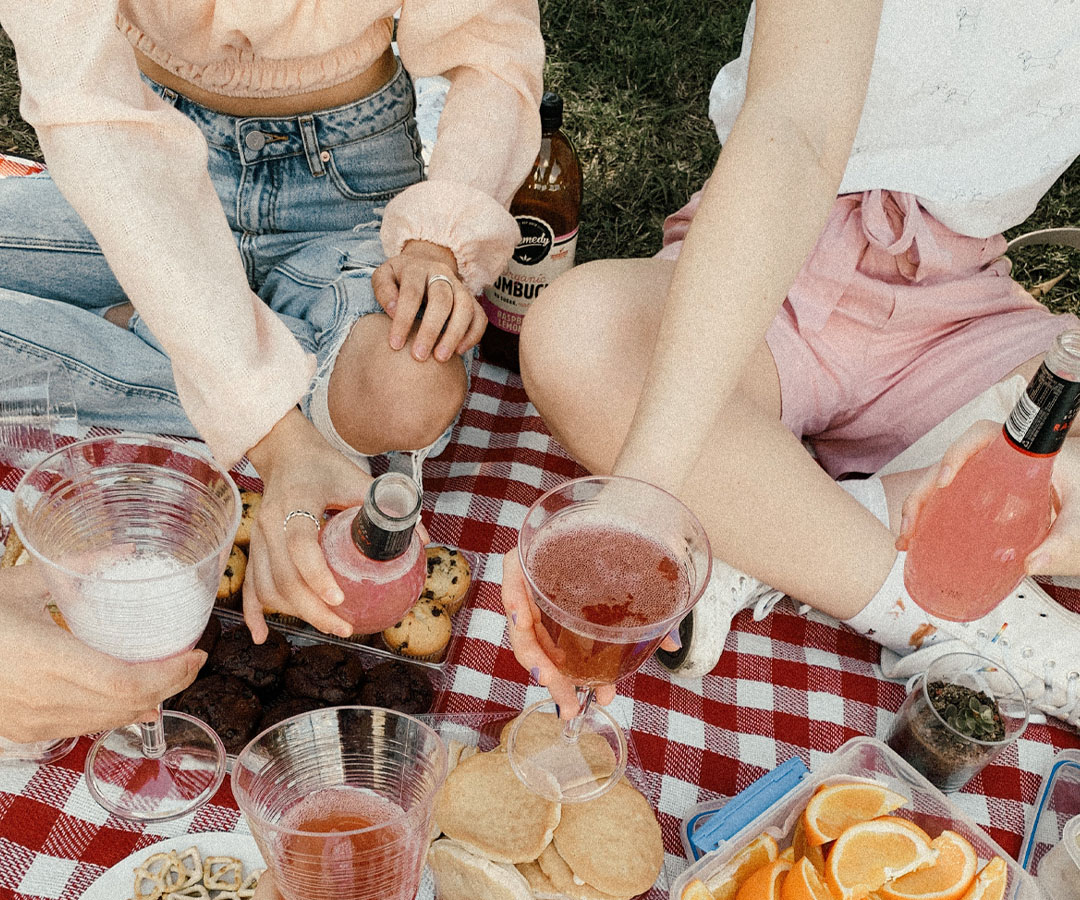 CURRENTLY TRENDING IN /
LIVING
your complete summer shopping guide
I'm a fan—nay, a worshipper—of a good wellness cookbook. I read them before bed as if they were novels and study them as if they were textbooks. "Extra," maybe, but I do all the work so you don't have to. I went through this one in literally three days and loved that while it was recipe-based, the cookbook took a holistic approach, acknowledging that food is only one piece of the cauliflower-based pie. "Lightwork" suggestions were sprinkled throughout the beet burgers and chickpea scrambles, ranging from writing a note with an affirmation to stick on your mirror to turning on your favorite song and practicing being silly. Not only is this the most lovely addition to any cookbook I've ever read, but it also made my week way more fun. Read on for what happened when I spent an entire week eating clean and playing dirty (or, you know, cooking only recipes from this Instagram-favorite cookbook).
Danielle Duboise and Whitney Tingle
First step: meal prepping
The first step, of course, was to grocery shop and prep a few basic ingredients for the week. Here were a few things on my grocery list that have most certainly never been on it before: a jar of roasted red peppers, scallions, raw beets, coconut meat, daikon, and kabocha squash. Despite being a bit intimidated by daikon, I successfully completed the grocery list and prepped a few items for the week ahead. The key to eating healthy, whole foods (with less-than-simple recipes) is to prep what you can in advance. I made a few sauces (like a vegan Green Goddess dressing made with avocado) as well as prepped some grains (a couple of the recipes I was making called for rice, but I used quinoa just because I prefer it). I also prepared and roasted beets in parchment paper and washed and dried all the produce.
Yes, I did DIY my own sauces
My first reaction was that many of the meals were actually pretty simple, even if they seemed intimidating, thanks to DIY sauces or sophisticated ingredients. All of my lunch recipes took less than 20 minutes to prepare. I loved that I wasn't eating basic salads or simple protein and steamed veggies—these foods had flavor. One of my favorite lunches of the week was actually pretty similar (in terms of structure) to a quinoa bowl in my typical weekly lunch rotation. However, the simple addition of roasted and seasoned green beans made a huge difference in flavor (I would've normally microwaved green beans or just added raw veggies), but the biggest game-changer was the sauce.
Let me go off about the sauces for a second: Whoever said plant-based eating does not have drool-worthy flavor has not tried any of the sauce recipes in Eat Clean, Play Dirty. The Green Goddess that I was so obsessed with was super easy to make; it was basically scallions, avocado, olive oil, lemon juice, garlic, cilantro, basil, and mint, all blended together in my Nutribullet. It was creamier and tastier than any Caesar dressing or non-vegan Green Goddess sauce I had ever had. Another favorite sauce from the week was a "cheese" sauce, AKA a creamy spread made with roasted red peppers and tahini I made for tacos (see below), but I straight up ate the leftovers with a spoon because it was that good. Lesson learned: Homemaking your own sauces is so much simpler than you think and worth the cleanup or prep. Plus, veggies taste better when they're blended.
"Plant-based" isn't as scary as it sounds
Another lesson: Beets are shockingly easy to cook with from scratch and wildly delicious when they're roasted. If you're like me and have only really eaten beets in raw form (like a beet salad), know that they are freaking delicious and savory when you roast them in the oven with some olive oil and cumin *chef's kiss*. Thanks to the helpful insert in the cookbook, I also learned that beets are rich in enzymes that are programmed to seek out damaging toxins and then neutralize and eliminate them (delicious and detoxifying? Yus please!).
In general, a lot of the recipes or items I was intimated by turned out to be pretty easy to work with. FYI: Plant-based doesn't have to mean difficult or bland. I cooked most of these meals for my boyfriend (who has never met a buffalo wing he didn't like), and he didn't think twice about eating totally plant-based meals because I don't even think he realized he was. Turns out, when he's eating flavorful and delicious meals, he doesn't really question what's in them.
While Eat Clean, Play Dirty is technically a plant-based and vegan cookbook, it definitely doesn't feel like you're taking away anything. The book is full of sandwiches, pizzas, pasta, desserts (more on that below), and it all looks so delicious, you forget that it's leaving out some of your favorite foods, whether it's chicken, brie cheese, or sourdough bread. A lot of nutrition cookbooks first focus on what not to eat or what to cut out, or they have a limited amount of healthy fats or portion sizes to restrict calories, so I love that Sakara fits so seamlessly with my own personal beliefs of adding as many whole foods to your plate as possible rather than taking away or limiting.
The goal of eating should be adding in as many nutrients as possible
The recipes may not be five-ingredients-and-under kind of simple, but I loved getting out all my veggies, grains, and flavors to marvel at how many nutrients I could fit into a meal. For example, the delicious little Rainbow Wraps above contained seven different whole foods in a small little package (and would've contained eight if I didn't forget to buy the strawberries the recipe called for). Maybe our goal with food shouldn't always be easier or less; maybe the goal should be to nourish our bodies more.
Even the desserts were full of nutrients. TBH, I was pretty intimidated by the Sexy Cinnamon Rolls (I did not know what psyllium husk powder was and also could not find coconut palm sugar at the store), so I opted for these Seed Butter cookies that were fairly simple and took me under 10 minutes to assemble. Spoiler alert: If you were wondering if sunflower seed butter was a thing and if it could turn into cookies (as I know you were), it is and it can! If oat flour, seed butter, and honey can turn into delicious, decadent cookies, you can do anything.
When all was said and done (and by that I mean the week was over and my fridge was completely empty), I truly felt the most nourished I had in a long time. After being used to the same basic recipes over and over again, my week with Sakara reignited my love for cooking and my passion for wellness—I wasn't just going through the motions. Every day, I felt excited to cook and even more excited to eat.
Here's What I Learned:
1. We can all be salad girls
I'm traditionally not the type to eat salads for meals. A side salad or starter, sure, but I never felt satisfied enough and typically crave something warm, a little tastier, or more filling. But after trying a variety of salads with additions like roasted tamari mushrooms or a creamy Green Goddess dressing, consider me an official convert. Basically, if you "don't like veggies," you're not doing veggies right. I lived a lot of my teenage and young adult life thinking I wasn't going to be one of "those girls" who ate salads for meals, called their diets plant-based, and said no to cheese or pasta (like that's possible?). But ever since I proudly chowed down french toast sticks and spaghetti marinara (at the same time, yes, it has happened) in the high school cafeteria, I've learned that we are all "those girls;" it's just about finding the foods that not only make us feel good but taste good too. Trust me, you won't miss nacho fries or Dominos pizza when you're shocked at how delicious a roasted red pepper "cheese" sauce tastes.
2. You can do hard things
OK, so this is a Glennon Doyle quote that is meant to apply to actual life problems, but I think it can be applied to cooking my way through the Sakara cookbook too. No, many of the recipes were not "simple," but I quickly learned that they were doable. Even complicated chutneys were a few basic ingredients mixed together in a bowl. Not to brag or anything, but I did DIY a vegan cheese, bake nutseed-based cookies, roast a raw beet, and make my own curry. And guess what? I did it during an extremely busy work week when my dog also happened to have severe diarrhea for about three days (sorry if that was TMI, but I just wanted to paint the picture that I didn't have all day to twiddle my thumbs while waiting for the oven timer to go off). Bottom line: Dishes you never thought you could make might be more achievable and simple than you think. I can do it, and you can too.
3. Romanticize lunches
Yes, I'm good at eating my veggies and pretty much only cook plant-based meals, but I typically rotate between the same lunches. Read: avocado toast, a quinoa bowl with some basic veggies and coconut aminos, or a salad wrap. Lunch has historically been about convenience and what's in my fridge. But this week got me to realize how much better I felt when I took time to make my lunches feel special. Blending herbs into a delicious homemade dressing or roasting veggies with fresh spices not only made my lunches taste more delicious, but it also reminded me that every chance I have to eat is a chance to make my life a little more special. I'm big on romanticizing the little moments in life, and this was my reminder to romanticize lunch too. Catch me spending my lunch break DIYing sauces and blending gourmet soups from now on. It's well worth the time and effort.
4. Trying new things is a healthy eating hack
The biggest lesson I learned after this week is to become more adventurous in the produce I can cook. Roast a beet? Never thought I'd do that in my life. Purchase and cook chard? Astonishing. Rather than sticking to the same grocery list of produce (spinach, berries, avocado, repeat), I feel much more confident in my ability to pick out what's in season or try a new veggie and figure out a way to make it delicious. Also, that aforementioned basic meal rotation? Consider it a thing of the past. Trying new flavors, foods, and recipes are not only the way to keep cooking interesting but also the most enjoyable way to eat healthy foods that make your body feel good.
confessions from a wellness enthusiast