Of all the talents I possess in this life, cooking is not, nor will ever be, one of them. I'm a firm believer that you either have the touch or you don't, and I simply do not. However, I do need to feed myself, which means over the years, I've become a master of easy recipes.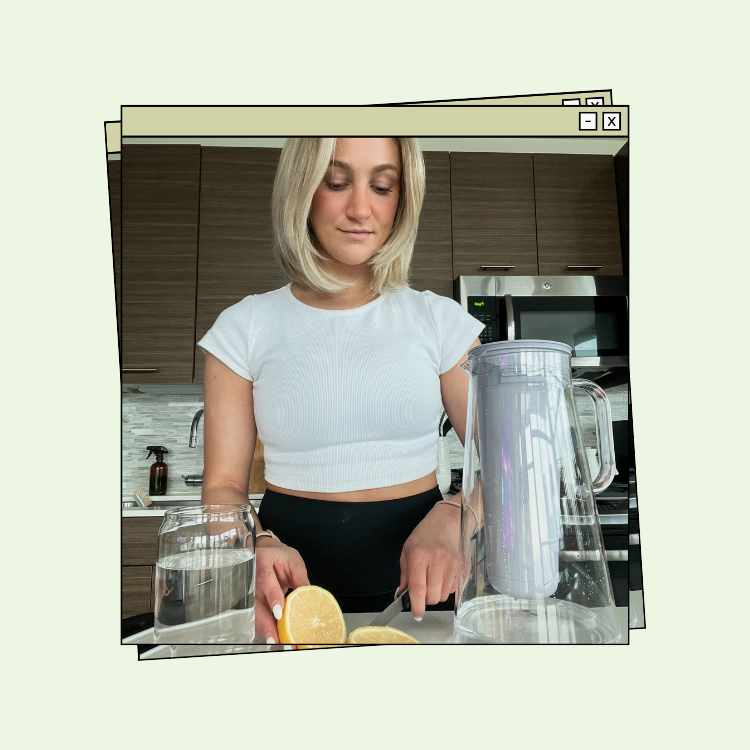 get it right in 2023 and beyond
For most of the meals I cook, a recipe isn't even involved: it's a base of protein and veggies combined with some sauces to somehow form a meal at the end of it, and that's the way I like to keep it. Everything I make takes under 20 minutes, has some nutritional value, and although isn't the fanciest thing you'll ever eat, generally turns out tasty.
I have a permanent itinerary of recipes I make every week on repeat and, because of their versatility, never get sick of. Looking for a good lunch or dinner that requires less brainpower than ordering Uber Eats? Look no further.
No, I am not a vegan, but in a pinch one day I made a variation of this, and now it's my go-to pasta dish. I wouldn't exactly call it "healthy," but it does satisfy a creamy pasta craving with healthier ingredients since the nutritional yeast gives you a cheesy flavor without any real cheese.
If you're new to this, you can follow this recipe, but I generally do it a little different and just eye-ball the ingredients, which makes the entire process take maybe 10 minutes:
Bring Banza to a boil; strain
In the same pot over low heat, mix a tablespoon of olive oil with a tablespoon of flour (I use tapioca flour) to create a roux.
Mix in garlic powder, salt, and pepper to taste, then add in around 1/4th a cup of nutritional yeast and a splash of dairy-free milk; mix vigorously until it turns into a creamy sauce.
Combine sauce with noodles
The result is a creamy, vegan pasta that'll satisfy any comfort food craving you have.
Pesto eggs are currently all the rage on TikTok, and I hate to say I did it first… but I did. I've always loved adding Trader Joe's Vegan Pesto into my eggs as it makes them taste straight from a restaurant. My go-to is to turn them into a breakfast wrap, and this is my take:
Scramble eggs; add in a spoonful of pesto (and a sprinkle of parmesan if you're in the mood)
Add to your favorite tortillas with arugula and half an avocado
The result? A flavorful, filling breakfast that takes around five minutes to throw together.
One of my favorite ways to consume protein is with shrimp; it always feels like a little treat when I make it, and is super healthy and packed with nutrients. I love frying it up and then mixing it with quinoa and whatever veggies I have in my fridge that I'm trying to use up. I top it with a little sriracha and it's the perfect quick lunch or dinner.
By far and large, burrito bowls are the thing I eat the most throughout the week. I love to meal prep a few chicken breasts at the beginning of the week, then use microwave rice as the base for a bowl (I prefer that over making a big batch and re-heating it every day), and then mix in whatever veggies I have. The reason I never get sick of it is that I can mix it with so many different toppings—avocado, beans, peppers, you name it—and it feels like a completely different meal every time I eat it.
When I want to impress myself and make a real recipe, it's usually made with my Instant Pot. My go-to takeout is always Thai, so I tried this recipe once in an effort to make it slightly healthier, and it's absolutely amazing. It takes absolutely no time to make since it's an Instant Pot recipe. One of these recipes gives me enough leftovers to eat for a few days and prevents me from making a late-night Doordash order.
I used to never ever make burgers for myself, but once I picked up a package of plain burgers to satisfy a craving, and it was so easy that I now do it all the time. I love making it in a lettuce bun for that added crunch, and just add some spicy mayo and avocado and it keeps me filled up forever and is a super-quick work-night dinner.