Time and time again, I have found that my at-home lunches can make or break my daily routine. Throwback to the times when I'd be rushing out the door on the way to the office, would haphazardly forget my previously-prepped lunch, and would be left with on-the-go options come lunchtime. I can't even blame said options—it was my choices and my lack of ability to say no to junk food that led me astray each and every time.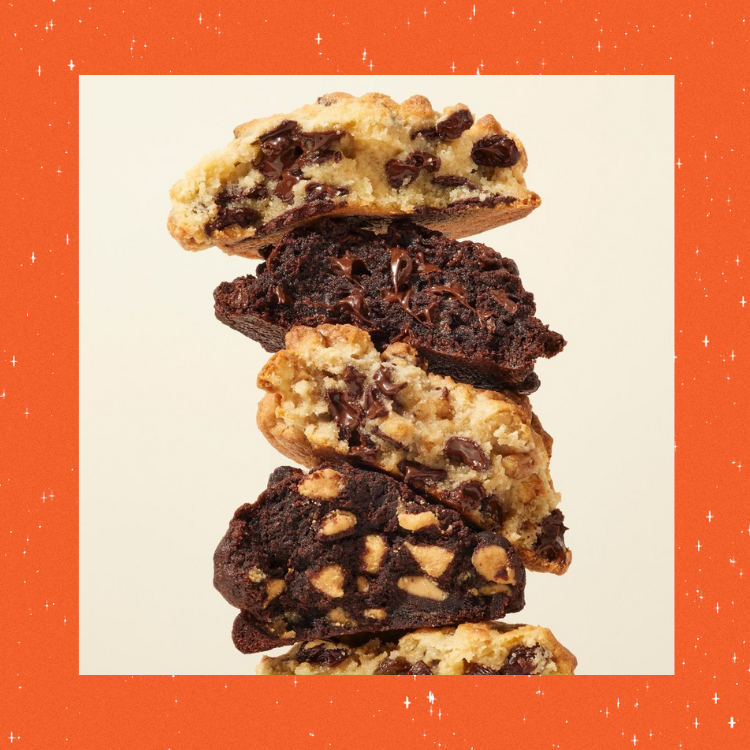 Enough with the stress! These 20 gifts will please even the pickiest person.
Without learning my lesson, I'd opt for our across-the-street market's hard-to-resist, creamy mac and cheese that would call my name louder than any other sound, nutritious option. That mac and cheese dish was like any Hinge date I have ever encountered: it looked good at first, seemed less exciting when I got to the table, and left me feeling nauseous, exhausted, and disappointed.
We're saying goodbye to lunches that leave us feeling sluggish and unsatisfied and we're saying hello to realistic, healthy options that leave us feeling ready to take on the rest of our day. After finding our work-from-home grooves and playing around in the kitchen, these are the WFH lunches our editors swear by:
Avocado Toast
I tend to eat smaller breakfasts and lunches and really go all out for dinner. This avocado toast is the perfect meal for my routine and quickly became my go-to. If I have all the ingredients required, it's absolutely going to be my lunch that day. It's quick, easy, and delicious. I always add either salami or bacon on top for a little extra protein and a side of fruit. — Garri, Managing Editor
Veggie-Packed Salad
A workday lunch that's quick, easy, and will give me the best energy throughout the day? Veggies, veggies, and more veggies! My favorite lunch is a big, flavorful, colorful salad because I swear I have the most insane energy throughout the rest of the day. I always start with mixed greens but change toppings based on what I have in my fridge and what I'm craving. No matter what, I always try to have at least three different colors in the salad and I finish it off with a protein, seeds, nuts, and a tasty dressing. This one is made with leafy greens, roasted sweet potato, roasted tempeh, shredded carrots, sliced cabbage, pepitas, and sauerkraut. For the dressing, I mixed up some olive oil, apple cider vinegar, tahini, salt, and pepper. — Josie, Associate Editor & Wellness Content Manager
Oven-Baked Pita
I go for a lunch that is easy, filling, and quick every single day. Look, I'm in Chicago. There are a plethora of takeout options at my fingertips 24/7, so I need options I can quickly make before I give myself time to remember that I can order anything I could ever want on Uber Eats. This oven-baked pita smothered with tomato sauce, mozzarella cheese, turkey pepperoni, and arugula is a classic lunch for me because it feels special and nice, but I can eat it while sitting at my desk or while catching up on an episode of my favorite TV show. I keep the basics on hand at all times and change up the toppings based on what I have in the fridge. — Beth, Associate Editor & Beauty Content Manager
Kale Salad with Grilled Chicken
Fun fact about me: I used to hate salads. Even the mention of them would send a chill up my spine. I just didn't get the hype—that is, until I spent $14 dollars on a Sweetgreen salad that changed my entire life. Maybe it was the price alone that made me enjoy it more (my most fatal flaw) but regardless, it made me question, "If Sweetgreen can make a bomb-ass salad that doesn't taste like dirt, why can't I?"
I don't know who needs to hear this but start. massaging. your. kale. I know, it's not groundbreaking. But for me, it was the secret to making my salads taste overpriced AF, just the way I like it. After massaging my kale, I add cubed and roasted sweet potatoes that I prep at the beginning of the week, air fry frozen Trader Joe's grilled chicken for three minutes, add pumpkin seeds, raisins, and avocado, and pour a generous amount of this unreal honey dijon salad dressing. I never thought I'd be a person who looked forward to eating salad but alas, this salad has changed me. — Ashley, Contributing Writer
Grilled Chicken Wraps With Pesto
During my workday, there's a 0 percent chance I will cook, but I also tend to not look forward to meal-prepped lunches—so the answer is throwing something tasty together quickly. My favorite lunch is to use chicken breast (usually the Trader Joe's pre-cooked ones) and throw it on a wrap with some arugula, pesto, and parm. I never get sick of it and it fills me up all afternoon until dinner. — Madeline, Associate Editor & Fashion Content Manager
Chickpea Greek Salad
This chickpea greek salad with roasted chickpeas, cherry tomatoes, kalamata olives, avocado, and feta cheese has quickly become one of my go-to work from home lunches, and now I eat it at least once a week. I really don't like to spend a ton of time cooking lunch, so this is perfect for when I want something nutritious and filling but still quick and easy. The chickpeas do not have to be cooked for this (they are good raw in this salad too) but I have recently started roasting my chickpeas in my air fryer. That has really elevated this meal and also shortened the process of roasting them (or they can be meal prepped beforehand and then ready to go for lunch!). I just throw all of the above-listed ingredients into a bowl and dress with olive oil, red wine vinegar, garlic powder, salt, and pepper. It's extremely tasty, easy to make, and leaves me satisfied for the rest of the afternoon. — Jessica, Assistant Editor and Junior Graphic Designer
Tomato Avocado Toast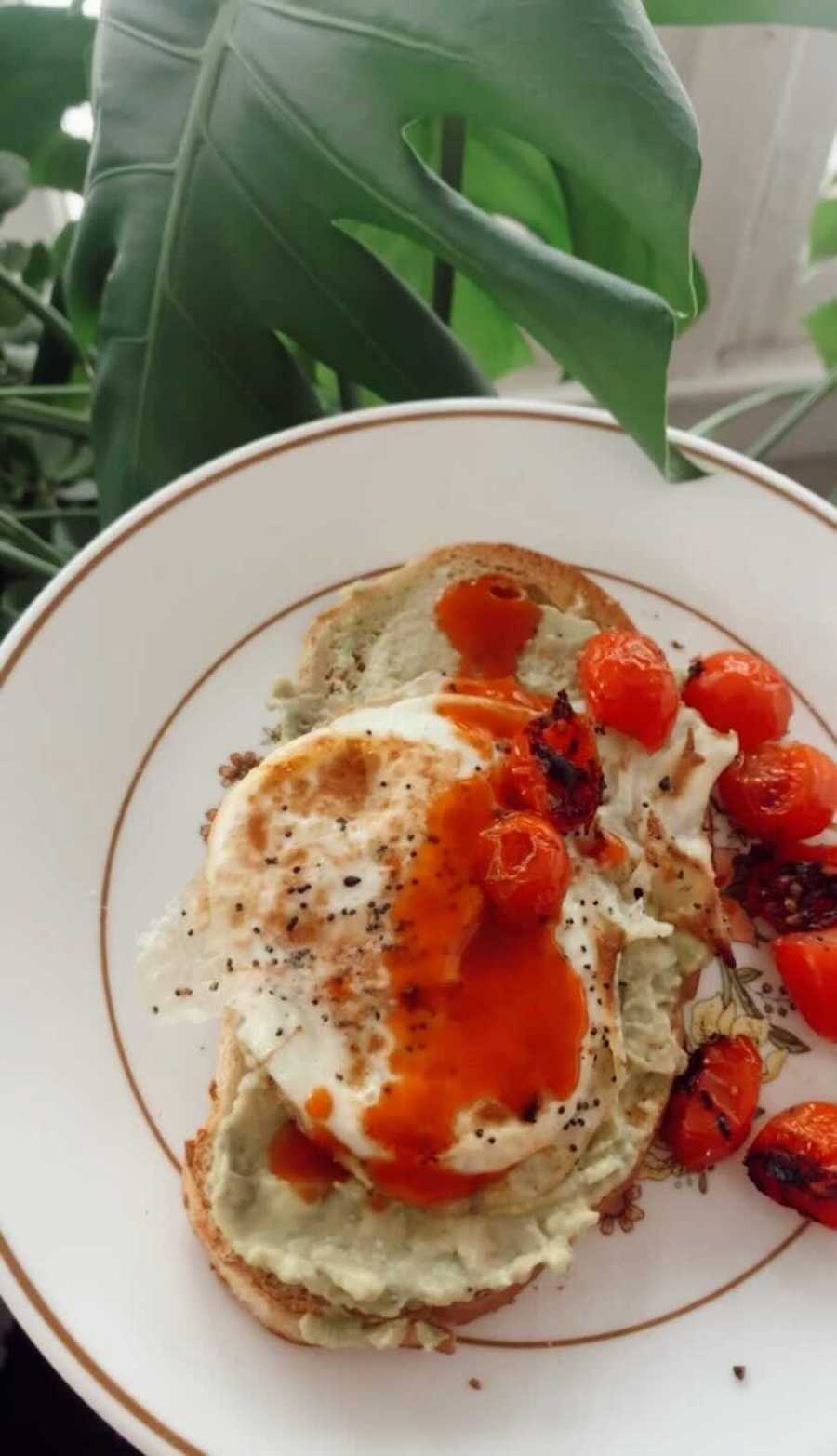 I'm a huge breakfast girl so naturally, I eat a larger breakfast/lunch mid-day. As a college student, I normally stick to pretty simple lunches that are easy for making in between work and class. This tomato and avocado toast is the perfect brunch/lunch meal that is filling and also healthy. I always add a little bit of sriracha and chili flakes when I'm cooking the tomato and egg—I love to add some heat to my foods. — Hope Ann, Social Media Coordinator