Emily Henry captured our hearts with 2020's Beach Read, and she's dominated the New York Times Best Seller list ever since with People We Meet on Vacation and Book Lovers. Now, she's back with her fourth adult romance, Happy Place, and it may just be her best one yet.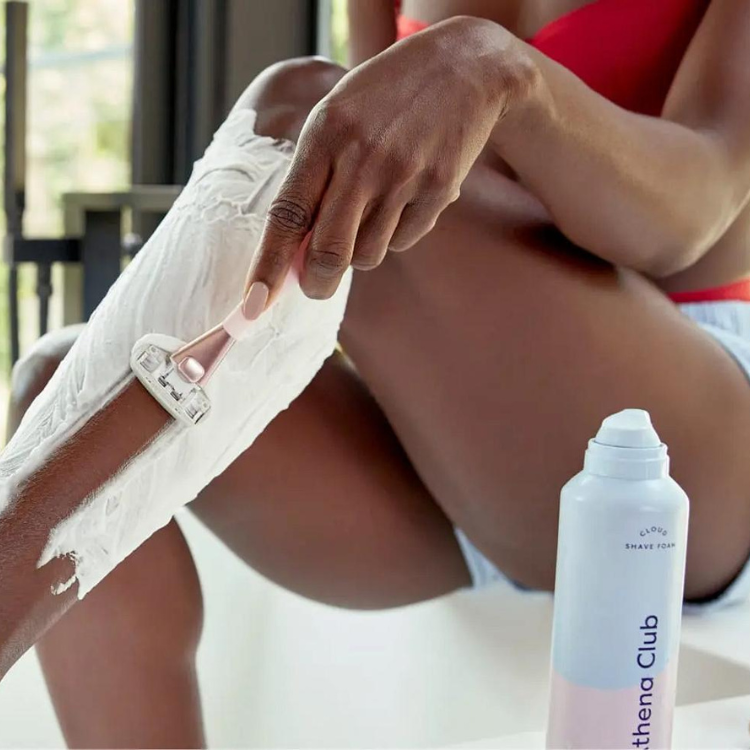 "This razor gave me the silkiest, smoothest shave I've ever had! I never get any cuts or scrapes, even on those hard-to-shave places."
For the eight years since Harriet and Wyn met in college, they have been the perfect couple. At least, that's what their friends think. Because even though it's been six months since Harriet and Wyn broke off their engagement, they still haven't told anyone. And now, on their annual weeklong vacation with their best friends, their secret must be kept. Because with the cottage for sale and an unexpected wedding to plan, they can't let their friends down. After years of being in love, how hard can it be to fake it for one week, anyway?
If that premise isn't enough to convince you, here are all of the reasons why you need to read Happy Place:
Emily Henry
Harriet and Wyn, college sweethearts who've been together for ten years, broke up five months ago—and they still haven't told their best friends. This means that at their friend group's annual getaway, they're stuck sharing a room together. Rather than ruin everyone's good time, Harriet and Wyn decide to fake their relationship for one last week. Shouldn't be a problem, right?
The Escapist Setting
Picture it. Summer in Maine, where the mornings call for a sweatshirt and the days are warm enough for a dip in the Atlantic. A week off from work, free of your responsibilities. A cottage on the coast, complete with a pool, an outdoor shower, and a well-stocked wine cellar. A quaint downtown, housing a bookstore called Murder, She Read and a movie theater with only two screens. Locals and tourists all out for the annual Lobster Fest. And most importantly, all of your favorite people right there with you.
Can you see it? That's Harriet's happy place. And when you dive into the pages of Emily Henry's latest, it will become yours, too.
The Ride or Die Friendships
Romance novels are sometimes criticized for having isolated main characters. But you don't have to worry about that criticism here. Because Happy Place is about the love between friends just as much as it is about the love between romantic partners.
Harriet, Sabrina, and Cleo have been best friends ever since they were matched as roommates their freshman year of college. The three credit the housing committee for bringing them together because on paper, they make no sense. Harriet, used to her parents' tense conversations about not being able to make ends meet, is well on her way to being a doctor. Sabrina has turned her feelings about the fact that her father is on his sixth wife into a successful career as a divorce attorney. Raised by a music producer and an essayist, Cleo majored in art and now runs a successful farm in upstate New York. But despite their differences, one thing has always been true: they have each other's backs, no matter what.
And that fact has remained true as the group has expanded. First, with party boy Parth, who becomes as successful as a lawyer as his eventual girlfriend, Sabrina. Then, with Wyn, the laid-back charmer. And finally, with Kimmy, the opposite of homebody Cleo in many ways but an equal partner in their life and business. They know they're an odd group, but they also know they're the kind of friends who have become each other's family.
The Expected Tropes—In Unexpected Ways
One of the things that I love the most about Henry's novels is that I can always find my favorite tropes in them, but I can also always count on her to deliver them in unexpected ways. In Happy Place, we get a second chance romance. But instead of two people reconnecting after not seeing each other for years, we get two people who broke off an engagement so recently that they haven't even told their friends and family about it yet.
Now, don't get me wrong. I love a traditional second chance romance, and Emily Henry still gives us those butterflies-in-our-stomachs, head-over-heels, young-and-in-love feelings by taking us back to when Harriet and Wyn first meet in college. But she also gives us the fresh heartbreak and raw emotions of two people whose relationship ended so recently.
Which brings me to the second trope in Happy Place: forced proximity. We see this trope paired most frequently with enemies-to-lovers. But Harriet and Wyn don't hate each other. In fact, they're doing everything they can to ignore how desperately they still want each other. Which makes the best mini-trope, there's only one bed, all the more exciting.
The Romance, Of Course
Henry's novels wouldn't be rom-coms without the romance, of course. And the romance between Harriet and Wyn is one that will have you swooning. There's the banter in their first conversation, heightened by the fact that Wyn has seen a nude painting of Harriet (done by Cleo, of course). There's the deepening of their relationship, from something mostly physical they hide from their friends to an emotional connection they couldn't possibly keep a secret. There's the challenges of building a life with someone, moving from job to job and city to city. There's the sexual tension of wine cellars and favorite t-shirts and outdoor showers.
And through it all, there are two people with their own goals and wounds and dreams who must answer one question: are they better together or are they better apart? As you learn more about Harriet's fears and Wyn's insecurities, it's no secret which outcome you'll be rooting for.
Final Thoughts
You can trust me on this one: no matter how large your TBR list is, Happy Place by Emily Henry needs to be on it. Why? Because I have an overflowing TBR list of my own, and I love it so much I've already read it twice.