I have a confession: I used to dread my lengthy Sunday reset routine… almost to the point that I wanted to entirely forego everything and endlessly scroll TikTok all day. My reset to-do list which used to help me unwind before my busy week ahead was starting to stress me TF out. Sunday and I already have a complicated relationship as it is (Sunday scaries…cough cough) so I needed to find a solution and fast.
I reflected and realized what my lengthiest task was: Running countless errands. Some people love it, and some people hate it, but personally, I'd rather be doing anything else on my Sunday than standing in the cleaning aisle browsing toilet bowl cleaners. So naturally, I knew I wouldn't be too heartbroken taking this task out of my routine.
When I came across Grove Collaborative, a shopping subscription service that hooks me up with all of the supplies I need for a Sunday reset without leaving the house, I knew that it would be my one-way ticket to focusing on the activities that I actually enjoy. This productivity hack has cut my usual 45-minute shopping trip—and a "quick" pit stop to Starbucks for a grande vanilla sweet cream cold brew—down to five. You heard me: Just five whole minutes to get all my essentials for the entire month. Let me put you onto my latest obsession.
Why I can't stop talking about Grove Collaborative
I would define Grove Collaborative as my self-care Sunday guardian angel, but here's the gist: Grove Collaborative sells over 150+ sustainable wellness, home, and cleaning products and ships them straight to your door. Whether you need to stock up on bathroom cleaning essentials or you're looking to try out a new beauty product, they've got something for everyone. Just add all your faves into your cart and let Grove handle the rest of the nitty-gritty details. What I love most is that every product is vetted by their team to ensure each one is ethically produced and cruelty-free. Talk about a win for you and the planet, too.
Grove Collaborative
Get your favorite home and wellness products shipped straight to your door.
Choose between four FREE starter sets when you make your first $20 purchase AND snag free shipping!
Why I'm Obsessed
Two words: Subscription service
Trust me when I tell you that Grove made me a subscription box fan. I rarely use subscription services and find most to be a waste of money, but this one is so worth it to me because of its hyper-personalized service.
Grove automatically saves my order to my account—down to every little detail like scent, size, and color—so it's easy to order my favorites again. Better yet, I don't even have to lift a finger by setting up auto restock orders either every four, six, or eight weeks. And if something comes up or I'm out of town, I can adjust the delivery date to when works best for me.
What I love most is that they send me three shipping reminders so I'm always in the loop of when my pretty little box will be arriving on my doorstep. Here I can make changes to my order before it's on its way. NGL, I'm an indecisive girly so this feature has saved me a couple of times.
Grove has all my go-to brands
Personally, I love that all my favorite brands are easily accessible all in one place–and I can find them without having to wait in any lines or jumping from store to store to find what I'm looking for. (Which just eats up into my Sunday R&R time.) I'm always filling my cart with their flagship brand Grove Co. and other big brands like Mrs. Meyer's, Method, and Burt's Bees. My current favorite is their Grove Co. x Drew Barrymore line because 1) Drew. Barrymore., 2) The packaging is so aesthetically-pleasing, and 3) The scents are super bright and clean!
Plus, I don't have to dread arriving to the store to see that the product I needed like yesterday sold out. I can save myself the car ride and sanity knowing when my product will be restocked by turning on their in-stock notifications through their app, all without leaving the house. If only I could do this for everything in my life.
It's insanely affordable
Grove is dedicated to keeping their prices low. They even price match to ensure I'm getting the best price out there. Which in my book, beats going to the store any day. And if my Grove box is over $49, which is frequently because there are so many great finds, they throw in free shipping just because. We love a free shipping moment.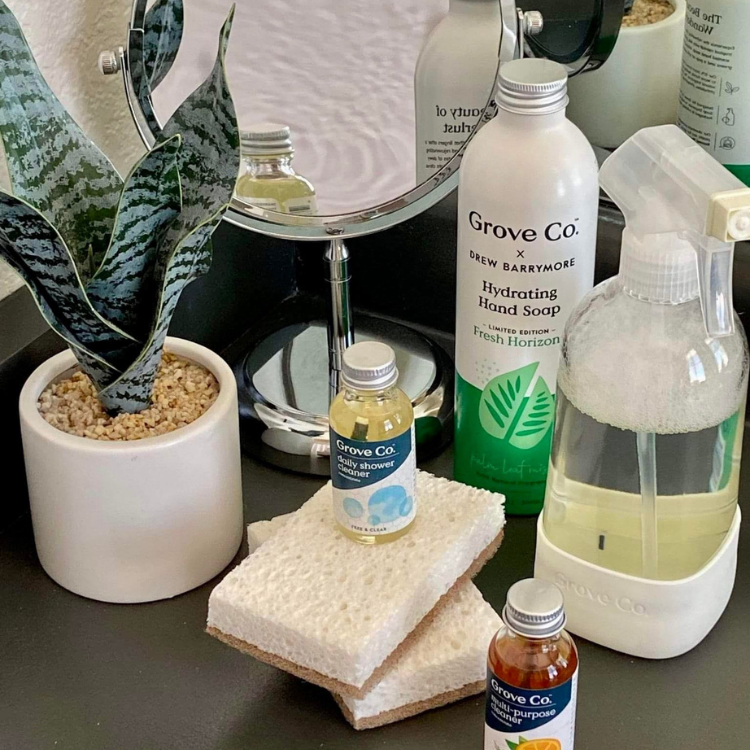 Final thoughts: My best-kept secret for saving time without breaking the bank
Here's my take: If you're looking to majorly downsize your Sunday reset routine, Grove Collaborative is just what you need. Truly nothing feels better than crossing shopping off your to-do list…for good. I've had so much more time for brunch with my friends, gratitude journaling, tidying up the house with my latest Grove stash, and catching up on my latest read on my Sundays, which is just how I want them. Here's to starting my week feeling refreshed and recharged from now on!
This post is sponsored by Grove Collaborative, but all of the opinions within are those of The Everygirl editorial board.