There are two types of people in this world: those who decorate for fall and those who decorate for Halloween. In my opinion, there is no in-between. You are either thinking, "Sure, I'll place a few pumpkins on the porch and switch to a seasonal dish towel," or you're planning on turning your whole space into your very own version of Halloweentown. If you're a die-hard Halloween fan, I have good news: The time has finally come to show off your dark side.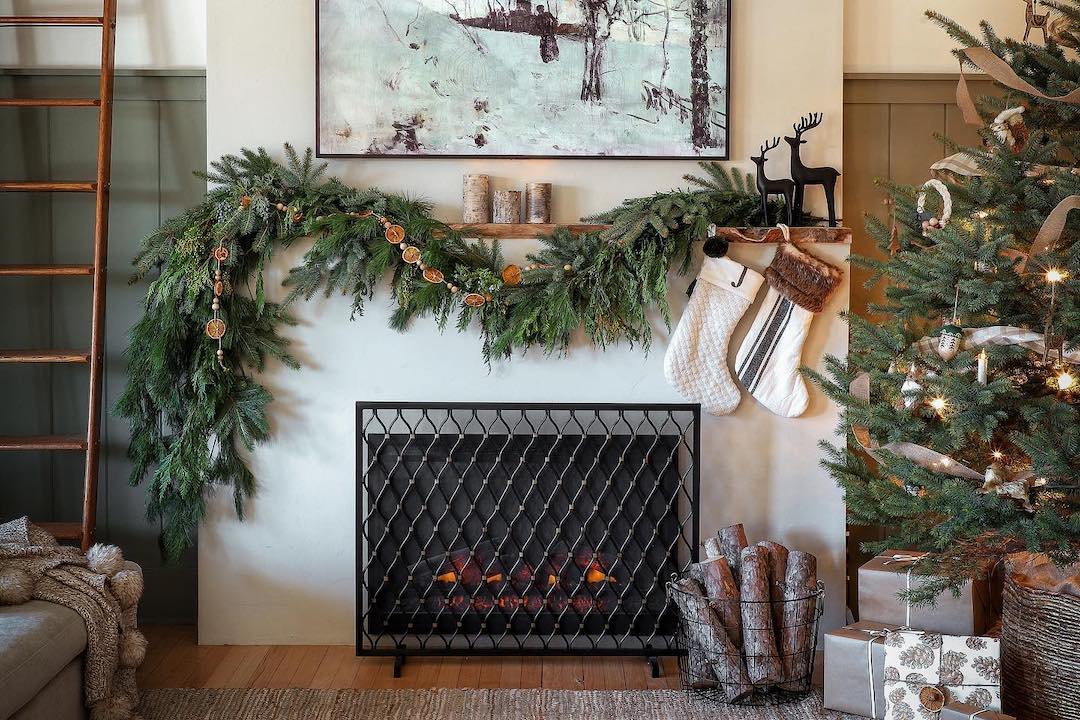 there's still time to deck your halls
Halloween decor has hit the aisles of all our favorite retailers, and the inspiration we're seeing across the internet is scary good. From chilling front porches to spooky tablescapes, here are the Halloween decor ideas we can't stop thinking about, plus everything you need to get the look:
1. Creepy Front Porch
This year, start your spooky display right at the front door. Lay down a Halloween-inspired doormat, flank the door with spooky jack-o-lanterns, and—if you really want to go the extra mile—tack up a whole flock of bats across the door. Whether you have a large front porch to decorate or a smaller stoop at your apartment, these decorations will undoubtedly show off your spirit.
2. Eerie Entryway
An entryway table or cabinet is the perfect canvas for Halloween decor because it'll be the first thing guests see when they walk in the door. Drape some spooky fabric across the surface to set the stage for creepy accents like faux skulls, skeleton hands, and more. And, of course, don't forget to light some candles to add some flickering ambience.
3. Spooky-Chic Living Room
This living room takes an approach to Halloween decor I like to call "spooky-chic." It's not overly scary but uses a few tactfully placed accents to create a Halloween-inspired look that still feels cozy. Create a similar look with decorations like faux cobwebs and black raven figurines mixed in with more traditional fall accessories like plaid throw pillows and woven blankets.
4. Creepy Outdoor Tablescape
If you plan on doing any entertaining this October, this outdoor entertaining setup is all the inspo you need. Set the table with spooky serving dishes, orange and black table linens, and plenty of candles to set an eerie tone. For extra light, surround your entertaining space with lit jack-o-lanterns for the perfect mood lighting.
5. Spooky Sideboard Accents
Small vignettes can be one of the most effective ways to decorate for Halloween. Pick a surface (like the sideboard pictured here) and dress it up with a few simple additions. If you don't have a sideboard, that's no problem. You can arrange these decor items on a mantle, bar cart, side table, or anywhere else you want to add a haunting touch.
6. Halloween Party-Ready Bar Cart
As you trade your spicy margs and Aperol spritzes for cozier cocktails, it's time to give your bar cart a spooky makeover, too. Set out some fun Halloween-themed glassware and use a fun vessel like a cauldron to stash extra beverages. If you're getting ready to host, fill up a drink dispenser with a fun autumn-inspired drink, and stash some blankets on a lower shelf so guests can easily grab one to cuddle up against the chill.
7. Halloween-Inspired Table Decor
Are you inviting people over to entertain? Make sure your tablescape celebrates the season. We love the warm fall tones and subtle hints of Halloween on this dining room table. Recreate it with candle holders, mini pumpkins, spooky glassware, and a dried bouquet. Tombstone place cards with your guests' names are optional but highly encouraged.
8. Halloween Living Room Decor
Is orange not really your vibe? Stick to accessories in shades of black or white to make your Halloween decor blend seamlessly into your existing setup. This living room keeps it simple with a few spooky accessories scattered throughout and one standout spider across the windows for some wow factor.