Because I'm only going a few select places this fall, my wardrobe is shifting quite a bit, but probably not in the way you'd expect. The "trendiness" of my fashion sense has gone up about ten-fold. If I'm wearing an outfit anywhere, it's going to be to the nine's because what other excuse do I have to dress?! I've pretty much always dressed with the season's trends in mind, but I've taken it to another level in fall 2020. The icon I'm using for all of my inspiration this fall? Harry Edward Styles. 🥰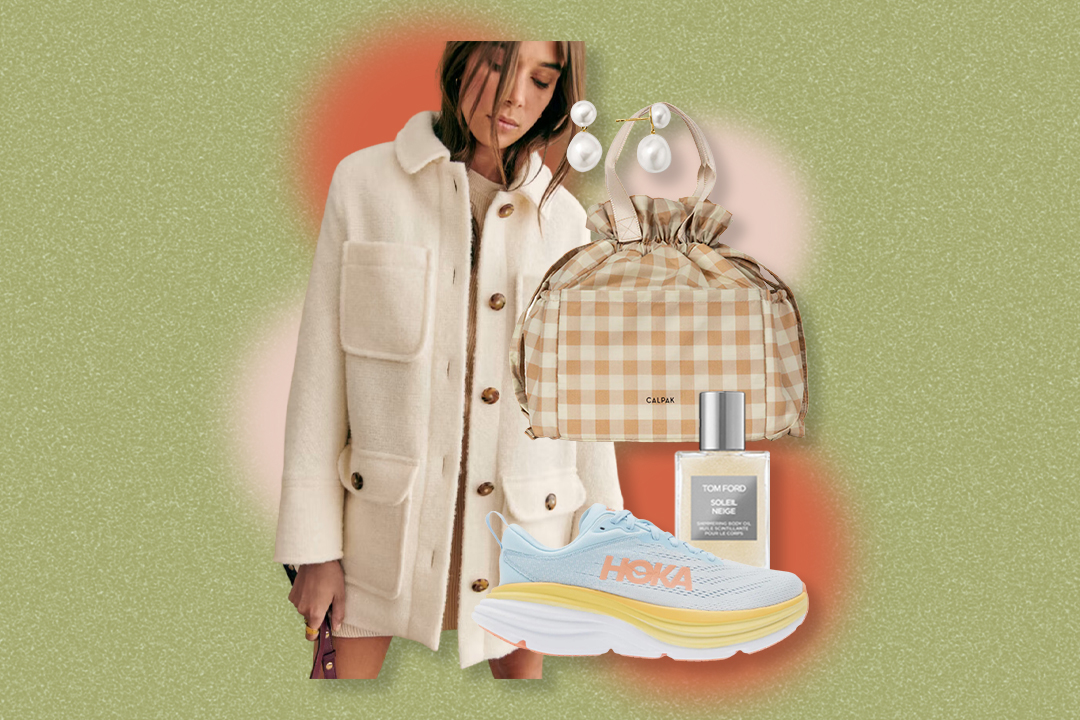 Does anyone remember that tweet that was like, "Does Harry think we just like the music or does he know that we would actually die for him?" I relate to that a lot. While I obviously fantasize about our adorable children (Xander Styles … is that not the coolest name on Earth?) and the miraculous love life we'd have together, I also just am absolutely enamored with him in every facet. His music? Revolutionary. The fact that he's socially-conscious and aware? A dream. His sense of humor? Pretty good; I'm still thinking about that Sara Lee skit almost a year later. I've never seen a single interview with Harry Styles that makes me be like, "Ah, this guy's overhyped." He presents himself in the best way, and that, obviously, includes his style.
I was a One Direction stan in high school, and I still follow about 10 Harry Styles accounts on Twitter and Instagram just for updates about his whereabouts. But the best account I follow is the Harry Styles Fashion Archive, which shares his exact pieces and outfits. After scouring that account for about an hour on a Saturday morning a few weeks ago, I pinned hundreds of Harry-inspired looks on my Pinterest board to copy this year. In the name of sharing everything about me on the Internet, I've put together Harry's key pieces to get the look, plus a few outfits of his I'm dying to recreate. Turn on "Woman" and gush over HS with me!
Key Pieces
There are a few key items you can add to your wardrobe if you want to Harry-fy it just a bit. There's no need to go full Gucci model to get inspired by his style; instead, grab a few of these pieces and mix-and-match with your personal style to make it your own. Basically, "There's a piece of you in how I dress" is about us. It's our Harry Styles capsule wardrobe if you will.
Copy His Outfits
wide-leg pants / green sweater / sneakers / pearl necklace
The second I saw this outfit, I wanted to compile every piece and wear it myself. This is certainly the most "out there" look on this list, but that's why I love it. Harry isn't afraid of mixing colors and styles that seem counterintuitive. The hardest item to source was a sweater—Harry loves his graphic sweaters, but of course, they're all astronomically priced—but I quickly found a green option that would work just as well. I love how the pearl necklace (a staple in Harry's closet the last year or so) and trousers dress up this bright sweater and sneakers combo.
If this outfit was a Harry song, it'd be: "Sunflower, Vol. 6"
black skinny jeans / leopard button-up / gold ring / ankle boots / canvas tote
This is a classic Harry look circa 2015. At the tail end of One Direction (gone, but never forgotten), Harry sported a version of this look basically every single day: button-up, black skinny jeans, and ankle boots. And even in 2015, I was furiously pinning it to my Pinterest style board. He's found a way to make even basics look chic, typically by adding a cool bag (I think he'd appreciate this one from Etsy), lots of rings, and unbuttoning the top just enough to see his glorious tattoos.
If this outfit was a Harry song, it'd be: "Sign of the Times"
black trousers (plus-size option) / organza top (option 2) (plus-size) / black heels / pearl earrings / nail polish
When I imagined this article, this wasn't a look that immediately came to mind, but as I kept staring it, I realized this is actually quite an easy outfit to put-together for normal life, just with an added HS flair. Whether you're going to a wedding this fall (don't forget your mask!), happy hour on a patio, or just having a pretend girls' night, this outfit should be top of mind. Tuck the top into the trousers to give the illusion that you're wearing a jumpsuit, and don't forget the classic Harry manicure—it truly completes the look.
If this outfit was a Harry song, it'd be: "Lights Up"
button-up / sweater vest / trousers (plus-size option) / loafers / sunglasses
I went into our office twice this week, and somehow, I managed to wear a sweater vest both days. I can't quit. I never thought I'd be so into the preppy style, but staring at photo after photo of Harry Styles absolutely rocking them has convinced me that it's a must-have. Harry has made this his uniform lately, pairing it atop a button-up with wide-leg trousers and loafers. For a little extra '70s the HS way, add big, square sunglasses. Watermelon sugar hiiiiigh.
If this outfit was a Harry song, it'd be: "Adore You"
graphic tee / shacket / flare jeans (plus-size + budget-friendly option) / sneakers / cherry earrings
Harry's collection of graphic tees make me gasp every time. I love every single one, from the Christopher Kane "Sex" T-shirt (and pajama top!) he wore on SNL to the "But Daddy I Love Him" shirt he was seen wearing in NYC (the same weekend I was there—not saying it's a conspiracy or anything, but …) to his very own merch while performing with Lizzo (game recognize game), he has mastered the art of the graphic tee, something I cannot say for myself. I love how he dresses them up and makes them look even cooler with plaid jackets and blazers, plus some extra pizazz whether it's his jewelry, a fun nail design, or a statement pant. For this inspo, I'm head-over-heels for these cherry earrings—they're handmade in Argentina by artisans using natural materials like glass, metals, and resin. Definitely Harry-approved.
If this outfit was a Harry song, it'd be: "Cherry" (duh!)