If you've been on TikTok recently, you may or may not have seen our back-to-the-office outfit video that went a bit viral. The comments got a little heated, as they often do, with many aghast at the lack of color our editors were wearing. It was a coincidence that all of our Chicago editors leaned toward neutrals that day. Many of us frequently wear color. But, it did show how similarly our minds sometimes work when getting dressed in the morning. Call it telepathy or witchcraft—our brains operate on the same wavelength.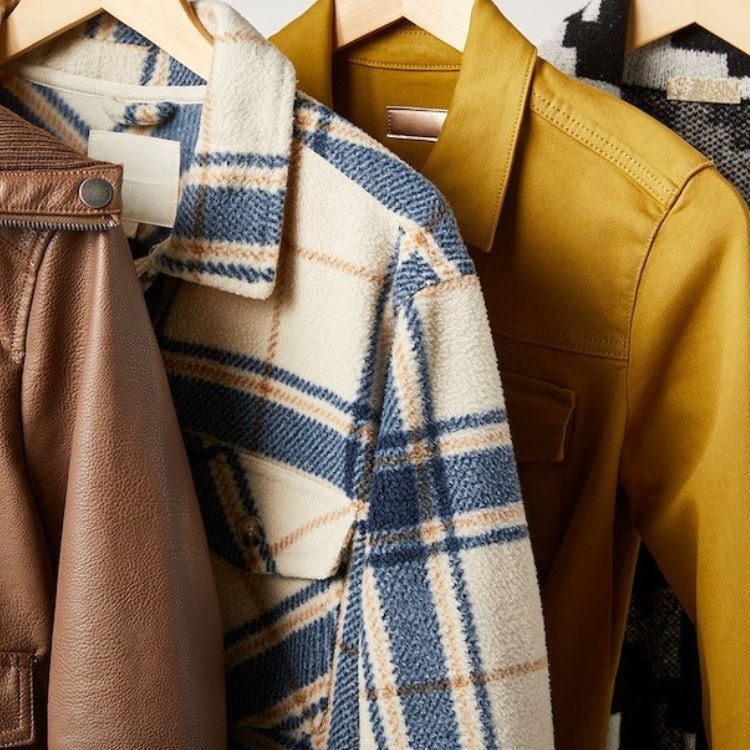 ...and it's wallet-friendly
But while we all have similar tastes in clothes here, each editor has their own distinctive style. Give me a lineup of outfits, and I could name who styled each one without even batting an eye.
Fall happens to be our favorite season, and our editors are ready and waiting for sweater weather to be here officially. (Though, to be completely honest, some of us are willing to sweat all day to wear our sweaters now.) These are the first-day-of-fall looks our editors can't wait to wear this year.
dress | dress (plus-size) | earrings | boots | bag
This fall—and every fall, really—I enter my '70s, witchy-girl era. I'm picturing my dream fall day: wearing this, listening to Stevie Nicks, and sipping a chai latte. Fall is the perfect time to upgrade your year-round neutrals with fun fabrics like suede and satin.
-Jessica Jones, Social Media Editor
blazer | blazer (plus-size) | top | top (plus-size) | jeans | jeans (plus-size) | shoes | bag
Madeline Galassi told me to wear a corset top, so I'm wearing a corset top. On The Everygirl Podcast with our fashion editor, Maddie, we talk about corsets as one of this season's top trends—and now, I don't want to wear anything else. It's just as easy as throwing on a tee but so much chicer. I'll be pairing corset tops with my favorite boyfriend jeans and a blazer all season long.
-Josie Santi, Wellness Editor
blazer | tank | tank (plus-size) | jeans | jeans (curve) | heels
I'm very much in my Barbiecore, maximalist era, so a hot pink tweed blazer is the perfect piece for me to pick up this fall. Paired with dark-wash jeans, a simple white tank, and block heels—a professional yet fun look to wear to the office.
-Madeline Galassi, Fashion Editor
cardigan | cardigan (plus-size) | bodysuit | bodysuit (plus-size) | jeans | jeans (plus-size) | bag | loafers
This fall, I'm going back to basics. I cannot wait to break out my oversized cardigans and layering pieces because I have decided to go for coastal-grandma-meets-Chessy this year. I'm obsessed with H&M's Wide High Jeans (I own them in two colors), and I also recently picked up this cozy cardigan. I'm excited to pair these two oversized pieces with more streamlined silhouettes—like a structured bodysuit and sleek accessories—to add some contrast to the look.
-Jess, Associate Commerce Editor
leather jacket | leather jacket (plus-size) | tee | tee (plus-size) | jeans | jeans (plus-size) | boots | sunglasses
Fall is the best time to step into my street-style era. I love how a leather jacket can instantly add an edgy-chic vibe to any outfit. Plus, this outfit can be worn for just about any occasion—date night, weekend brunch, day in the city, etc.
-Andi Wynter, Social Media Coordinator
sweater | sweater (plus-size) | skort | loafers | socks | bag
With it still being 100 degrees in Los Angeles, I haven't put much thought into my fall wardrobe. But a girl can dream, right? While fall doesn't get too cold out here, I like to add thicker layers to my favorite pieces that can be worn year-round. The Girlfriend Sport Skort is my go-to for just about anything. Not only is it the perfect-length skort, but it's as comfortable as it is cute, allowing me to stay cool—and covered—during our mild temps. I plan to pair it with a chunky sweater, loafers, tights, and ankle socks for fall.
-Bella, Fashion Intern