It's Halloween night. Your feet are tired and your face is flushed from running around your neighborhood. You pour out your trick-or-treat bag, ready to count your loot as you watch the perfect Halloween movie to end the night. If you were born in the '90s to early 2000s, I'm willing to bet that movie was Hocus Pocus. A movie that has somehow become classic in itself, the story captures the excitement of fleeing from witches and reveling in the spirit of Halloween while also touching on heartfelt themes of family and love. Years later, it's not spooky season for me until I throw on some Halloween socks (note: this is a judgment-free zone) and turn on the Halloween movie I loved as a kid.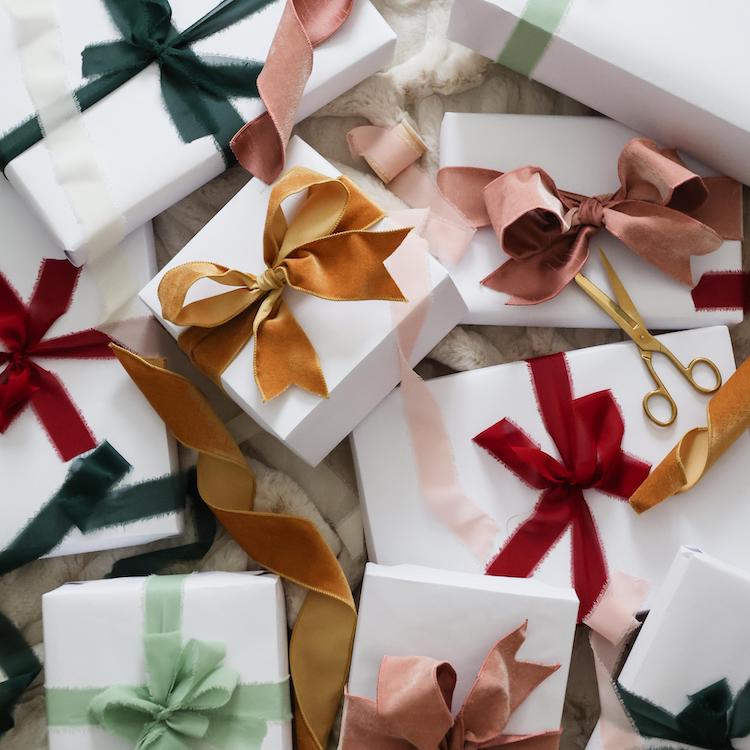 the perfect gifts for everyone—and we mean everyone—on your list
As I revisit the movie as an adult, I have a new appreciation for the very flick that, in many ways, defined my childhood and even helped me realize some truths about myself. Without further ado, here's how Hocus Pocus holds up as I rewatch the movie as a full-grown, Snickers-eating (yet tax-paying) adult.
Trick-or-Treating in Salem is the Absolute Dream
As a kid, watching Dani and Max roam the neighborhoods of upper-class Salem only to gather a collection of candy that went uneaten for the entire remainder of the movie was frustrating—my parents kept a strict watch on our candy consumption every Oct. 31. As an adult, it's not the candy I'm looking at. Instead, it's the spacious front porches Dani approaches, literal mansions Max and Dani stroll past, and what must have cost hundreds of dollars in Halloween decorations surrounding the streets.
Clearly, I did not have the same level of Halloween-enthused neighbors or the mansion-like houses in my own trick-or-treating experience. However, with Hocus Pocus, I sure felt like I did. When a frustrated Dani flops down on a haybale in the first real brother-sister bonding scene we get in the movie, I remember wondering where, as a kid, you could even get a haybale. Now, as an adult who has frequented a pumpkin patch here and there, I'm a little less intrigued but still in awe of the beautifully decorated fall spreads and adornments of skeletons and smoke machines belonging to the Salem citizens. I mean, if anyone could do Halloween, I suppose it would be the townspeople of the place in which the first stories of witches began.
Perhaps the most perfect mix of high-class, beauty, and Halloween spirit is when Dani and Max pay a visit to Allison's mansion of a house. Stumbling into a full-blown Victorian-era ball, the two are living my dream of attending a classy costume party—the college bashes just are not the same. Not only is the house beautiful, the costumes intricate, and the gowns and wigs an entire aesthetic on their own, but, of course, the candy is the best on the block. As a college student, free food never goes unappreciated, and when Dani unwraps that giant chocolate lollipop, my mouth still waters like I'm 10 years old and cut off from my candy supply for the night.
Sarah Sanderson Might Have Been My Bisexual Awakening
Yes, I may have watched Hocus Pocus with innocent and candy-loving eyes, but once I hit the seventh grade, I remember turning on the yearly classic and seeing Sarah Jessica Parker AKA Sarah Sanderson prance around, gleefully chanting, "Dead man's toe!" and feeling a bit different from how I felt in previous years.
While I may not have everything figured out as an adult, I am bisexual, and suddenly, revisiting my feelings for Sarah Sanderson makes a lot more sense. Of course, this is a kid's movie from the '90s, so there isn't anything remotely LGBTQ+ in the storyline or plot. But still, I will affirm that Sarah was kind of my bisexual awakening. Never has an exclamation of "My lucky rat's tail!" been so exciting and attractive.
Seeing that this is a movie with some mild adult themes—I mean, why were we so focused on the concept of virginity and candle-lighting in a Disney movie?—I'd say that producers, directors, and SJP herself knew what they were doing in the scene where Sarah sings her one and only solo, "Come Little Children." She's riding her broom through the night sky, hair and cape blowing in the chilly October air, her voice light and alluring as she croons what sounds like a sweet lullaby—this is the scene that ignited some questions for my young self. And now, watching this movie as a proud bi woman, I'll admit it: Those Salem kids aren't the only ones hypnotized by Sarah.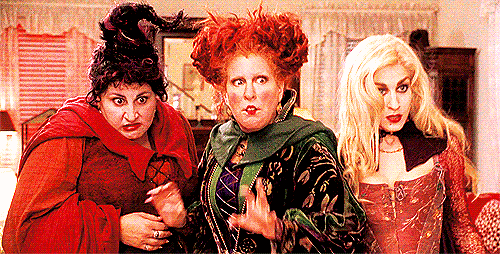 We Can Only Wish We Were the Sanderson Sisters
From the moment we first see the Sanderson Sisters onscreen, there's just something about them that makes you want to keep watching. Maybe it's their wildly different personalities: ring-leader Winnie, the usually clueless Mary, and the carefree Sarah. It could be the seventeenth century trio's hilarious response to adjusting to the 1990s, whether they're first encountering a street—or is it a frozen river?—or the concept of Halloween itself. Or it could be that, despite themselves, the three totally embody the spirit of Halloween in their devotion to the devil, spellbook with a moving eyeball, and potion-making.
No matter what it is about the Sisters, you love to hate them. This is a kid's movie, so nothing the sisters do is truly threatening or bone-chilling, but I remember the feeling of getting a mild fright each time the three came on screen when I first saw Hocus Pocus. I mean, can we talk about the Sisters breaking and entering and even kidnapping as they reclaim their spellbook? From the eerie music to Sarah jumping out of Dani's bed, I can see why this scene made my heart beat a little faster as a kid.
But in between the Sisters' cruel and purely evil motives, they are fun to watch. Robbed witches flying around on vacuum cleaners? Hilarious. An unknowing bus driver trying to woo Sarah and even get her number when she had no idea what a bus was 10 minutes ago? Definitely strange, but still a good laugh. And a flawless and theatrical performance of the tune "I Put a Spell on You" that will haunt you, even after the movie ends? Absolutely iconic. I'm glad they didn't win in the end, but just being a Sanderson Sister for a Halloween still sounds like a blast.
The Brother-Sister Bonding Is Truly Touching
Hot take: Max is a boring protagonist—his relationship with Dani is his only redeemable quality. And I will stand by that. At the beginning of Hocus Pocus, Max gives us all the angsty teenager vibes, so you know exactly how he feels about leaving California for a region with—shudders—seasons. I mean, he did draw the short end of the stick by having to take his sister trick-or-treating around a neighborhood he had just moved to, but even as a child I remember having enough of his gloom and doom attitude in the first 10 minutes. However, as soon as Dani, the young witch she is trying to be, pops out of his closet as he, um, fondles his pillow, you know that the brother-sister dynamic is what makes the movie.
In only about an hour and a half, Max and Dani truly encompass the sibling dynamic. I never had a brother but do have a younger sister, and Max's feelings of responsibility when taking care of Dani and Binx while dodging the Sanderson Sisters definitely made me feel a little cooler when I took my own sister around the neighborhood for candy collecting (after all, his hero story started with taking his sister trick-or-treating). We weren't dodging witches, but I did feel more mature.
Though they have their fights, Dani and Max always work through them and realize how meaningless they were later, as seen in the brief argument before stumbling into Allison's mansion. When it comes down to it, they stick up for each other, whether it's Dani defending Max's little leaguer "costume" or Max shoving Dani into a grave to save her soul from the Sanderson Sisters. Dani, even if Max would never admit it, is his rock. And you can see that in how Max tries his best to make a terrifying Halloween as fun as possible for Dani. Especially seeing that this was a movie that brought me and my sister together every Halloween, I can't watch Hocus Pocus without getting those warm cuddly feelings for family and giving my sister a phone call.
Final Thoughts
Back when I first watched Hocus Pocus, I remember being taken away on a magical adventure defeating witches and meeting talking animals, a spooky extravaganza that could only happen on Halloween. Now, as an adult, the most exciting thing about Halloween is being able to sit back and eat some candy after all the trick-or-treaters have gone to bed. That being said, Hocus Pocus is one of the only movies that, after making it through several Halloweens as an adult, still serves as an escape for me every October. Feeling like a kid again, even if only for a little bit, is always welcome these days, and the simplicity of throwing on a movie can't be beaten.
While I'll always claim to be one of the biggest Hocus Pocus fans, I know I'm not alone in my love for the kids Halloween classic. Especially with Millennials' and Gen Z's attraction to '90s nostalgia, it's no wonder why Hocus Pocus is beloved among so many. The movie itself reminds you of the times when your biggest worry was having the same costume as your classmate. The movie, with the talking black cat, vengeful zombie, evil witches, and an endless supply of candy, encompasses the very spirit of Halloween. It remains timeless in its messages of appreciating your family and growing as a person through facing your fears—I think we could all use a little reminder once in a while.
Though I can't go back to my childhood, I'll always cherish the movie's ability to evoke wonder, excitement, and just plain love for the holiday that gave me pumpkin carving and candy. This year, my idea of a perfect Halloween is sipping some hot apple cider—and maybe even wearing those Halloween socks—as the Sanderson Sisters' gleeful rendition of "I Put a Spell on You" dances across my screen.