We get it: Some days, just making the bed feels like a huge feat—who has time to style it so that it's looking photo-ready? But it turns out that creating a designer-worthy sleep setup is much easier than you might think, and by mastering just a few basic steps, you'll be able to style a bed that looks nice and fresh each morning. Below, we're outlining the five elements you'll need to purchase or keep in mind in order for your bed to look absolutely dreamy (see what we did there?!).
your one-way ticket to your cool, calm, and collected era
1. The Right Duvet Cover and Insert
When it comes to bedding basics, duvet covers are the way to go, explains Ariene Bethea, the founder and shop owner at Dressing Rooms Interiors Studio. "They're a perfect option for small space dwellers and renters that don't have room to store bulky comforters," she says. "You can fold them easily and switch them out for the seasons." To create a cozy, stylish setup, Bethea recommends a feather-down insert. "This is key to creating that fluffy 'crawl into bed' look," she says. "Don't forget to use the ties inside the duvet to secure your insert."
Brooklinen
12 colors available
West Elm
10+ colors available
Target
10+ colors available
2. Proper Pillows
You'll want to be strategic when placing pillows atop your bed in order to get that straight out of Pinterest look. Designer Kelsi Lamberth of Nuance Interiors is a proponent of versatile and stylish euro shams, which she advises using as the "backdrop to your bed." Lamberth adds, "You can either stack your euros against your headboard, or if your headboard is tall enough, you can stack your euros on top of your standard pillows for more height." Lamberth also enjoys using these pillows to add texture to a setup.
Target
10+ colors available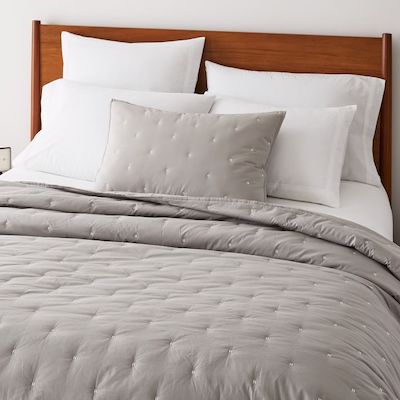 West Elm
6 colors available
CULTIVER
10+ colors available
After styling the euro shams, you'll then want to add other smaller pillows in front. "You can add a layer of king or standard size pillows with shams, and then add a boudoir or bolster pillow in front to finish it off," says Kim Meardon of M+M Interior Design. "Sleeping pillows can be tucked behind the euros or stored away for the day once the bed is made."
West Elm
4 colors available
Etsy | Mulan Designs By Ellen
9 colors available
Even if you're feeling pillowed-out, don't skimp on that final piece, which will really seal the deal, notes designer Jean Liu. "Every good bed is finished off with throw pillows or a lumbar pillow," she explains. "This smaller and decorative piece is another must-have to give the bed that a polished, considered, and designer look."
Target
10+ colors available
Etsy | Wicker And White Co
3. A Bit of Creativity
Don't settle for a matching bedding set and call it a day, designer Christina Kim urges. "Great bed styling is all about the mix," she explains. "Don't be afraid to mix pattern, texture, and color!" Not sure how to get started? "Decide on the focal point, which can come in the form of a statement fabric on a pair of decorative pillows," Kim explains. "From there, layer in a solid base for sheets, small scale print, and a stripe, for example. Keep the color palette to three colors max. Top it all off with a soft textured throw at the foot of the bed and you'll look like a pro!"
Not feeling super pattern-happy? Smaller doses will still make a statement. Meardon suggests incorporating patterned pillows, for example. She adds, "Adding a pop of color on the sheet's piping or monogram is always a fun way to tie the look together."
4. A Hidden Box Spring
Cover that baby up to make your bed look nice and chic, Liu advises. "Unless your headboard is a platform, has finished legs, or upholstered side rails, do not expose the box spring," she explains. "It's considered a must to purchase a bed skirt for this element of the bed."
Target
2 colors available
West Elm
3 colors available
5. Pressed Sheets
Say no to that rumpled look once and for all! "We can't think of anything that looks sloppier in a house than wrinkly sheets, no matter how much money was spent on bedding," Liu says. "Crumpled sheets make a bed look messy, unconsidered, and unsightly." And the way you put your sheets on the bed is key, too. Designer Gemma Parker prefers "tight hospital corners for a clean fresh look." She adds, "We put the flat sheet face down so that the decorative edge is visible when it is folded down." Voilà!