I don't know if I'm stirring up the pot when I say this, but summer is absolutely the easiest season to dress for. Hear me out: yes, the sun is sweltering. Yes, the heat has you sweating before you even leave the house. The trick to enjoying it is knowing that even on the hottest days—when picking out an outfit seems like an impossible task—maxi dresses have our back.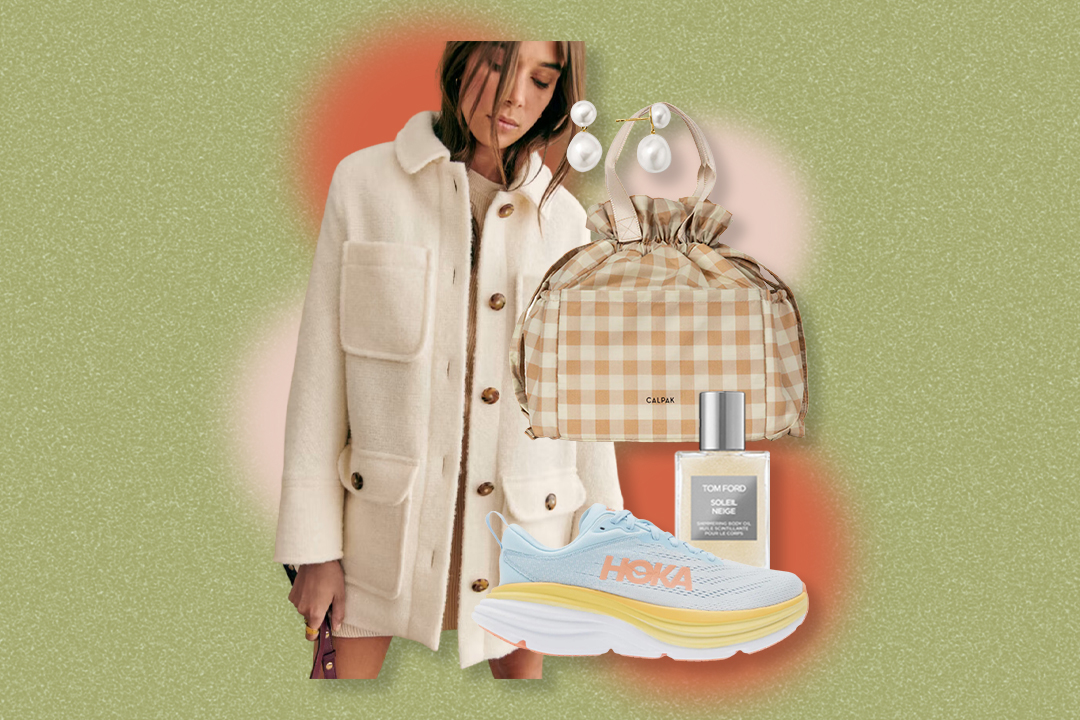 Maxi dresses are the one-and-done summer outfit that still somehow manage to look completely elevated, despite how little effort they require. All you have to do is throw it on, put on your favorite shoes, and head out the door. They're completely versatile and also offer the ability to dress it up with heels, down with sneakers, or anything in between.
The best part of wearing a maxi dress this summer—outside of the obvious no pants, no problem aspect of it—is how easy it is to make yours feel different every time you style it. The dress is a blank canvas, with bags and jewelry and shoe choices waiting to be made to make the look completely your own, every single time. We're wearing our maxi dresses on repeat this summer, and are breaking down exactly how we're styling them below.
How to Style a Summer Maxi Dress
Jewelry
When choosing what kind of jewelry to style with a maxi dress this summer, the world is your oyster. You can keep it simple by wearing your classic, dainty jewelry, or go bold and wear stand-out pieces like a charm necklace or statement earrings. If you also want to make a statement, choose to layer on as many pieces as you can muster for a maximalist effect.
Shoes
Perhaps even more than the dress you opt for, the shoes you choose to pair with it will determine the entire vibe of your outfit. You can try the viral wrong-shoe theory out for size for a casual-cool effect, or opt for your go-to sandals for a morning you're running late and just need to head out the door. Either way, you can't lose.
Headwear
Is it just me, or is there something about wearing a dress that'll have you pulling out any and every accessory in your wardrobe? Hats, scarves, hair ribbons, headbands—it's all fair game for dressing up your summer dress. Wearing a maxi dress is guaranteed to give you main character energy anyway, so why not play up those vibes by adding a sunhat or headband to the mix?
Sunglasses
Sunglasses are the cherry on top of any good outfit. Whether you opt for a pair in a pop of color to go against a neutral maxi, or choose your classic, tried-and-true frames, your sunnies will add the perfect finishing touch to your dress of choice.
Bags
As we know by now, maxi dresses are inherently versatile, so choosing your bag doesn't need to be a hard decision—but it is one that'll alter your look. If we had to choose one style of bag to pair with our maxis this summer, it would be a raffia number that'll help you lean into the fun, seasonal vibe of your dress.
An additional layer
While the temps may be sweltering outside, we all know summer comes with navigating the frigidness of an A.C. too. To prep for whatever your day might bring—chilly evening included—make sure to pack a layer to throw on in case you need some extra warmth. A cardigan, blazer, or jean jacket will all get the job done in style.
5 Summer Maxi Dress Outfits
A bright maxi dress with matching sunnies and a raffia bag
Not jetting off to Europe this summer? You can still dress like you are. With accessories like woven bucket bags and statement sunglasses, you can rock Amalfi Coast vibes even if you're just heading to a restaurant a block away. Opt for sunglasses in a hue that matches your dress to pack a major punch, and choose a bag in a natural texture like raffia or wicker to amp the look up a notch. Minimal, strappy sandals work great with this look (but keep them below the ankle; sandals that wrap up your calf will cut off the lines of your leg).
A black maxi dress with a clutch and slide sandals
Black is the unexpected spring and summer hue you didn't know you needed in your rotation. Against a tan and with beachy hair, a black maxi dress will make you feel like a summertime goddess. For a night out, pair yours with a simple clutch and slide sandals for an elevated uniform you can wear time and time again.
A patterned maxi dress with a sun hat
Sun safety goes a lot further than just wearing your SPF every day. Not only will a sun hat add sun protection to your look—it'll give the ultimate coastal cowgirl effect that'll make your long dress feel even chicer. Opt for a woven wide-brim hat for a coastal effect, or choose a bucket hat in a contrasting pattern for some added edginess. For beachside walks or days walking around town, this look is a no-brainer. If you're expecting things to get chilly at any point in the day, grab your denim jacket to have with you to throw over your shoulders whenever you need some added warmth.
A satin maxi dress with a blazer and heels
Throwing a blazer on over a maxi dress is an easy way to lean into a more formal look. If you're going to a wedding this summer and want to prepare a layer in case you get chilly, a blazer is your best bet. It gives a cool, "I'm wearing my boyfriend's suit jacket" effect that a cardigan or wrap couldn't dream of. With your favorite pair of heeled sandals and statement earrings, it a chic twist on a classic formal event look.
A boho maxi dress with cowboy boots
Haven't you heard? It's a cowboy boot summer (or dare we say cowboy boot year?). The obvious shoe choice for a maxi dress is a pair of sandals, so opting for your cowboy boots instead plays into the wrong-shoe theory to make the look ultra-cool. Keep the good vibes going by throwing on a leather jacket over your dress. This look is a guaranteed pick-me-up for days when you just need a bit of confidence.
Shop our favorite maxi dresses