If there's one clothing item as quintessential to summer as ice cream cones and SPF, it's denim shorts. Not only are they a staple in our personal wardrobes, but Daisy Duke also made jaws drop in the OG denim cutoffs back in 1979 (one of the most iconic moments in denim history), and Katy Perry gave the classic piece a special shoutout in California Gurls. Whether you prefer yours cuffed, distressed, high-waisted, or in black or white, denim shorts will always be a key piece in our summer wardrobes. Here's how fashion girls are updating the staple for summer 2021.
1. With a puffed-sleeve blouse
If there's such a thing as the "it-sleeve" of the season, you know that a puffed sleeve would be the MVP. Fortunately for denim shorts (and our capsule wardrobe), the relaxed style of distressed denim pairs perfectly with the trendy look of a puffed sleeve. The result? A perfect summer outfit that you'll want to wear all season long.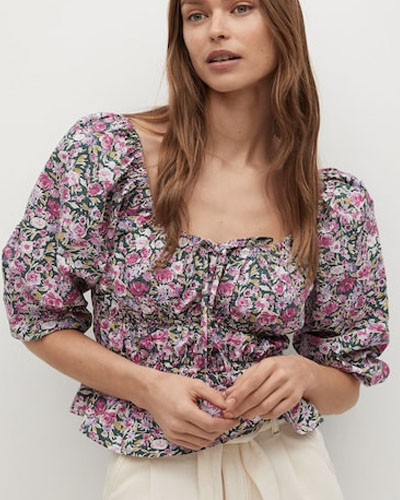 2. With a corset top
If your style is more retro than trendy, channel your inner Marilyn Monroe with a corset top (that also happens to be in style this season). Distressed shorts pair perfectly to balance out the retro style, and cat-eye sunglasses are the icing on the cake. It's like the 2021 version of The Notebook (Ally's summer OOTDs are just so good).
3. Paired with a neon knit
Our favorite go-to look for those cool summer nights is a comfy knit with denim shorts. It's warmer than a T-shirt or sundress (while still being in season) and as relaxed and cozy as it is stylish. Fashion girls are updating this go-to look for the season by ditching neutral colors and opting for colorful knit instead.
J.Crew
10+ colors available and 49% off!
Mango
2 colors available and 40% off!
Banana Republic
7 colors available 50% off!
4. With a sheer top as a bathing suit cover-up
Yes, your denim shorts double as a bathing suit cover-up, but if you're looking to post some trendy #OOTDs with the best styles of the season, pair your bathing suit and go-to denim shorts with a sheer top. You'll be the most stylish girl at any pool, beach, or even your backyard (at least your neighbors will be impressed).
5. Over a graphic tee
Graphic tees are not only in style but are also a timeless staple in the wardrobes of cool girls everywhere. Style your favorite tee tucked into denim shorts with a thick belt and your chunkiest booties for an outfit that's easy and edgy.
H&M
2 colors available and 20% off!
6. Belted with a blazer
If your style is more off-duty boss than edgy-chic, good news for you: Your work blazers look just as good paired with cutoff shorts as they do with trousers. Style with a tank or tee tucked into a high-waisted version and throw on a belt for extra polish, silhouette definition, and style.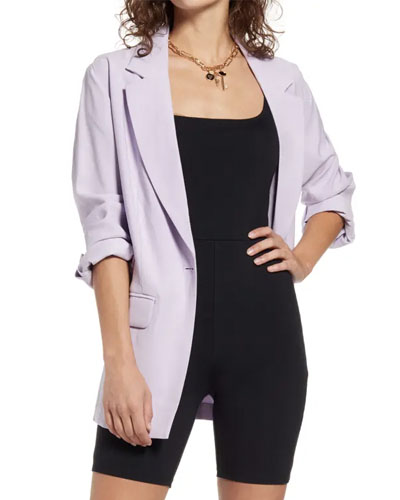 7. With a ruffled blouse and sandals
The motto of the season is "the bigger, the better." Channel your inner boho-chic with one of the it-styles of the year: a ruffled, puffy peasant blouse tucked into a high-waisted pair of distressed denim shorts. Add your favorite pair of sandals for an easy, breezy, go-to outfit.
8. Monochrome
The benefit of opting for black or white denim shorts is that you can easily dress monochrome without going full Canadian tuxedo. Monochrome not only makes any outfit automatically chicer, but it's also elongating. Try a black top with black denim or a white tee with white shorts, and pair the outfit with nude-colored shoes for the longest legs ever.
9. With pastels
Pastels are always pretty, but this season, they're also trendy. One of our favorite hacks for switching up denim shorts throughout the season is layering. Start with a textured basic (like a ribbed tank) and throw on some outerwear in one of the colors of the season. P.S. Any pretty pinks, blues, and purples pair perfectly with light-wash denim.
Mango
2 colors available and 25% off!
BP.
6 colors available and 40% off!
10. With strappy kitten heels
The coolest shoe of the season is not just for sundresses—strappy kitten heels look flawless paired with denim cut-offs, and the effortless vibe of the shorts will make the shoe feel a little more casual. Pair with neutrals on top because your legs are going to be getting all the attention.
11. With a silky button-up
If you can't tell already, one of the easiest hacks to looking super stylish is to pair opposite styles and textures. For a prime example, take distressed denim shorts in a relaxed fit and pair them with a luxurious silky button-up. The shorts make the top more casual, while the luxe silky fabric dresses up the shorts. It's the perfect pairing! Wear this combo to a shopping spree or brunch.
Quince
4 colors available and 39% off!
SHOP OUR FAVORITES