The first beauty product you probably fumble with is bronzer. Maybe it's too orange (even Selena Gomez admits to being there), maybe it's muddy, maybe you just applied way too much—bronzer, in all, is tough to get right. But not all is lost. We're making headway every day in the beauty industry toward better shade ranges, easier applications, and overall better formulations. While we wait, we're sharing all the need-to-knows about bronzer: how to apply it, where to apply it, how to choose a shade, and more. Wondering how to use bronzer to finally enhance your features? You've come to the right place.
Meet the expert
Renee Loiz
CELEBRITY MAKEUP ARTIST
Renee Loiz is an LA-based makeup artist with over 20 years of experience. Her work has been featured on red carpets and in advertisements for brands like Target, Disney, and Urban Outfitters.
What is Bronzer?
Bronzer is a way to add depth and dimension to your face, especially when you're wearing a full face of foundation. "Bronzers are warmer with a redder undertone and are used to warm up your face and give a sunkissed look," said celebrity makeup artist Renée Loiz. The skin isn't naturally one color. Whether naturally or from being out in the sun, we'll always have a few different shades in different parts of our faces, and bronzer is there to alleviate that.
People often use bronzer to contour their face, adding shading and shadows to create a slimmer or more chiseled appearance. It's also used to give a summertime glow, like you just got back from vacation.
What is Contour?
On the contrary, contour products are for sculpting your face. You've seen makeup gurus contour their nose or TikTokers turn themselves into Harry Styles—all using contour. Contour is all about shading, so it's typically a cool-tone, grayish color that mimics what a natural shadow would look like on your face, but you can also contour with a neutral bronzer depending on your skin tone and preferences.
When you're looking at a contour product, assume it's a cool or a neutral tone, while bronzer might lean warm.
Danessa Myricks Beauty
This contour balm has a lightweight consistency that blends like butter—and the shade range is one of the best we've seen.
Kiko Milano
This creamy stick contour comes in two cool tone shades that sculpt your face without making you look dry or ashy.
Where to Apply Bronzer and Contour
Bronzer
Where you apply bronzer all depends on the shade and the look you're going for. If the shade is only a little darker than your skin, you can apply bronzer all over with a fluffy brush and a light hand to give a sunkissed glow to the skin. If the bronzer is more than one shade darker, then you'll want to focus it in the "3E" method: around the temples, under the cheekbones, and under the jawline, creating a "3" and an "E" on each side of your face. This method is pretty foolproof. You often see people applying bronzer and contouring in little dots all over their faces or in complicated shapes, and while that works, it doesn't have to be so elaborate to get results.
"Don't forget to sweep bronzer along your neck and chest to match your face," Loiz suggested.
Contour
With contour, your application might depend on your face shape and what you're hoping to chisel.
If you want a slimmer nose, apply contour in two lines on either side of your nose. The closer together the lines, the slimmer your nose will appear.
If you want to enhance cheekbones, apply contour just above the cheekbone and blend down. Make sure to focus this far back toward your ear too.
If you want to make your forehead appear smaller, apply contour to the top of the forehead and blend upward toward your hairline.
If you want a more pronounced jawline, apply contour right on top of the jawline and blend down, underneath the jaw. To really make it pop, add a bit of concealer between the jawline and cheekbone to carve it out and make that area look really enhanced.
To make your face appear shorter, apply your cheekbone contour in a vertical line and blend out toward your ears.
How to Choose A Bronzer Shade
Bronzer is about adding warmth and dimension, which is often why people can go overboard if they pick the wrong shade. When you naturally flush, what shade does your skin go? That's the bronzer you should choose, according to Loiz. Choose a shade that matches how your skin would change if you spent a day out in the sun (before you started slathering on buckets of sunscreen). It's all about looking natural and enhancing your skin, not covering it up or changing its tone.
If you have a very cool undertone, a warm-tone bronzer will likely pull very orange on your face—a major no-no. In this case, you'll want to opt for neutral or even cooler-toned bronzers that enhance your natural skin. This is also important for very fair skin.
On the other hand, people with very warm undertones will need a warm, even leaning red, bronzer that matches the undertone in their skin. Cool contours might look muddy on their face, as if they just rubbed dirt all over their faces instead of makeup.
As for depth, your bronzer should be one or two shades darker than your skin tone. If it's any darker, it's easy to go overboard. Any lighter, you'll have to work pretty hard for the product to show up against anything else you have on your face.
What Bronzer Formula to Try
Cream
Cream bronzer isn't for the faint of heart. It's typically a bit harder to blend, but it's easier than ever to find a thin formula that's seamless on skin. Loiz explained that creams have a "softer, sheerer" finish, so they can look a bit more natural once blended out. A few years ago, the only cream bronzer we knew of was Chanel's Sol Tan De Chanel, an orange-y shade that only worked on light skin tones (now they have one other shade, but that only just released this year). Now, cream bronzers can be in vast shade ranges, in easy-to-use formulations, and in better packaging.
Fenty Beauty
This creamy formula offers a full range of shades for just about every skin tone. Our editors love this because it's sheer and easy to use, making the application seamless and easy for travel.
Makeup By Mario
Sephora has been struggling to keep these in stock since they launched. With a built-in brush and easy-to-apply stick, this was made for beginners and anyone on the go.
Em Cosmetics
This cream stick bronzer has a creamy finish that glides over skin and blends in three seconds flat. It comes in three neutral bronzer shades and one cool-tone, greyish contour.
To apply a cream bronzer, use a stippling brush to apply it, and then blend with either the same brush or a beauty sponge. If your product is in a stick form, you can apply it straight from the stick, but it might be easier to blend if you apply with a light hand from a brush.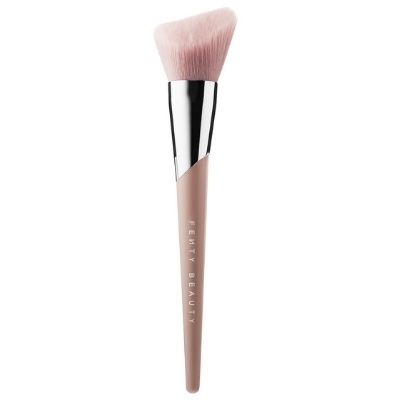 Fenty Beauty
Easily place all of your products right in the contours of your cheek and jawline with this brush.
e.l.f. Cosmetics
Although this is marketed for blush, it's the perfect brush for stippling on cream and liquid bronzers before blending with a sponge.
beautyblender
Blending in cream and liquid bronzer is one of the best uses for your beauty sponge. It'll soften the edges and add a touch of radiance without using too much product.
Liquid
Liquid bronzers are newer on the market, but they're coming in hot with tons of new products launching just in the last year. A liquid formula is typically a bit runnier than a cream and comes in a tube or dropper. These are usually shimmery or radiant formulas to make your skin extra glowy, unlike a cream that can go both matte and shiny.
Glossier
This liquid/cream hybrid makes applying your bronzer on-the-go a breeze. It has a unique sheen that isn't shimmery—but definitely isn't matte either—that makes your face glow.
Don't let the product images fool you. While these shades look majorly washed out in photos, IRL, they actually go quite deep.
Iconic London
If you want an all-over bronzey glow, this liquid bronzer will give it. This formula is unique because it's sheer and can be mixed with foundations, primers, and moisturizers to give a bronze sheen to your whole face. But it also works wonders when built up with a brush and applied like a true bronzer.
Apply a liquid bronzer the same as a cream: using a stippling brush or beauty sponge.
Powder
We all know powder bronzers. It's probably the bronzer you've always used. But there's a reason they're still around. These bronzers are easier to blend than the others, and when you find the right shade, it's basically a foolproof application. They have a bit more pigment, but the blendability makes them the most beginner-friendly.
The key to powders is using the right tools, like a big, fluffy bronzer brush that will cover a large surface area.
Milani
This fluffy brush will offer pinpointed application as well as all-over coverage.
Matte vs. Shimmer
Matte and shimmer bronzers offer different looks, but there's room for both in a collection.
A matte bronzer will focus on making you look sculpted and adding that dimension back into your skin. Matte bronzers are usually a bit harder to blend, as the formula isn't as soft as something with shimmer might be.
Juvia's Place
Your skin isn't just two colors—especially for those with deep skin. This bronzer duo lets you achieve a sculpted, bronzed complexion, combining both a warm and cool-tone bronzer to mix and match.
Benefit Cosmetics
Hoola Bronzer reigned surpreme for years and years, and now that they've finally begun to expand the shade range, it's still making a name for itself. It's smooth, easy to apply, and never looks muddy.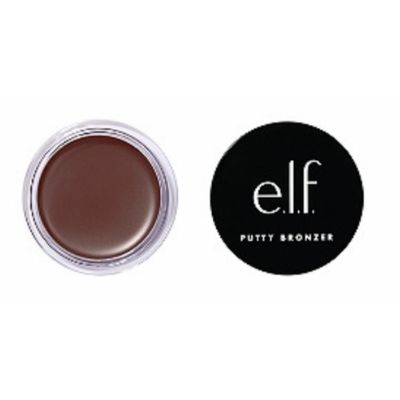 ELF Cosmetics
Leave it to e.l.f. to make a cream bronzer at the drugstore with an adequate shade range. This rivals high-end cream bronzers, with its creamy finish and easy-to-blend formula.
A shimmery bronzer formula is all about the glow. You can usually focus a shimmery bronzer's application higher on the cheekbones to act as a bronzer/highlighter/blush hybrid. They're easier to blend into the skin, but if it has too much shimmer and not enough depth, you can walk away looking like a disco ball instead of a vacationer.
Huda Beauty
Huda's newest bronzer is for the person who wants to look like they just got back from Tulum. It's ultra glowy, and the undertones look like you actually got a tan, but it somehow still looks seamless and natural on skin.
Tower 28 Beauty
This tows the line between cream bronzer and highlighter, containing an ultra-glowy shimmer that never looks glittery or cakey. This bronzer adds just the right amount of color and shine so you truly can have that vacay glow all year 'round.
L'Oréal
Say hello to sunkissed skin without any sun damage. This bronzer has a silky texture that glides right onto skin and gives an all-over warm, healthy glow.