According to Natalie Bauer, Love Hard protagonist and apparent relationship expert, "half of you love a great disaster date story." And if a disaster date set during the most wonderful time of the year is what you're scrolling Netflix for, then the newly released Love Hard is for you. A classic rom-com, Love Hard gives a new twist to the classic dating world, focusing on a dating routine I myself know a little too well: online dating.
Natalie, played by Nina Dobrev, AKA one of my favorites from The Vampire Diaries, is a journalist looking for love but coming across men who don't quite fit her definition of "dreamy"—seriously, one of her past dates would never stop smiling. Frustrated (but able to get some good stories out of her dating fails), Natalie keeps swiping and comes across a promising contender, Josh (Jimmy O. Yang). After weeks of chatting on the phone, she takes the plunge and flies thousands of miles to surprise him in person, only to find out she was catfished. However, when she realizes that Tag (Darren Barnet), whose face Josh used for his profile, lives in town, she enlists the help of Josh and a prayer for good luck to win Tag over.
While it's safe to say that nearly everyone who saw Natalie board that plane cringed at the thought of flying across a country to meet a virtual stranger, I realized that besides the cheesy plotline and Natalie's questionable actions, Love Hard actually has some pretty good dating advice. From what to avoid on your dating profile to remembering that it's what's on the inside that counts, here are the pieces of dating advice Love Hard gets right.
But just know that if you want to watch Natalie and Josh's romance unfold for yourself, stop reading and go watch right now—we have a few spoilers here!
1. Don't Judge a Book by Its Cover
It's perhaps one of the obvious lessons in this movie. Natalie, when she's first introduced, chooses to match with men who are, well, extremely attractive. Like many of us using dating apps—which are platforms based on superficial attributes, like appearance and height—she typically swipes on men with killer good looks or Adonis-like abs. I mean, who wouldn't, right? When Natalie meets the real Josh, despite the seemingly endless montage of cute phone conversations we see within the first 10 minutes, she realizes that this is not someone she would have ever swiped right on in the first place.
Throughout the story, however, we see Josh's sensitive side, and eventually, we sympathize (or at least see his perspective) on his inability to find any matches. Natalie learns to see things from Josh's side, and the undeniable chemistry between them grows. I mean, they can both quote Shel Silverstein off the top of their heads—were they not made for each other? Natalie and Josh remind us that it's important to have a connection that isn't purely physical and that it's what's on the inside that counts.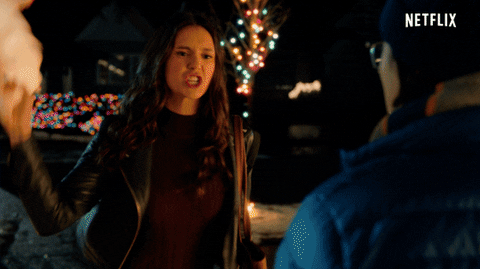 2. If You're Traveling To Meet Someone, Please Video Chat First
Now, I realize that if Natalie took my own advice and asked to video chat with Josh in the first place, there wouldn't have even been a story. Still, let me be the voice of reason and remind you that if you ever feel compelled to fly to a location with a three-hour time difference to meet someone, video chat with them first. I understand Natalie and Josh are living in a sans COVID world, but for us, the pandemic popularized the concept of picking up our phone or laptop and going on video. Since we're all used to it by now, don't be afraid to ask the people you're talking to on a dating app to use the video chat feature. That way, no one gets catfished, and you can weed out who's serious and who you have chemistry with on camera (and therefore in real life) right off the bat.
3. Never Underestimate the Power of Good Conversation
As a Gen Zer, it's safe to say that technology has been an integral part of my life. One byproduct of my digital literacy? I'm pretty much a pro at figuring out if I have chemistry with someone over text, and just like Natalie, I also value real, meaningful conversations. Maybe if you're following in the footsteps of one of the residents at Shimmering Oaks and want to make it clear that you don't want a relationship, you can forget this piece of advice. But if you're looking for love like Natalie is, please do not underestimate the power of a great conversation.
Another little tip from Natalie: Don't be afraid to make the first move. As soon as Natalie matches with Josh/Tag's face, she kickstarts the conversation with the proclamation that Love Actually is a terrible Christmas movie. Starting a conversation and establishing your sense of humor—whether it's in an argument on Die Hard's status as a Christmas movie or bonding over the tough times of middle school—is an essential part of getting someone's attention and seeing if you have chemistry.
4. Trust Your Gut
When it comes to meeting someone from a dating app IRL, it's normal to feel a little nervous or have some kind of anticipation beforehand. But if you have a bad feeling about meeting someone from a dating app? Or if your intuition is telling you that it's going to be similar to one of Natalie's disaster dates? That's not a good sign right out the gate.
Though Natalie feels over the moon to meet the version of Josh from the dating app, her gut tells her otherwise. Right before she boards the plane, Natalie confides in her best friend Kerry (Heather McMahan) about her sanity. As Natalie questions if flying across the country to meet Josh makes her brazen or uninhibited—which, I mean, wouldn't we all wonder?—we can see on her face that deep down, she knows something is about to go very, very wrong. While we all got a great story about Natalie's dating life, not all of us want a romantic life as eventual as in Love Hard. The bottom line: If you can feel in your gut that a date is about to go wrong or get a funny feeling from your date, it may be best to reevaluate how well you actually know the other person.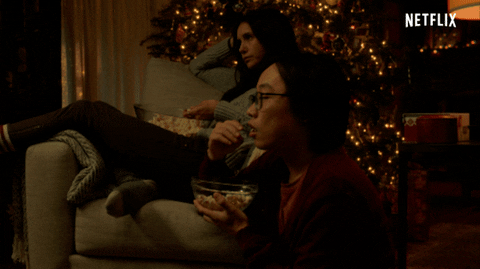 5. Everyone Feels Like They're Behind in the Dating Game at Some Point
Part of what makes Natalie so likable immediately upon introduction is her relatable tales of less-than-stellar dating experiences. Even more relatable? Her never-fading feeling that she's behind on the dating game compared to her peers, evident in her "Always A Bridesmaid" pseudonym. I may be speaking for myself, but seeing this small indicator that a successful, independent woman like Natalie compares herself to her friends who have graduated from girlfriends to wives made her feel a little more real. Especially when it comes to dating, we want to believe that we have the best relationship or the best time being single ever, but jealousy and insecurity can creep in oh-so-easily. Natalie shows us that while these feelings certainly aren't healthy, it's normal to feel a little behind. Stay on your own path and focus on what you know you want in your own dating life, and remember that everyone's dating experience is unique—I doubt that most of us can say we've met our significant other after flying across the country and getting catfished.
6. Don't Put Too Much Pressure on Yourself To Be Perfect
With seemingly so much pressure surrounding that first interaction after you match on a dating app and meet someone in person—or, if you're me or Natalie, having your first conversation with pretty much any attractive person—it can seem like you have to present the funniest, most perfect version of yourself. While this may not be the best time to bring up any of your past karaoke faux pas, Natalie and Tag's first interaction shows that it's important to just relax a little when you're meeting someone. You don't have to feel so nervous that you start fibbing about fake interests or claiming to love rock climbing when the extent of your experience is climbing a ladder. It might feel impossible to just be yourself (what does that even mean anyway?), but take inspiration from Natalie and go with the flow of the conversation, make some jokes, and then laugh about it later. And however your first date goes, I'm sure that nothing said was as awkward as Natalie's "I'll climb anything that moves" comment, which was quickly followed by her goodbye of "climb ya later."
7. Never Underestimate Humor
Though it may be a bit cliche, it's undeniable that humor goes a long way when it comes to finding what you want in your significant other. I mean, what's the fun in looking for someone who can't make you laugh? Sharing the same sense of humor, whether you're messaging someone on a dating app or on your first date, is a great way to set the tone for what could be the rest of a relationship.
Although she tries to ignore it, Natalie and Josh, from their first (adorable) phone conversation to their friendly banter once she arrives in Lake Placid, share a great sense of humor. From Josh's description of Natalie's karaoke, um, performance as "swell" to his quick wit, Josh easily wins the audience over because he has a personality, and it's funny. Though Tag is oh-so-pretty to look at, he clearly doesn't understand Natalie's sense of humor when they meet—he was completely straight-faced at her Alabama joke. As an audience member, we just can't root for Tag because, well, he can't understand a funny woman when she's right in front of him, and he just doesn't mesh with Natalie the same way Josh does. A strong, good sense of humor can liven up a date and give you so much insight into who a person is; if you come across someone with a chuckle-worthy profile, give them a chance.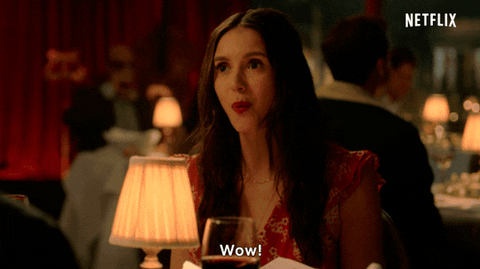 8. Find Someone Who Listens to What You Have To Say
Though it may seem like a no-brainer, finding someone who cares about what you have to say and takes the time to genuinely listen to you is the opposite of a red flag—a green light, maybe? Part of what makes Josh and Natalie's relationship win in the end is their friendship that blossoms in the beginning. Minus the catfishing fiasco, Natalie and Josh are capable of having real, honest conversations, the kind where the other person really wants to get to know you. Just as Josh reminds Natalie that "every laugh we shared, it was me" before she pens the final disaster date story, he also reminds us that during their conversations, they built a connection. He may not have prioritized honesty, but he really did know how to show he cared.
While Natalie and Josh show us how good communication leads to a strong bond (and possibly a strong romance), Natalie's tendency to lie to Tag is what kills their relationship. Josh and Natalie's meaningful conversations and concerns about each other's feelings show that they care for each other. I mean, when Josh told his dad that Natalie's a vegetarian at the breakfast table before even spending 24 hours together, we knew he had the attention to detail we all want in a partner. With plenty of fish in the sea—or profiles in the virtual dating pool—strike up a conversation with someone who will remember your comment about your favorite show or most hated food. You might end up finding someone as caring as Josh.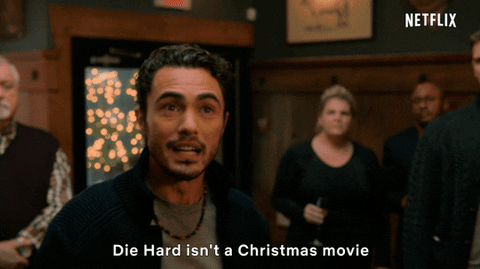 9. Don't Be Afraid To Share Your Passions
Whether you're in the talking phase or preparing for your second date with a Tinder match, talk about what's important to you. While Natalie seemed to pour her heart out to Josh all over the phone, we don't see him open up as much to Natalie until she arrives in Lake Placid. But when he does, it's honestly kind of heartwarming (we are talking about a rom-com after all). Josh's hesitancy to confess his affinity for "masculine" candle-making to Natalie was cute in itself, but the fact that he was inspired to start making candles by his grandpa? We're here for it, and so is Natalie.
Not only can sharing your passions be kind of a turn on, but they can also give a sneak peek into what you'll do or talk about in a possible relationship. Let's take Tag, for example. While my own profile depicts myself as an adventurous person, I'm not sure if I can keep up with someone constantly hiking, rock climbing, or playing human torpedo (I think it's called bobsledding?) every single weekend—and neither is Natalie. Despite Tag's passion for the outdoors, his idea of going hunting as a fun time (um, not for me?) obviously doesn't align with Natalie's own interests or beliefs. So if you want to see how well you're getting along with someone, start talking about passions and see where the date goes. Not only will you learn something new about them, but you may also find yourself even more intrigued—kind of like how I'm wondering how Josh's candle-making is coming along.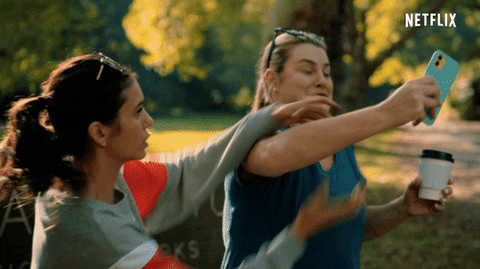 10. It Never Hurts To Have a (Trusted) Second Opinion
Sure, Kerry may have been the reason that Natalie ended up ignoring her inhibitions and flying to meet a virtual stranger in the first place, but she also was Natalie's rock. When Natalie first starts talking to Josh (while he was under the guise of Tag's "hot guy" persona), Kerry is the one who urges Natalie to call him and go for it. Though accidentally calling a potential SO while physically fighting with your bestie isn't typically the route I would recommend, taking the advice or support from your friends if you're unsure in your dating journey can be a huge confidence booster. Kerry's adventurous personality combined with Natalie's borderline apprehensive nature created the perfect mix of cautious curiosity that many of us have when we're swiping on a dating app or going to meet someone. Of course, take what your friends say with a grain of salt. But in the end, your friends are your friends for a reason.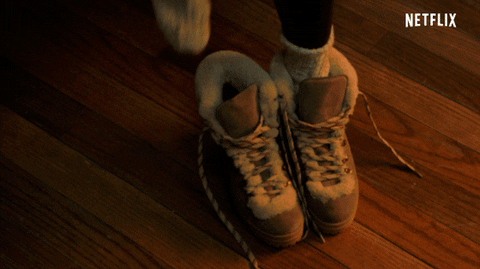 11. Love Yourself Before You Try To Love Anyone Else
Not to sound like all moms, but if Josh teaches us anything, it's that loving yourself before you can love someone else is key to delving into any successful relationship. After stealing the entire town's Sunday papers on Saturday night in the ultimate heist, Natalie and Josh have a mini bonding moment in the car, Josh eventually forking over his phone to an over-eager Natalie to look at his real profile. Immediately after flipping through his profile and questioning Josh's, well, disturbing photos, Natalie can tell that he's not confident in himself (do you see why getting matches was so hard now, Josh?). In a heart-to-heart, Natalie tells Josh that instead of finding someone to make him happy and confident, he should work on himself to build up confidence. In other words, if you're looking for a relationship as the remedy to unhappiness or insecurity, stop and reflect on yourself. Take some time, give yourself a few pep talks in the mirror, and believe that you're confident (because come on, you should be!). As Natalie puts it best, "You have to believe that it's true, and once you do, trust me, it'll show."
12. Never Change Yourself for Anyone
If there's one piece of advice from Love Hard that hits home, it's to remain true to yourself and be honest with others. With a storyline founded on catfishing, it was hard to feel bad for Josh at first—or really trust anything he told Natalie at all—but when he warns the seniors at Shimmering Oaks about the repercussions of catfishing, we see his growth as a character. As someone who personally feels compelled to embellish here and there on my own dating profiles, we're reminded to forgo any catfishing or such embellishments. As Josh puts it best, your profile should stay true to who you are because if you're lying, "There's someone else on the other side falling in love with someone who doesn't exist."
To be fair, I'm not sure if I'm exactly falling in love with someone before even meeting them in person, but this advice still rings true after you meet your potential SO. Throughout the entire movie, Natalie bends over backward trying to get Tag to like her, from lying about her already fake engagement to literally getting stoned so she could enjoy activities he regularly partakes in. Seriously, changing yourself to get anyone to like you, romantically or not, is so passé, and it only leads to hurt feelings. So whether you're compelled to pull a Natalie and go to a steakhouse as a vegetarian or you're out here trying new hobbies just for someone else, consider whether you actually want to or if you're just trying to impress someone. And if it's the latter reason, it's time to focus on what you actually want.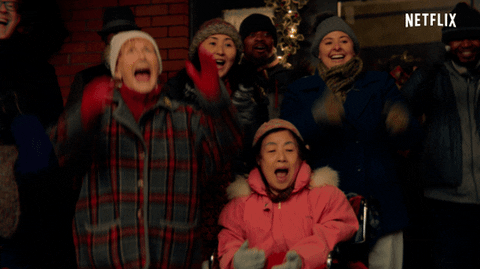 Final Thoughts
Love Hard may seem like just another cheesy rom-com churned out for the masses just in time for the holidays, but it offers some pretty poignant commentary on online dating. While Natalie and Josh have a pretty unconventional, not-very-relatable love story specific to main characters confined to a cinematic world, we can still learn from their mistakes as well as their triumphs. I found myself laughing out loud at some of the movie's goofiest moments—namely that kiwi-ruined karaoke episode—but also feeling as warm and fuzzy as a pair of Christmas socks by the fireplace.
Especially for those of us who occasionally get fed up with dating apps, Natalie is the perfect reminder that not all swiping leads to "dating disasters"—who knows, you might even find your own musical partner for a non-creepy duet of "Baby, It's Cold Outside." Yes, it's a little cheesy, but Natalie and Josh are the modern romance in an era of online dating. If you're in the mood for what might be your cuffing-season favorite with enough holiday cheer for everyone, Love Hard is for you. Sip some hot cocoa (or maybe some rosé), grab your nearest copy of Where the Sidewalk Ends, and get ready to swipe.