When Vogue posted the viral Madison Beer makeup routine back in February, I fell head over heels in love. I'd watched plenty of Vogue celebrity makeup videos before, but there was just something about Madison Beer's makeup that left me excited to experiment with beauty products again. The look she achieved was warm, bright, and—the best part of all—totally doable.
Compared to most, Madison Beer's makeup routine is approachable yet completely different from my typical go-to, low-maintenance makeup routine. It called for a skin tint instead of a foundation, a cream contour, a signature fox eye, the all-controversial soap brows, and a plethora of blush which, I can't lie, did frighten me a bit. With the exception of cream contour and cream blush, I already had everything I needed to recreate this look, which is an absolute win if you ask me.
I tried this look for the first time two weeks ago and have gotten so many compliments since—this is coming from a woman who has never gotten compliments on her makeup in her entire life. This routine is the perfect fusion of natural and glam, and if you haven't tried it yet, this is your sign to give it a go. Here's how to make it happen:
Step 1: Prep skin
Madison preps her skin for makeup by washing her face, using a toner, jade rolling, moisturizing, using an eye cream, and finishing up with a facial mist. Even before seeing Madison's routine, I've been an unofficial spokesperson for doing skincare almost immediately before putting on makeup. Whenever I use my toner, moisturizer, and eye cream before applying my makeup products, my makeup is a lot easier to apply, and afterward, my skin appears more radiant.
Step 2: Use soap and a spoolie brush to fluff up the brows
I've gone back and forth with whether or not I love the soap brows trend, but in the name of Madison Beer, I revisited the idea. If you've never tried soap brows before, here's what you need to know: It literally calls for soap. While they sell slightly fancier versions of soap brows on the internet, you can totally use any bar soap that you have at home. Just spray the soap and a spoolie brush with setting spray, rub the spoolie vigorously in the soap, then apply it to the brows in an upward motion to give them a full, fluffy appearance.
I've found that I really like doing soap brows when my eyebrows are freshly tinted and tamed. On the other hand, when they're long and in need of a wax, I don't really want to draw attention to them. But I'll admit, when mine are already nice and clean, brushing them upwards makes them look extra full and model-esque. If you don't have a bar of soap or an official soap brows kit, you can always opt for a brow gel or a brow pomade to achieve a similar look.
Step 3: Use a skin tint or a tinted moisturizer as a base
All hail a makeup tutorial that doesn't call for foundation. Listen, I don't have a personal vendetta against foundation, but right now, it's hot as hell in Chicago, so I've been trying to avoid heavy, full coverage as much humanly possible. Madison used a skin tint that I don't have, so I reached for the next best thing: a tinted moisturizer with SPF. If you're worried about coverage, don't be! The next step has your back.
Step 4: Conceal the T-zone, under the eyes, and over any blemishes
I've been a NARS Radiant Creamy Concealer stan for as long as I can remember, so I was super pumped to see that my girl Madison uses it too. She uses more concealer than I'm normally used to (I usually just keep it contained to under my eyes), but this with tinted moisturizer worked beautifully.
Step 5: Use a cream contour under the cheekbones and around the temples of the forehead
This was the part of Madison's makeup routine that made my jaw drop. Maybe it isn't groundbreaking for some, but when she pulled out that Charlotte Tilbury Contour Wand, I about fainted. I usually only contour with bronzer because I've been too intimidated to try anything else, but this contour stick made it look easy AF.
I about sprinted to a web browser to order one for myself, and to my despair, it was sold out. Fast forward to now, and as far as I am aware, it's still sold out. I guess I wasn't the only one who had the idea of adding it to my cart in hopes of being a Madison Beer doppelgänger. Instead, I picked up the Makeup Revolution Eye Bright Illuminating Under Eye Concealer in a shade much darker than my skin tone, and while I don't have the CT version to compare it to, I can confidently say that it did a stellar job. Blending might have taken me a little bit longer than it did Madison, but with patience, we persevered.
Step 6: Use a cream blush on the cheekbones and over the bridge of the nose
Our girl Madison is in a long-term, committed relationship with blush. In the Vogue video (after using a cream blush and a powder blush), she laughed and declared, "You can never have too much blush in my world." I'll admit, I was a bit frightened by the amount of product that she swears by. I usually just opt for a powder blush over my cheekbones as a barely noticeable, finishing touch to my makeup, so this was definitely a change for me.
Since her tutorial was released, the Charlotte Tilbury Pinkgasm Beauty Light Wand that she uses for this part has also been out of stock, so I opted for a drugstore cream blush (Sweet Cheeks by NYX) instead. I wouldn't call it a direct dupe (it was matte as opposed to being a highlighter), but it definitely was key to helping me achieve the rosy cheek look that Madison swears by.
Step 7: Set undereyes, T-zone, and blemishes with a setting powder
We're done with cream products at this point, and now, we're moving on to powders. At this point, Madison goes back into the areas where she adds her concealer (under the eyes, T-zone, and blemishes), and dusts on a setting powder. She uses the Charlotte Tilbury Airbrush Flawless Finish Setting Powder, but I used the E.L.F. Perfect Finish HD Pressed Powder, which is literally only $6 and worked wonderfully!
Step 8: Use a powder bronzer to warm up the cheekbones and to lightly contour the nose
After setting her concealer, Madison goes in with a medium-sized fluffy brush with some bronzer to add warmth to the cheekbones. Next, she grabs a smaller fluffy brush and uses her bronzer to lightly contour the sides of her nose and underneath the tip. At this point, I felt like a sunkissed, bronzed goddess, and I was absolutely loving it.
Step 9: Use a powder blush over the cheekbones and on the bridge of the nose
OK, this is the part where I had a bit of a mini-heart attack. We're addingmore blush? Madison, girl, are you sure?! I trusted the process, reached for my go-to blush, and lightly dusted it over my cheekbones. After I was done, I exhaled. I had survived a feat I never thought that I would. I can do hard things, what can I say?
Step 10: Add a neutral brown eyeshadow into the crease of the eyelid and then opt for a dark brown eyeshadow to line the inner and outer corners of the eye
After setting concealer, adding powder bronzer, and dusting on powder blush, Madison does an eye look that I honestly don't see too often. She uses a small, fluffy eyeshadow brush with a neutral brown shadow in her crease and then takes a small, angled eyeshadow brush and a darker brown to line the inner and outer corners of her eye, creating her signature fox-eye look.
Note: I think this would work just as well (if not, better) with a brown, waterproof eyeliner. Because we didn't prep the inner or outer corners of the eye with concealer, my dark brown shadow bled a bit during and after application, which I didn't really love.
Step 11: After adding mascara, use a light eyeshadow or a highlighter to illuminate the inner corners of the eye, underneath the waterline
After adding mascara, Madison goes back in with a tiny brush and a highlighter in the inner corner of her eye and underneath the waterline to add some brightness. I think that this step really made my eyes pop, but again, I wish I would have added some sort of primer first because after I applied it, it didn't last too long.
Step 12: Use a neutral lip liner to overline the lips and top with a clear or light pink lip gloss
Lastly, Madison overlines her lips with a neutral-colored liner and a clear lip gloss. And I must say: I can't believe I didn't think of it first. It's so unbelievably simple but adds so much to the look and makes my lips look plump AF. I've never been a huge lipstick person, so I'll be using this technique until the end of time.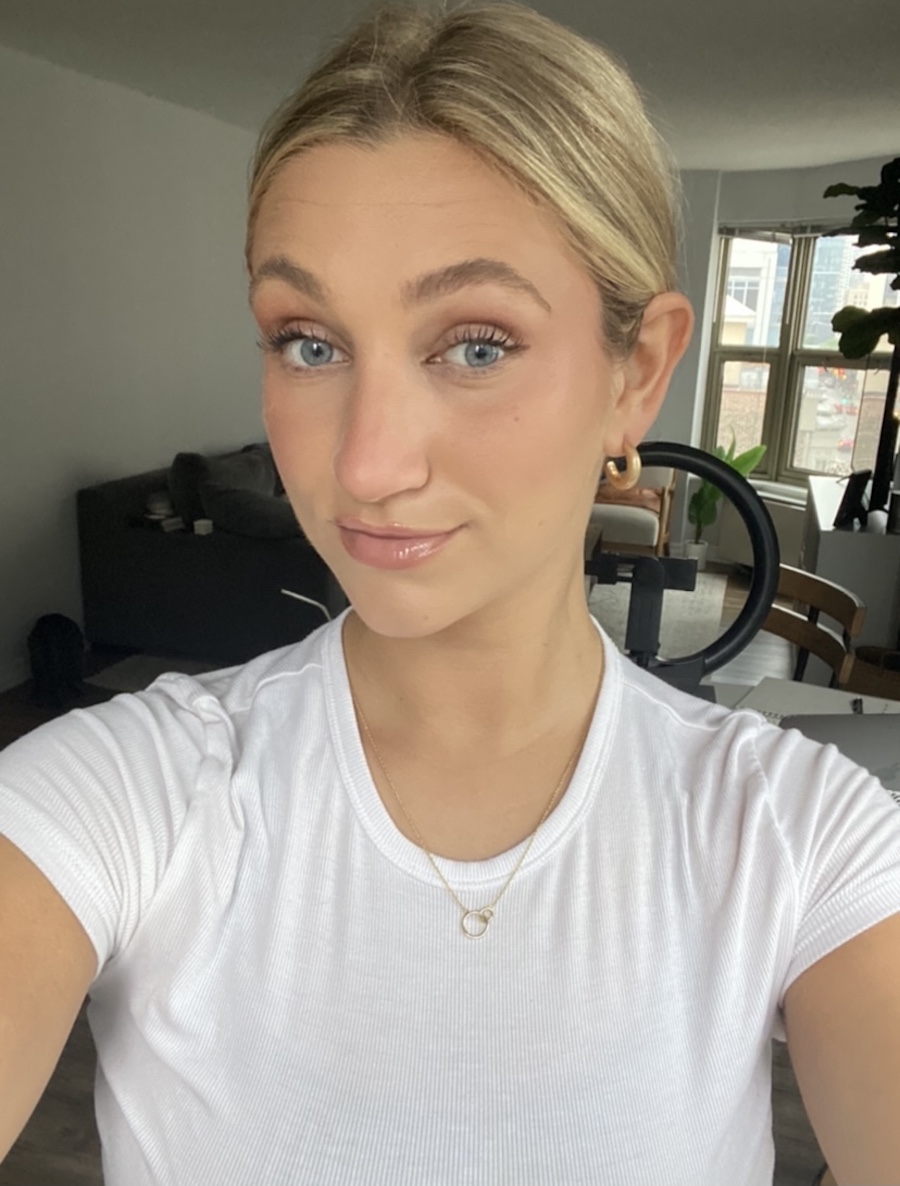 The Pros
Since trying Madison's Vogue makeup tutorial, I've definitely incorporated a lot of her techniques (if not all of them) into my out-on-the-town makeup look. I absolutely love using a cream blush and contour and then setting it with powder blush and bronzer. It definitely scared me a bit at first, but after a few hours of wear, I really appreciated that the warmth and life stuck around.
I've also been loving putting blush on the bridge of my nose. I was a bit hesitant when I first watched her bring cream blush onto her nose, but now, I literally can't stop doing it. It gives the perfect sunkissed look and is one that I'll be rocking all season long.
Also, we can add "overlined lips and lipgloss" to the list of things I am wearing on repeat. As I previously mentioned, I've never been a huge lipstick person, and typically, I like to keep it simple with lipgloss or a tinted lip balm. But these days, I reach for my neutral liner and lipgloss when I want to give my lips a bit of a pop, and honestly, I'll never go back.
The Cons
I love the way that Madison's fox eye looks on her, but for me, it just didn't stick (both literally and figuratively). Of all of the steps, this was the one that disappeared on my face most quickly, probably because we didn't prime our eyes with any sort of concealer. I didn't necessarily hate the look, so if I were to attempt it again, I would definitely either use an eye primer before the darker shadow or opt for a waterproof brown eyeliner to extend the wear.
The Final Verdict
Of all of the makeup tutorials I've tried in my lifetime, this one is one of my absolute favorites. Between the soap brows, fox eye, defined contour, and warm blush, it's the perfect look for a daytime lunch date or a night out on the town. As for an everyday makeup look, I'll stick with keeping it simple (tinted moisturizer, setting powder, powder blush, bronzer, and mascara), but for times when I want to turn it up a notch, this is the routine I'll be reaching for time and time again.