Of the countless fall fashion trends this year, two are standing out as my favorites: 1) Classic prep (with a touch of sporty-chic) and 2) The relaxed, cool girl aesthetic. As I have been saving outfit inspo on Pinterest and online shopping in these two styles, I've noticed that there is something that already ties them together—the movie The Parent Trap. Meredith Blake is a classic-prep-meets-sporty-chic icon, and Chessy basically invented the relaxed cool girl.
The return of '90s fashion has been reigning supreme for the past few years, so it's no surprise that these two cultural icons have also become major style inspirations for a lot of people. Their styles work especially well for the fall season, given Meredith's athleisure and workwear-inspired pieces and Chessy's expert layering and oversized silhouettes. So whether you're feeling more like a Meredith or a Chessy this fall, we've got you covered.
If you're more of a Meredith Blake…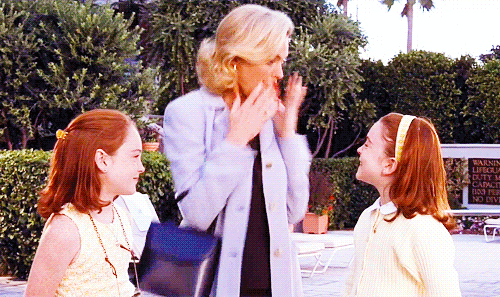 Meredith has two style moods in the movie: workwear-inspired preppy and sporty-chic athleisure. She's also always in black, white, and/or gray, which is perfect for all of the neutral-loving gals out there. Most importantly, whether she's wearing a workout set (like in the famous camping scene), or a shift dress, she is always impeccably dressed and put-together. If you're looking to step up your style game and look incredibly chic all the time, channeling your inner Meredith Blake is perfect for you.
If you're more of a Chessy…
Chessy's style is exactly what I'm striving for this fall. The mix of classic silhouettes (i.e. straight-leg denim and oversized button-ups), effortless layering, and an earth-toned color palette make an ideal foundation for a fall capsule wardrobe. Add in some chunky knits and easy-to-wear shoes and you can live out your Pinterest girl dreams.