The typical foundation of New Year's resolutions is change: lose weight, work out more, get a promotion, start your side business, meditate daily, save more money. However, change can be intimidating. It can feel scary and uncomfortable, but above all, glorifying change might be sending mixed signals to your mind ("new year, new me?" What's so wrong with the old me!?). Lizzo tells you you're perfect just the way you are, so why would you need to change?
Besides feeding the narrative that your life is not good enough, resolutions just don't work. According to U.S. News & World Report, 80 percent of New Year's resolutions fail by February. Indeed, Kim Kardashian and Kris Humphrey's marriage lasted longer than most New Year's resolutions do. So why is it that even the best-intentioned resolutions don't stick?
In many cases, the resolutions we set aren't actually what we value. Do you really want to lose 20 pounds by summer, or is it something you feel you should do? Do you really want to earn a graduate degree, or do you just feel unsure about your next career move? Every single day, we make thousands of choices. Many of these choices are made based on a subconscious scale of increasing joy and reducing pain. If your resolutions aren't increasing joy, you won't make daily choices in the resolution's favor.
Even if your goals are truly rooted in your values, things don't often work out as planned because of outside influences. Not to sound like one of Oprah's self-help books, but resolutions that are based on the destination instead of the intention are setting you up for failure. If you want that raise by the end of the year, your company might not have the money, even if you worked hard for it. Likewise, if you lose 15 pounds and not 20, you'll feel like you failed since you didn't hit your goal, instead of feeling proud of what you did accomplish.
My resolution this year? No more resolutions. I'm a huge fan of growing and becoming my best self, but can't a girl resolve to keep growing any time of year? Instead of making the same old resolutions, dedicate 2020 to becoming happier, healthier, and better (because we're growing all the time, not just at the beginning of the new year).
What to Do Instead of Making New Year's Resolutions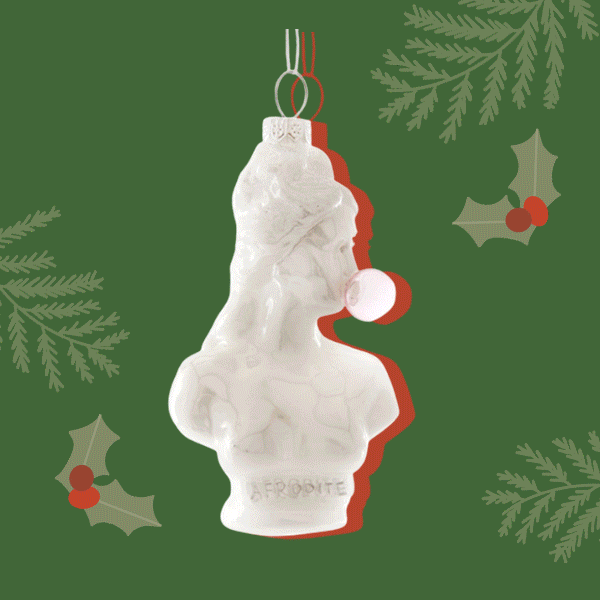 Whether you prefer your tree to be a masterpiece or a beautiful array of memories, there's something for everyone at Carlyle Avenue's ornament shop. Don't miss their expertly curated collection!
1. Create a list of things you're looking forward to this year
Sure you've probably heard "2020 is going to be YOUR year," but why is it going to be your year? Record everything you're excited about from now until next January 1. Do you have a friend's wedding, a special anniversary, a big life change, a graduation, or a fun birthday celebration? What about the little things like a new season of your favorite TV show or a list of books you want to get through? What about the even smaller things like the changing of the seasons or recipes you're excited to cook? You don't have to wait until 2021 to realize 2020 is "your" year.
2. Record the lessons you learned in 2019
Whether in your career and life changes or just psychologically in your happiness and wellness, you can probably see a big difference to where you were last year. In comparison to where you were last decade, the change is even more monumental. So what's different? What lessons have you learned, and in what ways have you grown that you're proud of? Celebrate how far you've come, knowing you're doing better than you think.
3. Book a vacation
The new year doesn't have to be about change; it should also be about celebration. Treat yourself to a getaway whenever you can take some PTO, whether it's the Europe trip you've always dreamed about or a long weekend in a nearby city with your best friends. Not only will it be something to look forward to this year, but it will be a way to remember 2020 for years to come.
4. Spend more time with loved ones
Instead of committing to new things to do, commit to the loved ones that are already in your life. Call your mom more often, schedule weekly coffee dates with your work wife, plan more weekend brunches with your BFF, sign up for a new yoga studio with your sister, and fit in weekly date nights with your significant other. Trust me: it will be the one resolution that will stick.
5. Make a vision board
Resolutions are often focused on the "doing," or the actions you need to take. Instead, focus on the person you want to be and the life you want to have. Create a vision board displaying what you want, whether it's in your career, your love life (pictures of Ryan Gosling, anyone?), your home environment, or just how you see your best self. It doesn't have to be elaborate or take hours to create. Your vision board can be as simple as a big picture goal list taped to the fridge. Set up the vision board in a location you'll look at often, and add to it as your dreams develop. Focus on the "being," and the "doing" will happen naturally.
6. Create a list of what you love about yourself and your life
Screw changing – you're already pretty great as you are. Make a list of everything you love about yourself as if you were writing a love letter: the smile you got from your mom, the strong legs that can run miles, the ability to laugh even when you're sad, or the hard work ethic that your younger self would be proud of. Also, record what's going well in your life. Are you close to your siblings, live in a city you love, or have the career you always wanted? Goal-setting is important for growth, but what's the point of making goals if we can't feel happy once we reach them?
7. Set different themes for every month
Instead of resolutions for a whole year, dedicate each month to a theme. For example, January's focus could be adding more plants to your diet, February's focus is finding workouts you love, March might be DIY-ing your daily latte to save money, and the intention for April is spending more time in nature. 30 days of exploration feel a lot more achievable (and more fun!) than 365 days to reach a specific goal.
8. Choose a word or mantra for 2020
Feel ready to make some major improvements in 2020? Chose a word or mantra to summarize what you want your focus or vision to be this year. Is it health, balance, happiness, self-love, connection, or confidence? Consistently remind yourself of your focus and make decisions based on it when you can. If a sentence is more your style, pick a mantra. Write it down, hang it on your mirror, and make it the wallpaper on your phone until you start to think of everything in terms of your 2020 vision (see what I did there?).
What are you doing this year instead of making New Year's resolutions?