With new product launches every five seconds and more GRWM videos on TikTok that we can keep up with, there is a lot of noise in the skincare industry. Even when I *think* I have nailed down the perfect skincare routine, there is always something that claims to be just a little bit better. It's a cycle that never really ends, but after sadly realizing that the last few products I purchased weren't actually the magic in a bottle I thought they would be, I decided I would do some research on what other things I could be doing to improve my skin—you know, things that didn't include spending $90 on a serum that a girlie on my FYP recommended. Come to find out, there are plenty of ways to achieve healthy, glowing skin that are totally underrated but make all the difference, so dear reader and fellow beauty junkie, I am sharing them with you here: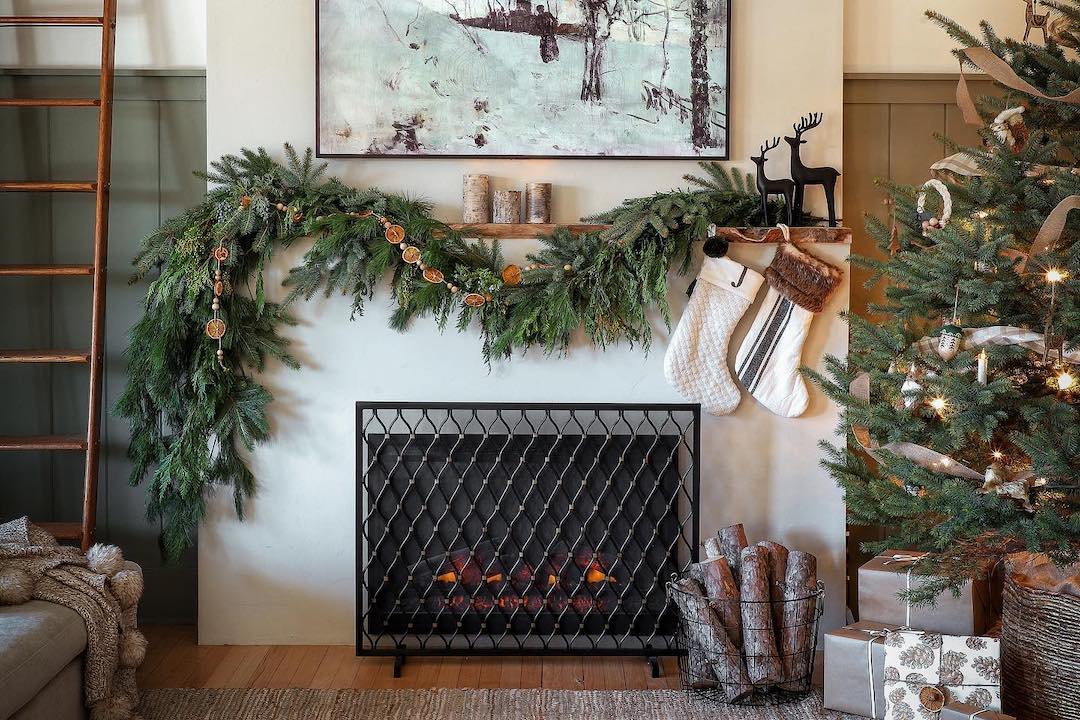 there's still time to deck your halls
1. Drink plenty of water
I know that you know that you need to be drinking water, but I will say it again because it is that important to achieving healthy, glowy skin (and of course, to your overall health). Without getting too sciency on you, water intake is linked to better skin hydration, digestion, circulation, and the overall functioning of the cells in our body. The definition of "enough" water varies for every person, so aim to drink the right amount for your body to see glowing results. The best way to remember to drink your water? Having a reusable water bottle near you at all times.
Stanley
I'm not being dramatic when I say that this tumbler is an internet sensation. It is gigantic (it is also available in 30 oz), but that just means you'll have no excuse but to be hydrated—even on the go since it fits in a cup holder.
Amazon
If you struggle to keep up with your water intake, this water jug with time marks and motivational phrases will help kick your habit into high gear. One of our editors has this one, and she loves it because of its handle and leak-proof design.
YETI
You probably have a YETI cup or three already, but do you have one this big? This one is perfect for anyone on-the-go because it is shatter-resistant and has vacuum insulation to keep your water cold all day long.
2. Supplement collagen in your diet
As the most abundant protein in our bodies, collagen is responsible for the structure, elasticity, and rejuvenation of our skin (and our tendons, ligaments, and muscles!). Our bodies naturally produce it, but we can also supplement it into our diets. Whether you choose to add a collagen powder or vitamin into your routine or incorporate more foods into your diet that are rich in collagen like bone broth, fish, leafy greens, beans, tomatoes, bell peppers, and garlic, collagen can help you maintain hydration in your skin—especially as you age.
Garden of Life
Sneak some of this unflavored collagen powder into your smoothies, oatmeal, coffee, cookies, and more. Just one scoop delivers 20g of collagen peptides.
Vital Proteins
Strawberry lemon collagen? Say less. This powder contains bovine hide collagen peptides plus hyaluronic acid and probiotics for added skin benefits. Mix one scoop into a glass of water for 15g of collagen peptides.
HUM Nutrition
Not into collagen powders? No problem. This supplement contains collagen sourced from grass-fed-bovine, and it also has hyaluronic acid and vitamin C to visibly strengthen, smooth, and firm your skin.
3. Sleep with a silk pillowcase
Silk pillowcases became all the rage a few years ago and for good reason. Not only do they help reduce hair breakage and frizz but they also offer incredible benefits for the skin—especially sensitive skin. Switching from a traditional pillow case made from cotton, polyester, or something of the sort to a silky smooth pillowcase can help reduce irritation, inflammation, and get this: wrinkles. Looking for a more affordable alternative? Satin is the next best thing.
Slip
Available in eight colors and two sizes, this luxurious silk pillow case is crafted by pure silk inside and out. Since silk fibers are less absorbent, your products will stay where they belong: on your face, instead of transferring onto your pillow.
Kitsch
Looking for a more affordable option with the same benefits? Opt for a satin pillowcase like this one from Kitsch that will help you up-level your beauty sleep all the same. We love the five color and pattern options available!
4. Use a humidifier
I bet the last time you saw a humidifier was on your friend's baby shower registry, but believe it or not, they aren't just essential for nurseries—they are essential for skin health. Yes, it sounds a little bougie to have a humidifier in your bedroom, but when you hear these benefits, you'll be ordering one for yourself too. The air that is filtered through a humidifier hydrates your skin, preventing dryness, sensitivity, dullness, fine lines, and wrinkles. It also can promote a healthy skin barrier by protecting your skin from bacteria and pollution. Sleep with one running and you'll wake up with skin as smooth as a baby's bottom.
Canopy
You've probably seen this Canopy humidifier before, and that's because it's one of the most innovative humidifiers on the market. It's no-mist, no-mold technology makes sure that the air your skin is soaking up is always clean.
Holmes
If you're looking for a more affordable option, this humidifier is under $40 and delivers a silent, cool mist through an antimicrobial protective material. Plus, it's filter free and easy to clean.
5. Prioritize nourishing foods
The not-so-secret to healthy, glowing skin? Eating a well-balanced diet that is rich in skin-loving nutrients. For example, Omega-3 fatty acids found in foods like salmon and chia seeds can help decrease inflammation, and Vitamin C found in foods like oranges and bell peppers can help fight wrinkles. By prioritizing nutrient-dense foods, you can nourish your skin from the inside out. And of course, while we believe that no foods are bad foods, limiting refined sugars, fast food, inflammatory oils, and alcohol can help reduce inflammation, irritation, and breakouts.
6. Use facial massage tools
Gua Sha, jade rollers, ice rollers, ice globes, microcurrent devices—the list goes on and on—and we love them all. Seriously! Whether you suffer from inflammation, acne, redness, or dryness, are simply interested in anti-aging techniques, or want a tool that will help your products absorb better, there is a facial massage tool on the market that you can incorporate into your daily routine to help you boost your skin's natural glow.
Skin Gym
Lift and sculpt your cheekbones and give your skin a natural glow with the help of this adorable heart-shaped gua sha from Skin Gym. It only takes a few minutes to add this to your routine, but you'll reap the benefits all day long.
Amazon
An ice roller can help reduce puffiness, shrink pores, calm skin, prevent wrinkles, improve dry skin, and wake up your face so you're ready to confidently take on the day. And this one is under $20. Need I say more?
SolaWave
This celebrity-favorite wand combines four treatments: Microcurrent, Red Light Therapy, Face Massage and Therapeutic Warmth to help with anti-aging, dark circles, blemishes, dark spots, and more.
7. Clean your makeup brushes regularly
I'm not over-exaggerating when I say that with gentle soap, a little bit of water, and five minutes of your time, you can be on your way to healthier skin. Makeup brushes (and sponges) can easily accumulate dead skin, oil, dirt, bacteria, pollution, and more, so they should be cleaned regularly (every 7-10 days) to prevent any nasty transfer onto your skin and into your products. Want to protect them from dirt even more? Store them separately from the rest of your toiletries.
Cinema Secrets
This brush cleaner is a makeup industry cult-favorite due to its quality, quick drying time, and ability to clean, condition, and deodorize brushes in just one quick step.
Amazon
Cleaning your brushes is much easier and faster when you use a silicone brush cleaning pad like this one. Since it has multiple different textures, you'll be able to get deep into the bristles of any brush.
Amazon
To keep your brushes from absorbing dirt and bacteria, stop storing them on your bathroom counter or like loose change in your makeup bag. Instead, keep them all in one case that can be easily cleaned, like this one made from silicone.
8. Minimize stress
Stress can negatively impact your skin just as much if not more than gross makeup brushes and a diet filled with inflammatory foods, so first things first? Focus on minimizing stress in your day-to-day life. Increased cortisol can deplete your skin's natural oils and that can lead to breakouts, wrinkles, dullness, and even a rosacea or eczema flare-up. So if you feel like you've tried every product and tip for skin health but you're still experiencing the same skincare woes, take inventory of anything in your life that could potentially be causing stress and incorporate lifestyle changes (meditation, journaling, low-impact exercise, etc.) to support that.